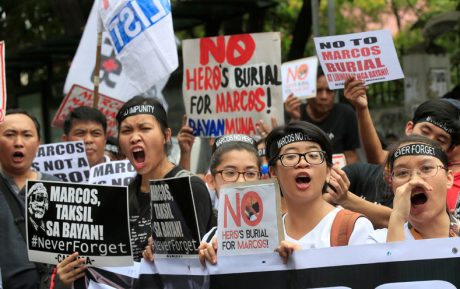 Would the Philippines have gone on to be a better country had the late former President Ferdinand Marcos never existed and, as a consequence, the "Martial Law years" never transpired? The way Filipino "activists" keep harping about the "evil" Marcos and the "dark ages" he subjected the Philippines to under his "Martial Law regime", it is as if he and his regime are the worst thing that ever happened to the Philippines.
Think about it though. Communism did far more damage to China than Martial Law did to the Philippines. Lee Kuan Yew and Park Chung-hee ruled Singapore and South Korea respectively with iron fists far longer than Marcos ruled as "dictator" in the Philippines. And yet, here are Filipinos today trailing these countries and eating their dust.
Was Martial Law really that bad?
For Filipinos to really understand what is wrong with their country, they need to step further back so that they could see a picture that is bigger than the one framed by the small square generations of them have been taught to think within. In that little square that frames the current discourse, Martial Law and the Marcoses are the big bad guys. But when we extend the "debate" out over the bigger picture, it is easy to see that there is a more systemic underlying cause for Filipinos' failure to amount to anything of global consequence.
When we look at the bigger picture, we will find that whoever rules Filipinos under whatever form of government ultimately does not matter. There are key ingredients in Filipino culture that are missing and, as such, whether under a "dictatorship" or under a "democracy", whether subject to a presidential or parliamentary form of government, there is scant reason to believe that Filipinos would prosper. There needs to be a deep change in Filipino culture — one that would embed a strong ethic for innovation, creativity, originality, and operational excellence — before any kind of political solution could work. In short, the key to a better Philippines does not lie in political solutions.
The Marcos-is-Evil narrative came about because it is easy to build an Opposition narrative around this strawman. A prayerful martyred "good guy" beating an evil dictator using non-violent means (though hardly original) is easy for a nation of lazy thinkers to wrap their heads around — certainly an easier "challenge" to run with as a national ideology than the idea that it takes brains, talent, and work to actually succeed. Thus Yellowtardism was born and the real Dark Ages descended upon Philippine society.
The notion of culture as key to success is widely accepted in the corporate world. It's quite baffling why it is regarded as an "incorrect" notion when applied to social issues. Rather than embrace the reality of the strong role culture and character plays in determining how successful or how unsuccesful a people are destined to be, Filipinos have embraced the false liberal notion that freedom and entitlement are the foundations of personal and national success. Filipinos, as a result, are fatally infected with the idea that the universe owes them prosperity and that there are "evil" men and women at work to deprive them of that entitlement.
This is the reason the Marcos the Bad Guy and the All Encompassing Biggest National Disaster in Philippine History narrative has proven to be such a successful national opiate. This tale — and the fake history spun around it — is what assures Filipinos to this day that their failure as a nation is not their fault. And this is why accountability is such an alien concept in the Philippines — because Yellowtards have downplayed personal accountability for three long decades.
Therefore, the problem as I see it is quite simple, really. It is in the way Filipino "activists" keep insisting that Marcos was the biggest problem Filipinos ever had. That's absolutely not true. My thesis has always been it is the Filipino's cultural character that is their biggest problem and roadblock to prosperity. Always has been. Always will be.
Marcos, his bygone "Martial Law regime", his surviving family members and the next generation of Marcoses they are spawning, are not Filipinos' biggest problems. The fact is, Filipinos are Filipinos' biggest problem.
benign0 is the Webmaster of GetRealPhilippines.com.