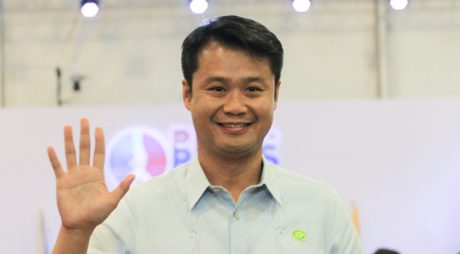 If we recall, current Philippine President Rodrigo Duterte said far worse things. And yet here he is, the winner of the 2016 Philippine presidential elections. Democracy, right?
Gatchalian is the current Yellowtard flypaper of the moment. A who's-who of Yellowtards are buzzing around him after he called "Netizens" who responded to a tweet he fielded in response to Rappler CEO Maria Ressa who tweeted a link to Rappler article Liberal Party 2018 'may be the fight for nation's soul'. To that, Gatchalian quipped in his tweet, "The nation already lost its soul in the last 6 years."
One of the cheering points of the Yellowtards buzzing around this latest outrage fad is a screencap of Gatchalian praising the administration of former President Benigno Simeon 'BS' Aquino III back in 2012 tweeted by a certain "Stewart". The question, however, is: So what?
So what if one was once a Yellowtard and is now amongst the enlightened? It's a free country. People are free to change their minds about their partisan affiliations. Many Filipinos were just as duped by the Liberal Party (LP) when they put up BS Aquino as the "good" candidate back in the 2010 presidential elections. The LP did it in a sneaky way, by surfing the a swell of public sentiment following the death of his mother, former President Cory Aquino in 2009. At the time, Aquino was a clear winnable to the extent that then presidential candidate for the LP Mar Roxas had to grudgingly step back to pave the way for Aquino's frolic into Malacanang on a pedigree platform.
You'd be pissed off too if you were duped big time.
It's not as if the "Netizens" who initially engaged Gatchalian were saying anything intelligent, to begin with. The first one who did, a certain "Romdel Bellosillo" replied "wow, the gall this senator gatchalian has is unbelievable…ingrato." Really, what else would you say to a tweet like that? E di "ulol", right? The next one, a certain "Sonny Candazo" tweeted, "trapo kayo gatchalian at angara", to which Gatchalian replied "Gago!" Fair enough, right? What other reply could you possibly make to such a tweet?
Gatchalian actually made a good point in that first tweet. The Philippines did lose its soul over the course of BS Aquino's term as president which capped thirty years of Yellowtard rule over Filipinos' minds since his mother grabbed power in a coup d'état in 1986. Indeed, to this day, the Yellowtards led by the LP continue to fail at proposing a compelling and coherent strategic counter-narrative to Duterte's winning platform. Proof of the Opposition's inability to come up with a better offer to Filipinos is evident in the way it is reduced to making mountains out of molehills such as what they do today with this Gatchalian circus.
Did the "Netizens" who responded to Gatchalian's assertion of a soulless Philippines that is an outcome of Yellowtard rule actually provide a counterargument to that assertion? They did not. What does that make them? I think Gatchalian called them the right words. Honesty is the best policy after all. There are "polite" senators who don't publicly cuss. But how much or how little one cusses in public is a poor indicator of how good or how bad a person is. Senator Franklin Drilon doesn't cuss in public, for example.
benign0 is the Webmaster of GetRealPhilippines.com.