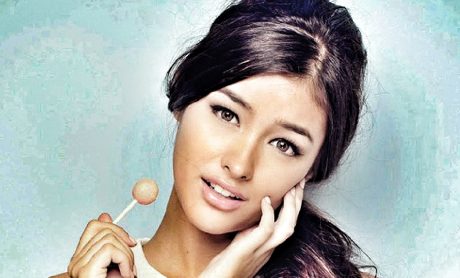 Fil-Am hybrid Liza Soberano just bagged the recent Most Beautiful Face of 2017 award, competing not just among Filipinas but across the international Who's Who of the most admired women around the globe. Even surpassing Hollywood stars like Gal Gadot and Natalie Portman (Full List Here), Liza's striking beauty is a result of the amazing cross between her Filipino father and American mother – hitting a genetic sweet spot like no other.
The growing trend of Pinoys and Pinays tying the knot with foreigners (especially those in the first world: Westerners and North Asians) perfectly fits into Plan B even if it means replacing perpetually and hopelessly corrupt native Filipinos both culturally and genetically.
As the momentum of this trend gains steam especially through the diaspora of a tenth of the 100M population already spread all over the planet as OFWs and immigrants, Filipinos now recognize the glaringly clear advantage of making the superior decision of entering into a cross-cultural/interracial marriage. The entire idea is not difficult to market and sell when people see many Filipino winners all looking "hybridized", be it in the basketball, political, or entertainment arena.
Liza Soberano vs. Jover Laurio Juxtaposition, and Marriage
Local-stock Jover Laurio and Maria Ressa have been grabbing the focal point of numerous articles and news feeds all over the net. With so much attention given to relatively difficult-to-look-at faces, it is indeed a welcome breath of fresh air to get something like this Most Beautiful Face news every now and then.
Pinoy inbreeding represented by Laurio and Ressa just keeps generating substandard solutions, pretty much like the Yellow fecal crap they peddle around. It's time to move beyond the "Philippine Jeepney" solution and try a new "Audi" or "Lexus"-class experiment.
Ask any random Pinoy on the street: "who (in your non-Tanduay-intoxicated mind) would you prefer to marry – 2017 Face of the Year or 2017 Filipino of the Year?" The answer will be 100% unanimous. It will just be a matter of time till purely native stock (along with their mindset) is weeded out and disappears by virtue of "natural selection" taking its course in the area of "choosing a lifetime partner".
In the Philippines where divorce is not an option, your chance of marrying a second time around is practically nil. If you only have one shot at it, might as well go for the best, unless you really believe you don't deserve premium quality.
There are three major decisions in life:
1. What vocation to pursue (career)
2. Who will be your lifetime partner
3. Where to spend eternity after death
Whereas 1 can be altered somewhere along the road of life, 2 is almost as permanent as a boulder (till death do us part). People don't have much of a leeway to correct mistakes on item 2. Typically one just has to stick to a bad marriage and put up with the non-ideal partnership for the sake of the kids and mutual conjugal investments.
Filipinos getting used to being No.1
Karla Henry (2008 Miss Earth winner), Megan Young (2013 Miss World winner) and Pia Wurtzbach (2015 Miss Universe winner) have all brought honor to the Philippines in the Pageant world. We finally have the answer to that elusive question: Did anything good ever come out of the Philippines?
Rachel Peters even had a close shot at another Miss Universe title for the country just last year (being within the top 10), as if someone behind the scenes just had to hold back pumping in too much Pinoy-pride gas into our already swelling balloon for now.
Some sour-graping Pinoys would dismiss these accolades to be FAKE since their last names all sound foreign. But let's reflect for a moment: Do you know anyone among your classmates/colleagues who still looks like a katutubong Aeta? Aren't most Pinoy last names Spanish sounding? This means there are hardly any PURE PINOYS anyway; so what's the big deal about racial purity in this day and age?
All there is to being "Pinoy" is that you carry a Philippine passport, you can say "How much po ito?" (some minimal Taglish), and you like adobo and Jollibee. That's it!
Yes to WMAF
What I really can't get is why there's all this negativity and anti-bigotry bashing whenever I put forth this impeccable win-win solution to Pinoy cultural dysfunction on the table. When no amount of admonishing Pinoys not to lie, not to steal and not to cheat will work on their relentlessly stubborn thick skulls, I'm not sure what better counter-proposal is out there to fix the eternally common-sense-lacking and incompetent Pinoy culture and mindset.
The solution represented by celebrated face of 2017 Liza Soberano is staring you in the face. The next move is up to you…
It's easy, really. Click on the following sites to fix your inborn Pinoy dysfunction disease:
Zealous revolutionary advocate of bringing back common sense for the common good in a land of dysfunctional and delusional zombies.