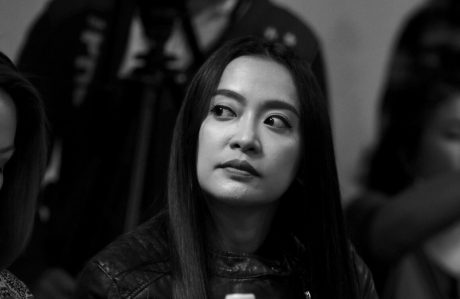 To be fair, once "Noted Blogger" Manuel L Quezon III stopped blogging (or at least desisted from politically-controversial writing) whilst he was an undersecretary during the administration of former President Benigno Simeon 'BS' Aquino III. Much of what ails the communication machine of current President Rodrigo Duterte has to do with too many communication channels coming out of Malacanang. One of the most influential channels, Mocha Uson's blog, is a consistent source of big red targets for the Opposition's infantile potshots against the Duterte government. So it seems there is significant opportunity to improve things in the obvious solution this situation begs.
Should Mocha Uson, like Quezon before her, desist from blogging while she is employed by Malacanang?
It goes without saying that Uson is a valuable ally of the Duterte administration because of her vast following on social media. However, this following was originally amassed in the course of her work as an adult entertainer before she started dabbling in political blogging at the start of the Duterte campaign leading to the 2016 presidential elections. Thus whilst widely-regarded as an influential social media personality, her experience as a social media maven up until the campaign was not tested in the Philippines' political blogging jungle.
Engaging people who originally followed you to be entertained is a vastly different exercise to engaging people who followed you to be informed or to exchange ideas. Most of the notable bloggers who cut their teeth and amassed their following blogging about politics from the very start have built brands on the consistency of what they stand for and the ideas and principles that underlie what they write. As such, consistency is extremely important in political blogging because the sort of scrutiny political blogging attracts is far more critical.
In the showbiz and lifestyle blogging space, however, it is mostly what appeals emotionally to an audience that determines the nature of content and timeframes involved in fielding it. Because entertainment and lifestyle is subjective and a function of personal taste, there is greater latitude for inconsistency and whimsical experimentation. We can see Uson's background as an entertainment blogger being applied now to the political blogging landscape in this manner — and this is where the problem seems to lie. Despite a year on the job, she still manages to make the same mistakes.
The trouble with the Opposition is that those mistakes — which, in the bigger scheme of things, don't really mirror nor impact the performance of Duterte's government — become a disproportionate target of their attention. The fact, for example, that Uson's Mayon location gaffe sent Opposition social media "thought leaders" on a quaint ridicule campaign that lasted for days is evidence of the intellectually-vacuous nature of their political "movement". Uson is a mere curiosity at best and, at worst, a fatal distraction for the Philippine Opposition.
Uson was an entertainment blogger and remains, in style and form, an entertainment blogger who just happens to write about politics these days. There really is not much anyone can do about this. In giving Uson disproportionate time of day, the Opposition merely reveals their own intellectual bankruptcy.
Discrediting a blogger who does not mirror an established community of career government service professionals will deliver nothing for this Opposition. If the Opposition want to be taken seriously, they need to recognise their true role as a serious alternative to the Duterte administration. What then can the Opposition offer? This is a question that defines the challenge the Opposition face.
Duterte, despite how much the way he is doing things today comes across as detestable to the Philippines' disente mob, is actually focusing on his campaign promises. Therefore the argument that he is a disservice to Filipinos will never fly. Indeed, the fact that Duterte continues to enjoy high trust and approval ratings survey after survey is not as baffling as Opposition "influencers" make it out to be. The formula underlying his survey numbers is quite simple. He promised X, Y, and Z during his campaign, and he has spent the large part of his first year as Chief Executive laying the foundation for delivery of X, Y, and Z.
Whether Mocha Uson is in the picture or not does not change that fact. But because the Opposition's top "influencers" are such small-minded crybabies and such fundamentalist adherents of the dogma of their Yellowtard overlords, they have, thus far, failed to evolve into a force capable of mounting a compelling and relevant response to the Duterte brand.
Therefore, going back to the earlier question, "Should Mocha Uson, like Quezon before her, desist from blogging while she is employed by Malacanang?", the answer in the context provided above becomes crystal clear: It does not matter either way.
The Opposition have lost sight of the bigger fish to fry and are all milling around and nibbling on the little fry — which is why they remain starved for relevance. It cannot be emphasized enough that the Opposition need to re-evaluate the bloc of people who presume to lead them. At the moment this bloc is none other than stragglers of the once-powerful Liberal Party — the "Yellowtards" — who have, for the past year, done nothing but devalue the Philippine Opposition.
Filipinos — including supporters of Duterte — need their Opposition. Sadly the Opposition we see today is not up to the task of addressing that need. They are too busy cracking jokes about Mocha Uson and high-fiving one another as they laugh at their own jokes.