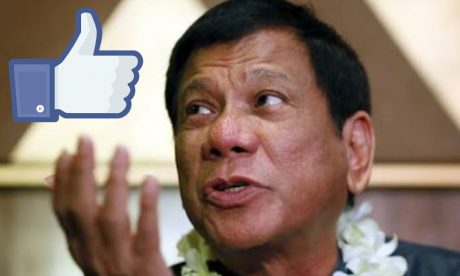 According to the report on Awareness and Trust Ratings of Top National Officials as of December 2017 released by Pulse Asia Research Inc., Philippine President Rodrigo Duterte still enjoys the approval and trust of Filipinos a year and a half into his term.
80 and 82 percent of Filipinos surveyed in the study said they approved of and trusted Duterte respectively. Of the major government officials, Chief Justice Maria Lourdes Sereno was the least approved of and least-trusted with a dismal 31 and 27 percent of Filipinos giving her the thumbs-up respectively.
Duterte's approval and trust ratings are highest in the Visayas and Mindanao and amongst the lower (D and E) socio-economic classes. This contradicts assertions being propagated by the Philippine Opposition that the poor suffer the most from Duterte's policies and that Filipinos in the south are opposed to the implementation and subsequent extension of Martial Law in the southern Philippine island of Mindanao.
Nonetheless Duterte's approval and trust numbers are generally evenly-distributed geographically and across social class. In the National Capital Region (NCR) where most "activist" Opposition rallies against his government are organised, Duterte enjoys the trust and approval of 79 percent of Filipinos bringing to question how effective this "activism" is and, for that matter, whether the "issues" raised in these activities are even relevant to ordinary Filipinos. It is also interesting to note that amongst the higher (A, B, and C) classes, Duterte's approval and trust numbers remain just as impressive (at 77 and 78 percent respectively). This dispels claims that private Catholic "disente" schools and universitites are hotbeds of outrage over Duterte's methods of governance and leadership.
These results prove that Filipinos are squarely behind their government and should serve as a wake up call for them to step up and push back against efforts being mounted by Western corporate media organisations and even governments to meddle in their country's internal affairs. They should also take to task elements in the Opposition as well as business leaders such as Rappler CEO Maria Ressa for inviting this foreign meddling. Whilst these foreign elements presume to know better than Filipino voters and constituents of politicians allied with the current government, these results show that the perception being created by these foreign elements are all wrong.
One wonders then what the basis was for the Philippine Daily Inquirer to dub Opposition blogger Jover Laurio "Filipino of the Year". It is evident now that its editor are either astoundingly out-of-touch with public sentiment or are mounting a last-ditch effort to fly the Yellowtard flag for the last time before the new management takes over the publication. If both or even one of these theories are true, these editors should be severely reprimanded for deliberately undermining the brand equity of the Inquirer.
This also puts the current leaders of the Philippine Opposition on notice. Their "activism" has been revealed to be ineffective at influencing and, more importantly, converting partisans. They are evidently still suffering the same crisis of relevance that cost them an entire country back in the 2016 elections. With the 2019 Congressional elections coming up, time is definitely not on their side. They will have to craft a compelling strategic narrative to compete with the Duterte political juggernaut, purge its collateral of any further trace of obsolete Yellowtard and communist ideology, and give the boot to all of its highest-profile personalities whose only real achievement was cause the Opposition not just to drop the ball but altogether lose sight of it.
Finally, Rappler CEO Maria Ressa should rethink the laughable mythology she had embraced — that of an "evil" Facebook empire and the insidious army of "bots" and "trolls" who have used it to "weaponise" the Internet. With every day that goes by she is making herself and her "social news network" Rappler an ever bigger laughingstock. Her shareholders, benefactors, and sponsors are definitely not happy, which means she had failed in her role as CEO.
To dismiss these results is to suggest that foreigners and the snake oil salesmen in the Opposition are right and ordinary Filipino voters (and survey respondents) are wrong. Doing so then goes on to suggest that democracy is, in essence, all wrong too. But, see, this has always been the modus operandi of the current Opposition led by their carpetbagger Yellowtard leadership — to downplay the voice of the people and consecrate the ululations of the oligarchs and foreign sponsors they suck up to. Ironic, considering "freedom", "democracy" and "rights" are the tiresome bukambibigs of the Opposition. It turns out they are an absolute dishonest lot who have done nothing but insult the intelligence of the Filipino people.
benign0 is the Webmaster of GetRealPhilippines.com.