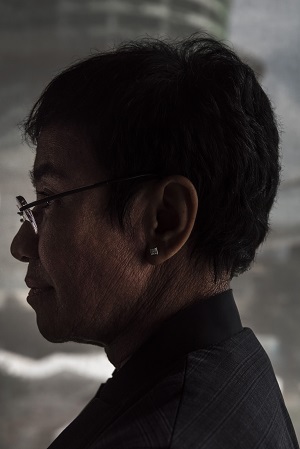 A comment on social media asks: who would win? A social media "giant"? Or a bunch of Filipinos tapping away on Facebook? In this case, the former pertains to none other than Rappler CEO Maria Ressa. On the other side, you've got a great many Filipino Facebook (FB) users who also happen to be supporters of current Philippine president Rodrigo Duterte.
Facing a local audience that has increasingly chosen to disengage from Rappler, Ressa and her outfit have taken to international media in order to "warn" the world about Duterte and his "dictatorial" and "anti-democratic" administration. The latest network to feature her was MSNBC, whose correspondent Ari Melber published a report about Facebook being under fire for allowing "fake news" to spread, and how President Duterte deployed the "Putin playbook" – which, if I understand correctly, refers to using an army of social media "bots" and "influencers" to game what people see in their Facebook feeds.
Ressa, for her part, called on Facebook to "moderate its greed", to "clean up its toxic waste", and "to be accountable for its role as the new gatekeeper of information". The funny thing about all this is that Ressa's pet project, Rappler, is supposed to be a social news network, whatever that means. Rappler is supposed to be social media savvy, yet the results say otherwise; why are they facing down disengagement and buckling under competition from numerous independent, individual unallied bloggers? Before President Duterte came into the picture, many of us on social media remember how Ressa and her Rapplerettes were harping on "social media for social good" – that was when they were the dominant voice. And now, suddenly, she is demonizing Facebook – merely a platform, and neither inherently good or evil – for not being "a gatekeeper". One can't help but get the feeling that gatekeeping means filtering out information Ressa and her like-minded cohorts don't agree with.
At this point, if we go back to the question at the start of the article: who would win, between Maria Ressa and the millions of pro-Duterte supporters on Facebook, we are led to a bigger question:
Which side would have more weight from Facebook's perspective?
It is worth remembering that Mark Zuckerberg, Facebook's head, is a businessman first and foremost. So if we look at things from a business perspective, we get to ask: what can Maria Ressa offer that is more valuable than what the millions of Filipino FB users provide – revenue? What can Ressa use to appeal to Facebook that is stronger than what the pro-Duterte FB users generate for it?
Interestingly enough, however, Facebook has been featured in another report, but the topic this time is that it is deleting accounts at the direction of US and Israeli governments:
As is always true of censorship, there is one, and only one, principle driving all of this: power. Facebook will submit to and obey the censorship demands of governments and officials who actually wield power over it, while ignoring those who do not. That's why declared enemies of the U.S. and Israeli governments are vulnerable to censorship measures by Facebook, whereas U.S and Israeli officials (and their most tyrannical and repressive allies) are not.
Now when we take this into consideration in how Maria Ressa is urging Facebook to "get its act together", we come to the question at the heart of it all:
Does Maria Ressa wield enough influence and power over Facebook, to get it to do what she wants?
This question, like most of this dustup among pro-Duterte supporters, Ressa, and Facebook, is rather "confronting." If you've already watched the MSNBC report linked in this article, you'll be tempted to think one way. And yet the impending new year should remind us, that we should always be prepared for the unexpected.
Happy 2018 to all!!
А вы, друзья, как ни садитесь, все в музыканты не годитесь. – But you, my friends, however you sit, not all as musicians fit.