(Disclaimer: While I am no longer part of the Presidential Task Force on Media Security or PTFoMS, I continue to support its mandate under President Duterte's Administrative Order 1 which is to protect journalists from harassment, threats, and violence.)
Friends from the larger circle of people I go around in tipped me off that a columnist insinuated or some would say accused PTFoMS Executive Director Joel Sy Egco of threatening to harm him.
Having known Joel for over a decade, I immediately doubted that he could do such a thing and passed it off as another one of those stories aimed at discrediting the PTFoMS in order to keep it from running after people who threatened or killed journalists.
In fact I have received information from friends that strongly indicate that efforts to malign and discredit Joel as well as the PTFoMS is an attempt to protect the killer of radioman Christopher Lozada.
On October 25, radio anchor Lozada was shot dead in Bislig, Surigao del Sur. Earlier in October, the slain radio anchor contacted the PTFoMS to report that he had been receiving threats from Bislig Mayor Librado Navarro. Lozada said that he believed that Mayor Navarro sent him threats after he had  filing a grave misconduct complaint against the mayor and the threats escalated when the Office of the Ombudsman ordered Navarro's removal from his post in September.
In about a week, upon the instructions of PCO Secretary Martin Andanar, the investigation of the PTFoMS into Lozada's killing led police to take into custody a man suspected to be the lookout while the killing was being perpetrated and conduct a man-hunt for the driver the car used in the killing.
The gray van used in perpetrating the killing was reportedly being kept in a garage owned and operated by the local government. It would have been confiscated by authorities for forensic analysis but local government barred investigators from taking hold of the said vehicle.
Word from friends who are in contact with journalists from Surigao sent me word that an former big time politician currently facing impending corruption charges was trying to intervene in order to keep Mayor Navarro from being charged with killing Lozada.
I was told that the big time politician, who also once owned several media outfits as well as kept corrupt journalists on a payroll, had come to Metro Manila with Mayor Navarro to seek to dissuade officials in Duterte's administration from filing charges against the Bislig town mayor.
In fact, the big time politician boasts of his clout with the current administration and friends tell me that he was behind the sacking of the chief of the police's Criminal Investigation and Detection Group (CIDG) in Caraga following last week's police raid on the Bislig City Hall in connection with the killing of Bislig City broadcaster Lozada.
Suspiciously, the big time politician's excursion to Metro Manila coincides with reports of a columnist claiming that PTFoMS Executive Direct Joel had threatened him with harm. Friends say that the columnist is close to the big time politician and had in fact been paid by the big time politician many times to conduct "demolition jobs" against a number of people.
Mat Vicencio of Hataw reported the threat to the Criminal Investigation and Detective Unit of Quezon City Police District, as well as to the National Union of Journalists of the Philippines.

In a statement on Monday, Vicencio said: "I write to express my fear for my life after I received a death threat as a result of a column that I wrote critical of a government official's handling of the cases of slain journalists under the Duterte administration."

He was referring to Undersecretary Joel Sy Egco, executive director of the Presidential Task Force on Media Security.

"I suspect that this death threat emanated from Mr. Egco and his men. Should my suspicion is true that Mr. Egco was behind the threat, who else could be safe in dispensing our job as journalists?" said Vicencio.


In his column Sipat, Vicencio as assailed the task force's supposed inaction on the cases of five slain journalists, including Christopher Ivan Lozada, and called for Ecgo's resignation due to his ''incompetence."
Vicencio circulated claims that he was threatened by Egco the very day that the big time politician and his minion Mayor Navarro were in Manila.
The claims Vicencio made against Egco in his columns were outright lies and at least one contained personal attacks against the PTFoMS Executive Director.
One lie that Vicencion wrote was that Egco failed to act on Lozada's case, when the contrary can be proven by PTFoMS documents and communications with Lozada as well as Egco's visit to Bislig, Surigao Del Sur.
A friend even described Vicencio's writings as "praning" or "drug addled". But of course, I won't take my friend's word for it because I'd rather come to my own conclusion if ever I meet Vicencio.
Against Vicencio's bizarre claims that Egco threatened him, the National Press Club (NPC) closed ranks to support the executive director of the PTFoMS and its staff.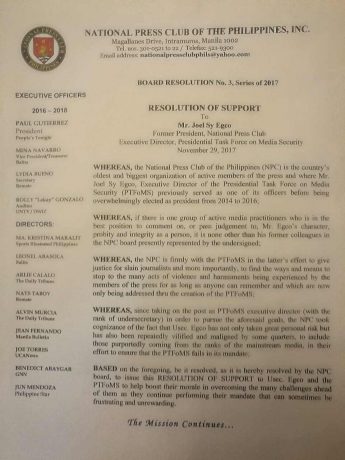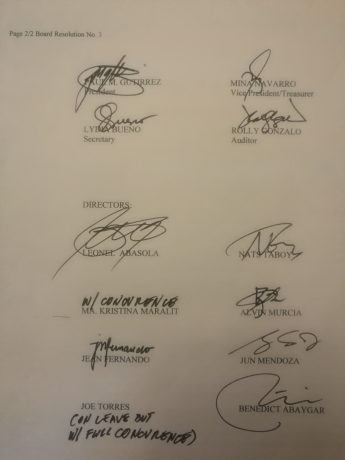 The last two paragraphs of the NPC board resolution states:
Since taking on the post as PTFoMS executive director (with the rank of undersecretary) in order to pursue the aforesaid goals, the NPC took cognizance of the fact that Usec. Egco has not only taken great personal risk but has also been repeatedly vilified and maligned by some quarters, to include those purportedly coming from the ranks of the mainstream media, in their effort to ensure that the PTFoMS fails in its mandate.

It is hereby resolved by the NPC board, to issue this RESOLUTION OF SUPPORT to Usec. Egco and the PTFoMS to help boost their morale in overcoming the many challenges ahead of them as they continue performing their mandate that can sometimes be frustrating and unrewarding.
Here's the clincher and I hope Mr. Vicencio answers:
WHY AREN'T YOU HITTING THE SUSPECTED KILLER OF YOUR FELLOW JOURNALIST CHRISTOPHER LOZADA?