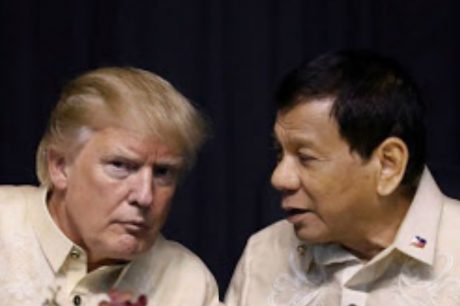 For all the calls for a crackdown on "fake news", it seems even the world's most respected "journalists" just can't seem to help partaking in a bit of the troll party where all of this orginates and gets passed around. Within the last 24 hours, two seemingly respected personalities in the mainstream industry of conventional news media were found issuing tweets that evidently draws dubious legitimacy from factoids passed around amongst the bottom-feeders in the underbelly of Philippine political commentary.
One is renowned essayist Sarah Kendzior who, in a tweet fielded on the 15th November, asserts that Philippine President Rodrigo Duterte is a man who "orders the mass [murder] of his own citizens".
Another is BBC Southeast Asian correspondent John Head who, also in a tweet, suggest that the Philippine President is an abuser of the drug fentanyl.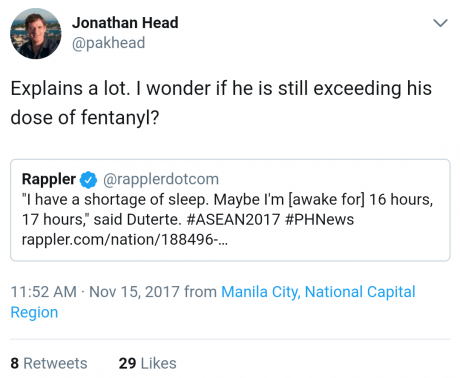 Head is, as we recall, the guy who was on the receiving end of a tirade launched into by pro-government blogger Sass Rogando Sasot during a gala event hosted for delegates of the Association of Southeast Asian Nations (ASEAN) Summit held in Manila this year. Sasot was expressing her dismay over the interview of Duterte critic Jover Laurio by the BBC after she was outed as the personality behind the anti-government Pinoy Ako blog. Sasot reportedly took issue for not being invited for a similar interview and questions the BBC's prioritisation of Laurio who, she claims, is just a "minor" social media personality in comparison to her (Sasot's) stature in the Philippines' social media community.
Many have expressed equal dismay over the behaviour of certain "Die-hard Duterte Supporters" (DDS) bloggers such as Sasot who seem to have become too enamored of their celebrity status having recently amassed large numbers of social media followers (many of whom exhibit disturbing herd behaviour, jumping to action at every directive of these bloggers). As such, the notion that mainstream media "journalists" are necessarily bad and bent on destroying the Duterte government as these DDS bloggers claim (and want their followers to believe) is being re-evaluated in some cliques that are known to support Duterte but apply more moderate or sober (read, non-"die hard") critical faculties to maintaining this support.
Unfortunately, the unprofessional behaviour of key media figures such as Head and Kendzior themselves also make it difficult for their industry to rebuild its lost credibility and stature both of which already suffer an assault on two fronts: (1) erosion of its ascendancy as purveyors of "truth" thanks to the rise of "citizen journalism" facilitated by social media and (2) erosion of its financial viability thanks to an evaporating revenue base that can't sustain an entrenched cost base of traditionally qualified and employed staff.
Both polar ends in this "war on truth" — mainstream media personalities whose personal brands are hinged on their employers' brands and ultra-partisan bloggers who have pegged their credibility on one particular politician or political party — need to shape up. In this age of democratised mass communication, Internet brands are highly-volatile and can quickly evaporate and be as easily replaced as quickly as they rise in today's highly-competitive free market of ideas.
benign0 is the Webmaster of GetRealPhilippines.com.