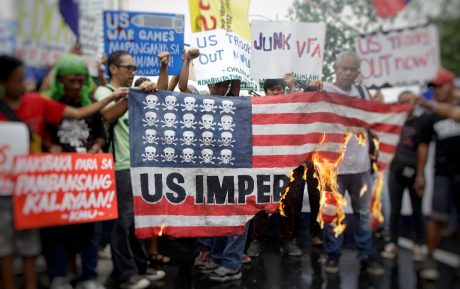 Lately we've been seeing many perverse senses of entitlement exhibited by — horrors — some of the Philippines' most influential people. That's thanks to the on-going Association of Southeast Asian Nations (ASEAN) Summit currently being held in Manila. Whilst, the event brought out the best in the attending world leaders, it seemed to not have brought out the best in some of the self-appointed "thought leaders" of its host nation.
The items in the list of self-entitled behaviours on exhibit is quite familiar. Some of these influentials loudly espoused the notion that Filipinos are unconditionally entitled to the cash dole outs of rich Western nations for no other reason than that they need the funds. Others loudly preached their belief that credentials and large social media followings alone automatically makes one the go-to person for international journalists seeking insight on Philippine politics. Still others demand that politicians' PR sideshows be genuine and represent authentic care for the Filipino babies they kiss and the fastfood crew members they schmooze with.
There are as many flavours of these demands Filipinos make of the international community as there are "thought leaders" who make a name for themselves issuing them with righteous indignation expressed with pompous verbosity. Ultimately, however, what underpins all these demands is a sad demand for respect. This, it seems, is the lowest common denominator that binds Filipino "activism" into the shrill bundle of noise that it is today. We demand for respect for credentials, respect for our neediness, and respect for our identity.
When it comes to the topic of respect, it seems Filipinos are overdue for a reality check.
Respect is earned. In a free world and its consequentially free and competitive markets, respect is earned by making one's self a valuable asset to others. So the question Filipinos need to ask themselves is quite a confronting one:
Of what value are Filipinos to the rest of the world?
The answer to this question is what Filipino "activists" need to bake into their rhetoric. Rhetoric underpinned by neediness and entitlement simply does not resonate in an international marketplace that is rapidly growing more and more efficient at directing capital and attention spans towards what is relevant and value-yielding.
So when "professional activist" Renato Reyes pumps his fists in the air asserting that Filipino sovereignty be respected, he needs to put himself in the shoes of his "imperialist" bogeymen and ask his own movement "What's in it for us if we do?"
When certain "major" bloggers wave pointy fingers on the faces of journalists and demand that their vast social media followings and university creds be taken into consideration when interview subjects are being selected for a TV appearance, they need to put themselves in the shoes of these "evil" mainstream minions and ask their own chattering lot "Are you really that newsworthy?"
When certain social-climbing social media mavens presume to educate us about how "impromptu" visits to fast food restaurants by fresh-faced politicians are really just "staged", they should put themselves in the shoes of the "followers" they address and ask their shrill community, "Do we really care what thoughts are behind that smiling face?"
Empathy is often regarded by these lazy-minded "activists" as a gift of the righteous to the needy. But, really, empathy is a two-way street. For those who have command over the highest pulpits, it is about a really basic principle of competitive mass communication: understanding your audience or, more specifically, empathising with the perspective they take in deciding whether to pay attention to you or not.
benign0 is the Webmaster of GetRealPhilippines.com.