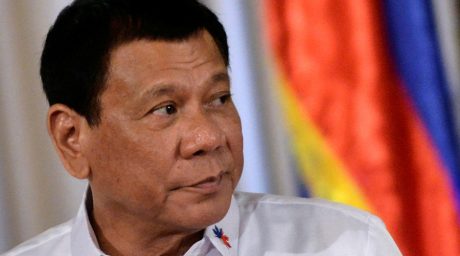 Suffice to say, the Yellowtard and Liberal Party-led opposition resorted to "pressure" from international entities early on, in the hope of weaning local support away from president Rodrigo Duterte. Among the entities that have "expressed concern" for the Duterte administration's alleged extrajudicial killings and alleged no-basis detainment of political enemies (Leila de Lima, anyone) include: The International Criminal Court (ICC), the United Nations (UN) – rapporteur Agnes Callamard is now a household name in the Philippines – and, most recently, a delegation from the Progressive Aliiance and Party of European Socialists.
Duterte's government , for its part, have pretty much been unyielding about what they've done for their campaign against drugs. If Duterte wasn't too keen about the Philippines staying in the UN, not much of a surprise; he even went, one time, as far as threatening to "burn it to the ground".
More recently, however, reports are circulating in local media that Human Rights Watch (HRW) is warning that the Philippines is at risk of being removed from the UN Human Rights Council (UNHRC). Expectedly, the Duterte government was again dismissive, if judging by the reactions of both presidential spokesperson Ernesto Abella, and Chief Presidential Legal Counsel Salvador Panelo.
Duterte's critics – HRW among them – are, of course, out there to make a mountain out of a molehill of any issue they can get a hand on, and this one with the UNHRC membership is no exception. At the same time, nobody is asking a simple, yet confronting question: So What if the Philippines is removed from the UNHRC?
What does the Philippines stand to lose if it is removed from the UNHRC? How useful has its membership been to it in the first place?
At this point, it seems the most somber way to look at this issue – and possibly be a template for future ones that may come up – revolves around a few points:
Filipinos' need for acceptance into "exclusive groups", and their inordinate obsession with agreeable foreign opinion, are being used against them.
Filipinos as a people, have been afflicted with the condition called fear of missing out (FOMO), even before the term was coined to refer to those who can't seemingly survive without incessantly checking their social media accounts. As a people, they've always been wanting for "prestige" and "exclusivity", because of their innate need to get an advantage on, or put one over, each other.
On the other hand, Filipinos are also all too obsessed with agreeable foreign opinion, primarily as a means of being validated as a people. Ironic for a people who are utterly sensitive to criticism, and unwilling to change – especially if such change results in even the slightest bit of discomfort.
The UNHRC, having recently elected Saudi Arabia as a member, is, at face value, inconsistent.
Why does Saudi Arabia stand out like a sore thumb, as part of the UNHRC? Because there is a general consensus among critics and observers of the UN that, with its appalling human rights record, and historically low regard for women's rights, the ultra-conservative Islamic kingdom is one of the least qualified to speak about, much less take the lead on, promoting human rights, women's rights, freedom of religion, and other issues at the forefront of the UN's advocacies.
Is there a flaw in the process of electing members? Is there some sort of "accommodation" being made? Are some of the UNHRC members willing to compromise, because they want something that Saudi Arabia can give? These are questions for another discussion, but suffice to say, a body that appears inconsistent is hardly in a position to dictate what others should do.
Yellowtards and the Liberal Party (LP), inarguably the loudest voice in the Opposition, have their own spotty and utterly hypocritical record of listening to foreign entities, when being criticized.
Unless the opposition ditches the Yellowtards and LP, they will perpetually be bogged down by the burden of hypocrisy that that group of self-proclaimed "decent people" brings. HRW, for its part, also voiced concerns that two years into former president Benigno Simeon "BS" Aquino's term, human rights abuses were hardly addressed.
In September 2016, the New York Times also ran an article on the Philippines – then already under Duterte – that acknowledged the real root of extrajudicial violence as having started under the Aquino administration:
It might seem that the Philippines' trouble began when it elected Mr. Duterte, a brash provincial politician who has for decades embraced extrajudicial killings as a legitimate method of crime control.

But the true roots of the problem can be traced to the administration of Mr. Duterte's predecessor, Benigno Aquino III. That is because, experts say, the true cause of this kind of extrajudicial violence is the public's loss of confidence in state institutions and its turning instead to more immediate forms of punishment and control.

Mr. Aquino, elected in 2010 on promises to support the rule of law and human rights, failed to fix the Philippines' corrupt and ineffective justice system. His administration also faced a series of security-related scandals, including a hostage crisis in Manila in 2010.

And, perhaps most critical, Mr. Aquino was perceived as lazy and soft, unwilling to take the necessary steps to solve the country's problems.

Frustration with the government's inability to provide basic security led to rising public demand for new leaders who would take more decisive action to provide security.
It's also worth mentioning, that when international human rights lawyer Amal Alamuddin Clooney put attention on Gloria Arroyo's detainment on plunder charges – charges which were eventually thrown out, by the way, due to lack of evidence – Leila De Lima, as Justice Secretary back then, effectively told Clooney, et al. to fuck off and "not interfere in local affairs". One more small detail: part of Clooney's plan was to elevate Arroyo's case to the UNHRC.
At this point, the most immediate question that comes to mind is, Ano na nga ba? What's the plan, Philippines? How long do Filipinos plan on giving inordinate weight to what foreigners – especially the West – think of them, and to pander to them?
How long does it plan to stay confused on the path it REALLY wants to take? It wants to be accepted by – more of play loyal terrier to – the West, and yet cannot completely deny or discard its Asian sensibilities and roots. Most of its Southeast Asian neighbors had an earlier start; they hardly gave a fuck about what the West though, did things their own way, adapted foreign practices that were beneficial, and eventually became prominent newly industrialized countries (NICs), or in the case of Singapore, one of the most prosperous nations in the world despite the odds against them.
Only Filipinos can stop themselves from being fools that revere their chains. When they will finally get around to doing it is a question that will remain unresolved even past Duterte's administration.
[Photo courtesy: rt.com]
А вы, друзья, как ни садитесь, все в музыканты не годитесь. – But you, my friends, however you sit, not all as musicians fit.