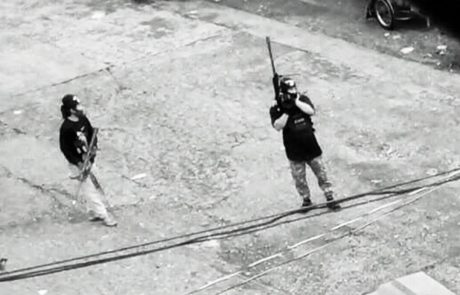 Trust Rappler to give air time to any content that works towards painting a beaten enemy of the Opposition's favourite bogeyman — the Philippine military — as victims of yet another "human rights" travesity. In the "report" Overkill? Some locals question Marawi shelling (seemingly re-published from Al Jazeera), the devastation wreaked upon Marawi City is used as a context to ponder, in hindsight, possible missed opportunities had a "different strategy" been applied to liberating it of entrenched pro-ISIS fighters.
"We were against the air strikes from the very beginning," said Zia Alonto Adiong, a regional legislator and spokesman of the civilian committee that manages the Marawi crisis. "We were hoping for a different strategy."

"It was overkill," said Agakhan Sharief, spokesman of a local council of ulama or Islamic authorities. "Why? Because there was an opportunity for negotiations with the Maute. They were considering surrender."
"Surrender"? Suddenly the word is part of Islamic extremists' vocabulary. Or, rather, people with nothing more than the easy brilliance offered by essentially useless hindsight put that word in terrorists' mouths. These, of course, are terrorists — people who believe in the glory of blowing themselves up in the middle of a bustling nightclub or running over innocent tourists enjoying the sites on an ancient European avenue. Their foresight in the heat of battle hardly ever offers that option — only, perhaps, in hindsight and, even more likely, in the hindsight of those who would go on to defend their sudden entitlement to "human rights" after the fact of their defeat.
It gets better…
During a brief ceasefire on the Muslim feast of Eid al-Fitr, Sharief and 7 other ulama entered the war zone to speak with Abdullah Maute, a leader of the fighters, to negotiate for hostages.

"Abdullah was willing to discuss surrendering to the government on the condition that the MILF (Moro Islamic Liberation Front) mediated for them," said Sharief. "We sent the president several letters about this. We never got a response."
Quite rich, actually. Conditional surrender. This is a request coming from the sorts of people who take and broadcast videos of captured soldiers being decapitated with a small blunt knife or burned alive inside a cage. Even more astounding is the nature of the condition — that the surrender be mediated by another terrorist group.
It would be funny if it weren't for the fact that this is about a hideous enemy that does not wage war according to the rules of civilised societies, does not see its own enemies as equally human, nor even considered the consequences to the citizens of a city they intended to turn into a vast weapons depot and a launch pad for the violent rise of a "caliphate" the streets of which will, presumably, be paved with the skulls of Christian infidels.
It seems the author of this Rappler report is just short of suggesting that the reduction of Marawi City to a pile of rubble is on the Philippine military, never mind that this all could have been prevented had the enemy been a bit more considerate — no, a bit more human — in the way they thought things through and in the way they fought their war.
Filipinos should be resolute in the winning of the War for Marawi City — one of the very few won against a foreign invader in their history. They should celebrate the victory of their valiant soldiers and uphold a narrative of an enemy's plan to deprive a nation of its humanity thwarted decisively. In short, Filipinos should hold their heads high and think and act like winners rather than succumb to the emotional blackmail of cliques within their society who hoped for a different outcome — one that would have validated their insidious political agendas.
benign0 is the Webmaster of GetRealPhilippines.com.