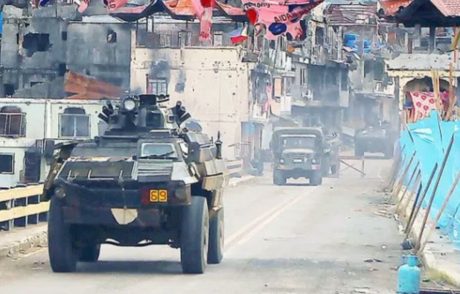 There's a lot of talk lately about "re-building" Marawi City. Jose Montelibano in his Inquirer column today offers thoughts on what needs to be considered to not just to do that but to do it right, as in build A New Marawi that, at the same time, puts it on a path towards becoming a true modern Islamic city…
If Marawi is to be an Islamic city, then perhaps it can be designed to be such according to the tenets and way of life befitting an Islamic city. For one, there should be no informal settlers or squatters. From the onset, no colonies of informal settlers should ever be permitted. How national government or the ARMM, under the present setup or under the proposed Basic Bangsamoro Law, will rebuild or create the new Marawi should be the example of how a brighter future can already be part of a masterplan. After all, the issue of ancestral domain is key to the peace agreement and the autonomy of Muslim Mindanao. Informal settlers should become a thing of the past.
It is interesting that Montelibano highlights the issue of "informal settlers" (a.k.a. squatters). It directs our attention to the credibility of those who seek to participate — and, perhaps, lead — in building the sort of city that ought to be rising from the rubble of this war-torn city. The trouble is, there is hardly any authority in the Philippines who could credibly tell anyone how to build a Filipino city where squatters are "a thing of the past". This is because there are hardly any cities — or even towns — in the Philippines that are free of some form of squatter infestation.
Save perhaps from within the offices of the Ayalas who are world-class community builders, one would be hard-pressed to find the right kind of people with the technical expertise, leadership and organisational chops, and political backing to build an
excellent
city, much more a city such as Marawi which will be home to a minority culture. Which clique of power brokers will lead such an initiative? Will it be the bureaucrats of Imperial Manila? Will it be the ancient clansmen that head the Autonomous Region of Muslim Mindanao (ARMM)? Will it be the warlords of the Moro Islamic Liberation Front who claim exclusive partnership with the national government over the fate of the notion of a Bangsamoro "nation"?
Montelibano looks far overseas to Japan for a model to latch onto citing the city of Hiroshima which, following its horrible history, did not become "a symbol of violence". Instead "Japan used the tragedy of Hiroshima to be a beautiful lesson of the present and the future," Montelibano writes.
What is interesting, however, is that Montelibano did not need to look that far off for lessons on how cities reduced to rubble in a war are rebuilt. He only needs to look back at what happened to the Philippines' own capital, Manila. "Modern" Manila, today, offers a stark contrast to the city it once was — the one it was before World War II. Manila today is a steaming agglomeration of political feifdoms — a feudal metropolis where efforts to implement coherent urban management systems that harness economies of scale is virtually impossible thanks to the kanya kanya and ako muna mentality of both local government officials and the inhabitants themselves. It is, by all intents and purposes, less modern than it was back in the 1930s.
In that regard, barring intervention by foreigners who actually
know what they are doing
, it is hard to be optimistic what would become of Marawi City. Filipinos, after all, are renowned for their
Reverse Midas Touch
. Examples abound of how many things turned to shit under Filipino management. Baguio City, for one, which was spared destruction in World War II
suffered a slow destruction in peacetime under Filipino administration
. The same can be seen in formerly pristine cities all over the country.
Paatras ang asenso
. Even solving simple problems like jeepney and squatter infestations seem to lie beyond the intellectual faculties of a succesion of Philippine governments. The promise of building "new" cities needs to be
substantiated
by a strong tradition of achievement in building modern urban communities.
There are already lessons staring Filipinos in the face that could be learnt before another big "rebuilding" project fuelled by mere good intentions rather than actual hard-nosed expertise and sound thinking is started. Filipinos only need take heed of the reality of what they, as a people, are really capable of. Are Filipinos true builders? Or are they mere destroyers? Do we strive ofr excellence or does pwede na yan routinely cut it for us? The journey towards building a New Marawi City should begin by answering those timeless question with eyes wide open.
benign0 is the Webmaster of GetRealPhilippines.com.