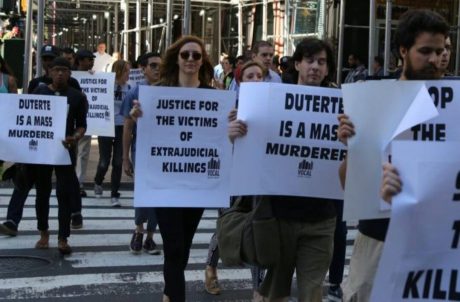 According to various sources, there will be (yet another) protest rally against the government of Philippine President Rodrigo Duterte in the coming days. What are these rallyists going to protest? Duterte's purported authoritarianism? Martial Law in Mindanao? "Killings" related to his "war on drugs"?
So what else is new?
This is, after all, the era of the millennial A.D.D. generation. There must be something new on offer. The goal of a protest rally after all is to attract attention. Given today's young attention-deficited electorate, attention is a fleeting asset for players in the attention-seeking industry. Millennials are always in search of the next awesome thing that will interrupt the din of highly-perishable content flooding their social media timelines. In short, this next "big" anti-Duterte rally will perish if it fails the Millennial Awesome Test.
As far as has been observed, the "killings" circuses and violence porn the Opposition has been serving through their various media channels has failed to move nor impress the majority of Filipinos. The media stunts have, in short, not been awesome enough for a generation who rely on Facebook and Google algorithms to tell them what to plant their eyeballs upon and click on "Like" or "Retweet". The venues, and props of these rallies have, thus far, failed to provide awesome enough backdrops for selfies and poetic enough slogans and sound bytes to quote in status updates.
To be fair, selling violence porn to a people long desensitised to violence is a tough pitch to sustain. Tabloids and TV Patrol have dominated that niche for decades and propaganda campaigns based on politicising "victims" have been worn to tatters over 30 years of Yellow necropolitics and Martial Law Crybabyism. Quite simply, expecting different results whilst doing the same thing over and over again is a fool's project.
More importantly: To come up with something new and awesome requires imagination.
Unfortunately, because many of the Opposition's key "influencers" prefer to spend their online days cocooned in their echo chambers, preaching to their choirs of like-minded "followers", and blocking or "muting" people who disagree with them, they have lost touch with the pulse of the broader audience they should have been chasing. This explains why their rhetoric has failed to evolve from the snoozefest it has become to the awesome propaganda hooks the A.D.D. generation demand. When you are constantly told you are correct, spot on, and awesome by your cherry-picked audience, your creative faculties become deluded and atrophied.
The trouble with Opposition "thought leaders" is that they want their audience to assure them that they are right. They lost the whole point of the game — which is to publish your views so that they are tested by a skeptical audience. The real game in this business is to stress-test one's points of view. The call to the audience of a truly cluey thought leader is "prove me wrong" rather than "tell me I am right". You cannot stress-test your points of view when you limit your engagement to within your clique of like-minded folk.
The coming anti-Duterte rallies will likely exhibit again and again the products of liberal and left-leaning activists' inbred thinking. Indeed, the oxymoronic quality of a protest rally intended to persuade people that Duterte's government is an authoritarian one flies over the pointed heads of these "activists". That one can freely rally on Manila's streets without fear of being arrested, by itself, invalidates that notion even before the placards and pumping fits come out. The Opposition needs to come up with something new to replace the old red herrings that have, for so long, been fodder to their tired rhetoric and street sloganeering. The thing with herrings is that they quickly begin to stink when left out in the sun. And that is not awesome.
benign0 is the Webmaster of GetRealPhilippines.com.