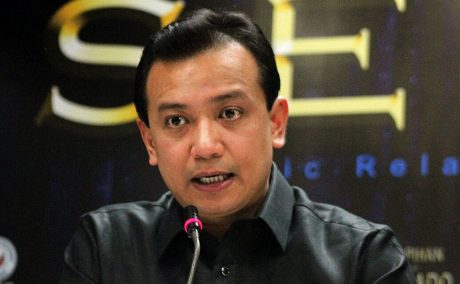 Senator Antonio Trillanes is exhibiting signs that he could be a psychopath. He doesn't care about damaging the reputation of the Philippine Senate as long as he gets what he wants. Indeed, Trillanes has a long history of betrayal. In the past, the public witnessed how he used his privileges as a senator to persecute his enemies. He used precious time and resources in his attack on former Vice President Jejomar Binay in the months leading to the 2016 Presidential Elections. His obsession then with Binay was irrational.
One can only conclude that Trillanes wanted to ruin Binay's reputation with the public because he was running against an ally in the Liberal Party, Mar Roxas. Trillanes proved that he can turn his back on former allies without thinking twice once he finds a more powerful ally to use. Ever since he became allied with the Liberal Party, he has forgotten old mates like Binay. After all, Binay supported Trillanes's move to hold a mutiny against former President Gloria Arroyo back in 2003. But now they are mortal enemies. In other words, treachery runs in Trillanes's blood. The courts were right in convicting him as a traitor.
It seems Trillanes is now acting like the Opposition's attack dog against President Rodrigo Duterte. His ultimate goal seems to be to have Duterte removed and then replaced by current Vice President Leni Robredo. There is proof that his attack against Duterte is irrational and hypocritical. Trillanes actually wanted to be Duterte's Vice Presidential running mate in the last election — evidence that he didn't at the time have a problem with Duterte and even approved of his Presidential aspirations. Since he was snubbed by Duterte, Trillanes is now sticking by the Liberal Party's side.
I don't want to accuse Trillanes of being compensated for fighting for the Liberal Party's cause, but one thing is for sure: Trillanes owes the party, specially former President BS Aquino, for the freedom he enjoys today. Aquino granted him amnesty in his first year as President. It's not surprising that Trillanes is helping the Liberal Party return to power. He owes them big time. He was very lucky since Aquino hates Arroyo and considers his mutiny against Arroyo justified. It's too bad traitors like Trillanes manage to attract sympathy for their borderline criminal initiatives. It's further proof that patronage politics is rife in the Philippines. Instead of upholding the law, the system and the powers-that-be allowed Trillanes to walk free as soon as an ally of his came into power.
I wouldn't be surprised though if Trillanes betrays the Liberal Party one day. It's just in his nature to turn his back on the people who once helped him. Just ask former Commissioner of the Bureau of Customs Nicanor Faeldon. He used to be mates with Trillanes back when they were young military officers and part of what they call the Magdalo Group. Both of them led the failed Oakwood Mutiny in 2003 against Arroyo. But now Trillanes considers Faeldon his enemy because the latter is defending Duterte against the senator's attacks. Trillanes can't even put aside their differences for the sake of mateship. That's another sign he could be a psychopath. He lacks empathy and doesn't care if he destroys friendships along the way. His behaviour is scary.
Fast forward to 2017, his tactic hasn't changed. While Trillanes has moved on from Binay, the public still has to bear with his tirades. His modus operandi has become toxic and tiresome. The people can now easily see through his fishing expeditions. Even without concrete evidence, he demands that his enemies be summoned to Senate hearings. The public knows that Trillanes just wants to embarrass who he considers "persons of interests" and bully them in front of the media. Bullying is his cup of tea. Trillanes bullied the late former Chief of Staff General Angelo Reyes during a Senate hearing, Trillanes accused Reyes of receiving millions taken from military funds. He then told Reyes he doesn't have a reputation to protect when Reyes tried to defend himself. Unfortunately, Trillanes's action was too much for the former general who most likely thought his reputation had irreparably been tainted. A week later, Reyes fatally shot himself in the heart.
Obviously, Trillanes plans to do the same thing – embarrass and bully Duterte's son Davao City Vice Mayor Paolo Duterte and lawyer Manases Carpio, husband of Davao City Mayor Sara Duterte during the hearing. Trillanes insists that alleged customs fixer Mark Taguba knows that the younger Duterte and Carpio are involved in the smuggling of P6.4 billion worth of "shabu" (crystal meth), which was discovered earlier this year. And he is still adamant even after Taguba already categorically denied knowledge that the two are involved in drug smuggling.
Hopefully, Trillanes's bullying days will be over soon now that Senator Richard Gordon has filed an ethics complaint against him after Trillanes insinuated that Gordon was quick to absolve Duterte and Carpio. He said that even after Gordon agreed to Trillanes's request to summon the two.
It's about time Trillanes's colleagues stand up to bullies like him. He is making a mockery of the system and dragging the reputation of the Senate down with him. Trillanes doesn't belong in the Senate. He was only popular with the voters at a time when people were still beholden to the Aquinos who were against Arroyo. Now more people are aware that Trillanes is useless and is merely causing division in Philippine society. His psychopathic tendencies should not be tolerated. The public is already witnessing what he can do with what little power is accorded him as a senator. We can only imagine in horror the people he will destroy if he ever lands a more powerful position. Let us all hope the voters will not vote for him again.
In life, things are not always what they seem.