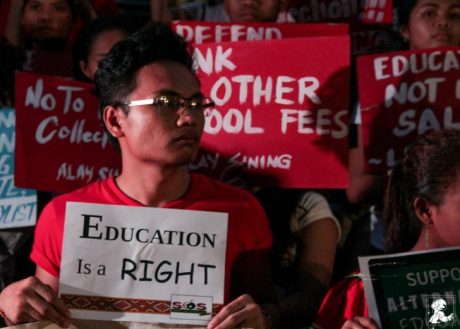 So the bill for free college education at state universities and colleges was signed into law by President Rodrigo Duterte. Many Filipinos are rejoicing for yet another freebie for the people. We have free contraceptives and now we have free college education (among other freebies). But what does "free college" really mean? Does it mean that professors and school staff won't get paid anymore? Does this mean that the power, water, telephone, internet and other utility companies won't get to bill the schools? If we think about it this notion of "free college" is really a non sequitur. How can college be free if operating universities and colleges costs money?
The free college program has been estimated by Duterte's economic advisors to cost 100 billion pesos a year (approx. $2 Billion). Even one of the authors of the bill, Congressman Salvador Belaro, estimates that the program could go up to 500 billion a year by 2022. For a country struggling to fit expenditures into a limited budget such a magnitude of freebie would be a huge bite. What other essentials, earmarks, or entitlements need to be cut in order to accommodate these freebies like free college, free housing and free contraceptives? The government cannot just print money, you know?
But we've heard advocates say that this free college education is a good investment. Really? What do the facts say? An article by Philippine Star's Boo Chanco offers an interesting insight. Here are some interesting facts back in 2015:
• 22.2 percent of our unemployed are college graduates
• 12.6 percent are folks who had some college education but did not graduate
• 34.8 percent of unemployed went to college
• 33.3 percent are high school graduates
• A little over 68 percent of unemployed Filipinos had some college or high school education
• The total of unemployed Filipinos = 2.68 million
Doing the math, the 34.8 percent equates to close to 1 million unemployed people (out of the 2.68 million in total). We're not even including underemployment into the equation here yet (the condition in which people in a labor force are employed at less than full-time or regular jobs or at jobs inadequate with respect to their training or economic needs). But if we look at things in perspective, there just aren't enough jobs out there for our college educated kids. As Chanco claims of the resources spent on high school graduates: "Resources were wasted on their education and these are resources we simply cannot afford to waste."
The problem with subsidized education is that much like a lot of subsidized programs the cost will tend to increase. Why? It is because universities and colleges know that the government is mandated to pay for whatever cost it takes to provide the freebie. Even in America if we look at the comparison between college education inflation rate and consumer price index it can be seen that college tuitions soared each year, advancing far in excess of the national inflation rate. The overall inflation rate since 1986 increased by 115.06%, which is why Americans pay more than double for everything they buy. On the other hand, during the same time, tuition increased a whopping 498.31%. This is because a lot of the college education was subsidized through government guaranteed student loans. During former POTUS Obama's term student loan debt has increased by 463%.
With more government subsidies for free college education, more demand for this freebie results. Who doesn't like free stuff? But in a previous article, I raised an argument against subsidizing college education for everyone. If the government continues to pump in more college education subsidies how exactly can the government prevent its increasing cost? With more demand for college education, given a finite and limited number of state universities and colleges, is it any wonder why the cost of post-secondary education is continually rising? Hello?! Inflation? Law of supply and demand, anyone?
The thing is we need to change the way we think about the necessity of a college degree. A college diploma is not the only way to escape poverty. Not all students are college material. We need to abandon the idea that everyone should get a college degree. What we actually need is to have the skills to do the job that is available. Otherwise we will just continue churning out diplomas that would not necessarily result to jobs. With quantity there is also a risk for a compromised quality. How many times will Filipinos be outraged by condescension of people from other countries looking down at "diplomas at some med school in the Philippines"? There will always be a strong demand for skilled labor like plumbing, electrical, welding and construction management. These really don't need a college degree but vocational or technical studies (and I would argue that a lot of college programs like Hotel and Restaurant Management don't really need to be degree programs). It is unfortunate that these skills and careers are looked down upon, sometimes even by the poor!
Having the skills is only half the equation. The other half is about job availability. Opening up the market for competition and ensuring that we have adequate infrastructure to promote businesses that would provide employment are necessary. Duterte's "Build, Build, Build" socioeconomic agenda is a move to the right direction. However, college education freebie is not exactly a good investment given the lack of jobs available. Investment in infrastructure will yield better returns as more people and businesses will benefit from it. It will facilitate and enhance business growth and ultimately the creation of well-paying jobs. Isn't that what we think college education is aimed for?
(Image from bulatlat.com)
Calling a spade, a spade…