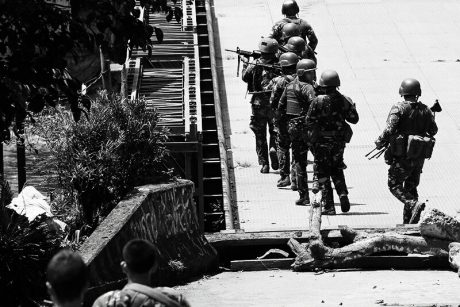 Filipinos need to "unite" to solve their big macro national problems. Yet Filipinos, unfortunately, are a people pulled in different directions. We have Yellowtards versus Dutertards, the masses versus the oligarchs, Christians versus Muslims, and Imperial Manila versus the rest of the country among other battles being waged that are ripping Philippine society apart. Adding to that karambola is government itself — imprisoned by a system that, by design, encourages an adversarial relationship between its "branches". The tired euphemism that describes Philippine-style governance as being spread across three "co-equal" branches that keep one another honest in a "check-and-balance" interlock has become a sad epitaph.
Here lies Philippine society: suffocated to death by its own government of checks-and-balances.
For the longest time, many have observed how the Filipino's greatest enemy is himself. It's become a cliché but remains a relevant cliché nonetheless. Indeed, even as the country now faces direct external threats and challenges that can only be addressed by confronting external factors, Filipinos remain mired in internal squabbles. But diversity in points-of-view, agendas, and priorities amongst a people is no excuse for failure. Both Malaysia and Singapore, amongst the most prosperous of southeast Asian states, are also among the region's most diverse societies. Race riots characterised much of both countries' early histories following their independence from British rule.
To overcome these challenges, however, required exceptional vision and the courage to execute on that vision. And here is what sets apart the Malay-Singaporean brand of vision and courage to the cop-out variety Filipinos hold themselves to. The vision the late former Prime Minister Lee Kuan Yew applied to his effort to pull Singapore out of the Third World hole was — and is — not for the faint-hearted. At the core of Lee's vision are principles that run counter to everything Filipino liberals hold dear — that the press cannot be completely "free", that human beings are not necessarily equal, and that strong authoritarian leadership is essential to the rapid implementation of solutions that deliver big and tangible results.
In the book Lee Kuan Yew: The Man and His Ideas jointly authored by Han Fook Kwang, Warren Fernandez, and Sumiko Tan, Lee is quoted as saying…
I started off believing all men were equal.

I now know that's the most unlikely thing ever to have been, because millions of years have passed over evolution, people have scattered across the face of this earth, been isolated from each other, developed independently, had different intermixtures between races, peoples, climates, soils…

I didn't start off with that knowledge. But by observation, reading, watching, arguing, asking, that is the conclusion I've come to.
Former Malaysian Prime Minister Mahathir Mohamad took this further to build strategic policy on the back of clear acknowledgement that Malaysians of Malay stock are different from ethnic Chinese Malaysians. One of these policies involved implementing an affirmative action doctrine that favoured ethnic Malays in state-sponsored initiatives to uplift access to education opportunities for Malaysians. This was in recognising that ethnic Malays require an extra kick in the bum to get up to speed in order to compete with the more, shall we say, self-starting Chinese. As it turned out, Mahathir learned even harsher lessons about the character of the Malays following implementation of these policies. Lamenting on how the opportunities extended to them resulted in disappointing outcomes, Mahathir later wrote…
Indeed, those who get these educational opportunities for some unknown reason seem to dislike the very people who created these opportunities. Worse still, they don't seem to appreciate the opportunities that they get. They become more interested in other things, politics in particular, to the detriment of their studies. In business, the vast majority regarded the opportunities given them as something to be exploited for the quickest return. …… They learn nothing about business and become even less capable at doing business and earning an income from their activities. They become mere sleeping partners and at times not even that. Having sold, they no longer have anything to do with the business. They would go to the government for more licences, permits, shares, etc.
And his conclusion following that is as resonant today as it was then…
The answer lies in the culture of the Malays. They are laid-back and prone to take the easy way out. And the easy way out is to sell off whatever they get and ask for more. This is their culture. Working hard, taking risks and being patient is not a part of their culture. It should be remembered that in the past the Malays were not prepared to take up the jobs created by the colonial powers in their effort to exploit the country.
The most influential amongst Filipinos' traditional clique of top liberal-minded "influencers" and politicians would recoil at the suggestion that the idea of universal "equality" among humans is up for challenge. Yet, the prosperity achieved by their close neighbours, Malaysia and Singapore, on the back of approaching confronting realities about their societies with an unconventional courage to effect counter-intuitive vision cannot be ignored. To Filipinos who regard their "freedom" and "democracy" with pride, the irony in how the authoritarian governments of Malaysia and Singapore (both working on a framework of thinly-veiled borderline racist doctrine) managed to build prosperous nations so rapidly should have long been staring them at their faces.
Even more interesting is how Mahathir noted the inclination of the ethnic Malays to gravitate to politics rather than business as a preoccupation. We can see this today in the Philippines which, as mentioned earlier, is hopelessly divided along partisan lines and, as a result, facing an external enemy whilst stuck in an infernal monumental squabble amongst themselves. Beneath this collective internal squabble is a cultural foundation marked by a profound victim mentality syndrome — not too different from how Mahathir described his brethren, a people who upheld a way of life and thinking where "the easy way out is to sell off whatever they get and ask for more."
Perhaps this is the reason Filipinos are so hung up on politics and the political aspects of whatever issues or challenges they face as a people. To Filipinos, politics offers a reason for the ebbs and flows of their fortunes. To Filipinos, politicians are the singular causes and influencers of both their personal successes and their personal failures. In their politicians and the politics that surround them, Filipinos find a convenient framework to absolve themselves of any personal accountability for their personal futures.
In the case of the Marawi conflict, the rise of Islamic terrorism there is the fault of politicians, according to Filipino liberals — never mind that ordinary Marawians stood back and silently went about their business even as Islamic extremists settled into and operated in their communities with impunity in plain sight under the bright light of every day over the last few decades. No sirrrreeee. Ordinary Marawians cannot be blamed for the sorry situation they find themselves in today. To the Filipino liberals tapping away tweets in Imperial Manila, they are victims not only of the terrorists in their midst but also of the Philippine military who are now bombing their "once beautiful" city to the Stone Age.
How can one argue with a people who habitually think along those lines? How can you beat an enemy you are reluctant to demonise? How can you beat that enemy if you cannot get behind those who have the means to kill them? To put it in the vernacular, "Ano ba talaga??"
The way forward for Filipinos is to change. And this change should go beyond change in politics and further — and deeper — into a fundamental change in thinking. It is difficult to move forward when an entire society remains imprisoned by their ideological sacred cows. In the case of the Philippines, Filipinos should start questioning fundamental principles that the Liberals and hipsters among them use to thwart any effort at true reform.
A "young historian" was said to have once quipped: "If Rizal were alive today, he'd be 'dilawan'."
Scary, right?
Perhaps it is high time Filipinos consign all traces of dilawan ("Yellow") ideology to history's junk heap of obsolete belief systems. Only then will the Philippines be truly equipped to crush its real enemies.
[Photo courtesy PhilStar.]
benign0 is the Webmaster of GetRealPhilippines.com.