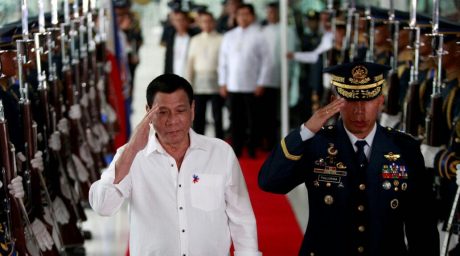 I think it is unfortunate that Philippine President Rodrigo Duterte cannot help himself and the people who support him win over his critics. In fact, he seems to be intentionally needling or provoking his detractors to react with more outrage. In a speech in front of the soldiers of the 2nd Mechanized Infantry (Magbalantay) Brigade of the Philippine Army in Iligan City, he assured his men that he will take full responsibility for their actions even if they commit rape:
 If you go down, I go down. But for this martial law and the consequences of martial law and the ramifications of martial law, I and I alone would be responsible. Trabaho lang kayo. Ako na bahala. Ako na ang magpakulong sa inyo," Duterte said.

Duterte then remarked in jest that he could even go to jail for the soldiers if they committed rape.

"'Pag naka-rape ka ng tatlo, aminin ko na akin iyon," Duterte said.
Duterte's remarks are disgusting. He could say later on that he was just joking and only meant to lighten the mood, but one simply doesn't joke about rape in any given situation. Absolving soldiers under his command of rape or any atrocities even before they commit them is a recipe for disaster. Psychopaths within the ranks of the military could misconstrue it as a free pass to do exactly what some people are fearing they would do.
It's bad enough that there are already a lot of people, particularly from the Liberal Party and their supporters, who are against his declaration of Martial Law in Mindanao after a firefight broke out in Marawi City where elements of terrorist groups Maute and Abu Sayyaf have been wreaking havoc. Duterte is making things worse by making unnecessary remarks that could fuel further division in Philippine society.
I think it is high time Duterte realises that making light of sexual abuse, especially in a society like the Philippines — one that is still decades away from affording women equal rights and opportunities with men — does not help elevate women's status and dignity. Another scenario that could result in his careless remarks is rogue soldiers could victimise children too.
We can only hope that members of the Philippine military received enough training to take Duterte's remarks with a grain of salt. After all, they have a sworn duty to protect the public against atrocities. Duterte should have emphasised this instead.  He should have reiterated to the military and police that they should set an example for the rest of the community and not break the law. Being in uniform and carrying a weapon doesn't mean they have a license to abuse other people.  
Giving the military a free pass to carry out abuse doesn't even make any sense because he was supposed to have declared Martial Law to stop the Muslim rebels from carrying out abuse against the public.
We all know that Duterte doesn't care what his critics think, but his remarks could also backfire on him. Soldiers and members of the police force who follow a code of ethics and set of standards could lose their respect for him and turn against him. If they were trained to respect and protect the public against atrocities, then they would also feel disgusted by Duterte's attitude towards abuse.
I feel really disappointed that Duterte did not learn from the last time he came under fire for making a rape joke. At that time, I thought it was partly lost in translation and partly due to differences in nuances in language in considering that he is from Mindanao. Unfortunately, his recent "rape joke" cannot be regarded as a case of mere misinterpretation and I am beginning to think that he has a fetish for sexual abuse because he seems to bring it up whenever he finds an opportunity.
For the sake of the country and the people who support him, I wish Duterte could focus on the issues facing the nation in these trying times. He should refrain from making unnecessary remarks that could ruin whatever good his administration has accomplished so far. He should also stop giving his detractors ammunition to use against him. Duterte should do this for the people he claims to love.
In life, things are not always what they seem.