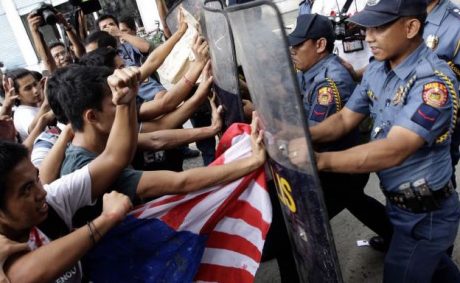 The old familiar bleed-your-heart-for-the-poor wars are raging once again amongst members of the Philippine intelligentsia. "Awareness" of the "plight" of the poor, after all, is quite the fashion statement in the guilt-ravaged Catholic minds of members of well-to-do cliques raised on the notion that camels have better chances of going to heaven than rich folk.
The resurgence of poverty porn in Philippine social media was sparked by the KADAMAY "issue" which revolves around a community of squatters that forcibly seized housing meant for personnel of the Philippine National Police. The more visible polar sides in this issue are the Duterte camp defending the president's decision to allow these squatters to stay, and the Yellowtards who criticise him for ignoring real property laws.
The real issue of course — ignoring the rather shallow personality-based siding of these "debating" camps — is around whether the poor are truly the entitled lot they are made out to be. To answer that question, we need to revisit the real definition of poverty:
Poverty is a habitual entering into commitments one is inherently unable to honour.
This simple definition — the only definition I recognise — explains a lot about how people become or remain poor. At the root of poverty is a misplaced sense of entitlement. Those who defend the KADAMAY squatters cite what is "enshrined" in the Constitution which, we are told, guarantees access to housing, "affordable" electricity and water as inalienable "rights".
If that were all true, then we should all simply stop paying our electricity and water bills — because having these resources piped into our homes is a "right". And because our society, as the Constitution dictates, ought to guarantee us "secure and stable jobs", we don't need to spend time and money going to school — because the state will provide.
Ironically, it is the rich who possess a clearer understanding of what it means to be poor. The rich have the burden of possessing a surplus of resources to enable them to see that their kids grow up not wanting and able to pursue all of their dreams. Thus, the biggest problem of rich people is in how to avoid spoiling their kids by allowing them to grow up into adults who believe that they are entitled to the "right" to have electricity and water pumped into their homes and "secure and stable" jobs ready for the picking once they walk out the doors of their parents' tony homes.
For, indeed, at the stem of the family trees of every wealthy family is a person or family who clearly understood what it takes to extricate one's self out of the poverty trap — by ensuring development of capabilities to allow them to honour their commitments.
Perhaps the only reason poverty is an "issue" amongst the Philippines' iPad-tapping latte-sipping "activists" is because many of them are raised to believe that they are entitled to good things. They actually believe that their sense of entitlement is something poor people ought to have as well in equal buckets full. Their parents ought to be disappointed.
[Photo courtesy Daily Mail.]
benign0 is the Webmaster of GetRealPhilippines.com.