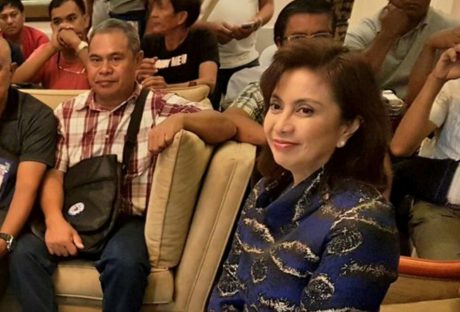 You made your bed. Now you have to lie on it. This is the underlying principle that guides whether or not "vice president" Leni Robredo was right to get onto the world stage to shriek about the "horrors" of the "extrajudicial killings" (EJKs) going on in the Philippines.
The EJKs (whatever way it is defined) are a domestic problem. As such, they need to be addressed through domestic channels — which means the Philippine Government needs to get its act together to resolve them. Robredo is part of that government. For a "vice presdient" to invite foreigners to intervene in the Philippines' domestic affairs is bad form — which is why many consider what Robredo did to be an impeachable offense.
The thing the "vice president" needs to understand is that her office is part of the system. The workings of this system are guided by the Philippine Constitution and the body of laws it frames. As such, everything that is seen to be a contributor to the complications that hobble the efforts to resolve "EJKs" can be traced back to inherent flaws in this system; that is,
(1) The adversarial relationship between the Vice President and the President owing to the way the people elected to those offices are elected separately;
(2) The ineffectual way the criminal investigation and justice delivery systems resolve and punish criminal activity; and,
(3) The farcical mechanisms through which government officials are held to account.
All of these are mechanisms within a system of governance Filipinos formulated, debated, and ratified. Politicians who seek — and ascend to — office within the framework of this system (through elections, official appointments, and referenda) in principle sign up to everything about the way it works, warts and all.
By making sumbong to foreigners, Robredo is essentially discrediting the system she had signed up to and had become a part of in 2016. In effect, Robredo put her hands up and proclaiming to the world "We give up. It's not working. Come over and take control!"
Talk about lack of personal accountability.
Robredo's behaviour epitomises the overall character of the Filipino that makes theirs a society that continues to fail to earn international respect. Filipinos made their bed — their "democracy". They need to learn to lie on that bed. You commit to being a "democracy", write a democratic Constitution, and swear to defend it. Revisit the real definition of poverty and we will see why the Philippines, at its core, remains such an impoverished nation:
Poverty is a habitual entering into commitments one is inherently unable to honour.
Are Filipinos inherently unable to honour their commitment to their own Constitution and the system they had built around it? So far, people like Leni Robredo are proving that to be true.
If that bed is broken, they need to fix it themselves. That's how adults think and behave. That is how poverty is permanently solved.
benign0 is the Webmaster of GetRealPhilippines.com.