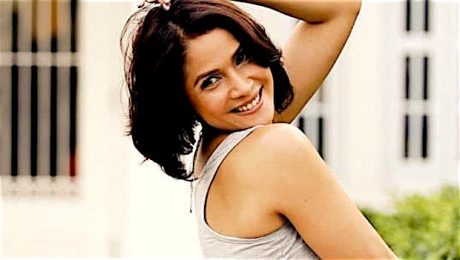 Renowned Filipino thought leader Agot Isidro is on the warpath, and the object of her ire is no less than Philippine President Rodrigo Duterte. In a treatise against his government posted on Facebook, the showbiz artist issued a pointed diagnosis to Duterte. According to Isidro, he is a "psychopath"…
Unang-una, walang umaaway sa iyo. As a matter of fact, ikaw ang nang-aaway.

Pangalawa, yung bansa Kung saan ka inuluklok ng 16 million out of 100+ million people ay Third World. Kung makapagsalita ka parang superpower and pilipinas eh. At excuse me, ayaw namin magutom. Mag-isa ka na Lang. wag kang mandamay. Hindi na nga nakakain ang nakararami, gugutumin mo pa lalo.

Pangatlo, may kilala along psychiatrist. Patingin ka. Hindi ka bipolar. You are a psychopath.
Translated to English, it reads:
"First of all, nobody is quarrelling with you [addressing the President]. As a matter of fact, you are the one picking fights.
"Second, the country of 100 million of whom 16 million voted for you is a Third World country. The way you talk, it is like the Philippines is some kind of superpower. Excuse me, we do not want to go hungry. Go hungry on your own if you want, but don't drag the rest of us with you. People go hungry as it is and here you are causing them to go even hungrier.
"Third, do you know a psychiatrist[?] You should see one. You are not bipolar. You are a psychopath."
This was in reaction to the Rappler article Duterte to EU, US: Withdraw aid, we will survive.
Isidro is a good case study of the impoverished mindset that keeps Third World countries like the Philippines, well, impoverished. The cornerstone of her argument against Duterte is that the only thing keeping Filipinos from starving to death is foreign aid. Therefore, following Isidro's logic, Duterte's actions — construed by mainstream media as putting this vital umbilical chord with the First World at risk — would result in mass starvation in the Philippines.
What Isidro is suggesting, in essence, is that Filipinos will simply roll over and die in droves when deprived of First World dole outs. Funnily enough, many Filipinos bought into this logic — that Filipinos will be the usual hapless victims in Isidro's hypothetical scenario in which the First World shuts down its fat pipeline of aid to the Philippines.
What seemed to fly way above many Filipinos' heads was the loser mentality that Isidro encouraged them to embrace. While Duterte expressed admirable confidence in Filipinos' ability to survive without foreign aid, Isidro's statements was an absolute indictment of Filipinos' ability to be a truly independent people.
According to Agot Isidro, Filipinos may as well die when deprived of foreign aid.
She does have a point. Third World countries owe their enormous numbers to modern medicine and health care — both of which are First World inventions. In essence, Third World capital sustains the Third World's billions of hungry souls. They survive — just barely — by getting by on a trickle of this foreign intellectual capital. But what sets apart the men from the boys in the global economy is the ability of a society to become net capital creators and leave behind the pathos of being a net capital consumer or even a net capital beggar.
The first step in this journey to becoming a truly great nation is for a people to wean themselves off dole-outs and start being self-sufficient. Duterte, at least, is capable of imagining a Philippines on its way to achieving just that. People like Agot Isidro suffer from a profound bankruptcy of imagination. It is this bankruptcy of the mind in Filipinos' thought leaders that is the real cause of the Philippines' chronic impoverishment.
benign0 is the Webmaster of GetRealPhilippines.com.