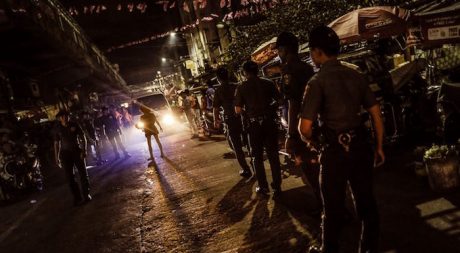 In a report submitted to the United Nations the Commission on Human Rights (CHR) reportedly asserts that the Philippine Government's war on drugs targets the poor.
Citing statements made by Philippine National Police (PNP) Director General Ronald "Bato" M. dela Rosa during a Senate inquiry, the CHR also noted that more than a thousand deaths occurrred during police operations.

"As of 15 September 2016, there are 2,035 deaths under investigation by the Philippine National Police, and 1,105 people killed during police operations," the CHR said in its written statement on the occasion of the UN Committee on Economic, Social, and Cultural Rights' scheduled review of the Philippines.

Data released by the PNP over the weekend indicates that the latter number has increased to 1,216 as of September 24.
How exactly the CHR arrived at the conclusion that the Philippine Government "targets the poor" is not entirely clear, however. The Philippines, after all, is a poor country. According to a June 2015 survey conducted by Ibon Foundation, 7 out of 10 Filipinos are poor. This means when one takes a statistical cross section of Filipino activities and events, there will generally be about 70 percent in the sample who are poor.
When one walks on Manila's streets, there is a 70 percent chance the next Filipino you bump into will be poor. When you walk into an SM Mall, it is likely that about 70 percent of Filipinos you find there will be poor. Filipinos involved in drugs, in drug pushing, and with drug syndicates, by virtue of this community being a subset of the Philippine population will likely be 70 percent poor. In the case of the latter, the figure will likely be higher. Poverty and an impoverishment of the mind brought about by substandard education makes one more predisposed to drug addiction and drug-related crimes than average.
This means more than 70 percent of Filipinos killed in Duterte's "war on drugs" would likely be poor. The question is, does a high percentage victims of the drug war in the Philippines being poor mean that this war necessarily "targets the poor"?
Not at all.
If North Korea dropped an atomic bomb on Manila and it killed 10 million Filipinos there, about 7 million of the dead would likely be poor if the Ibon Foundation survey result holds. On that basis, could we conclude that the North Korean attack "targeted the poor"? Of course not.
And so therein lies the abject irresponsibility in the reporting we are seeing in both local and foreign news media today. The framing of the arguments is consistently wrong and, as a result, the conclusions published as "news reports" are wrong.
A safer conclusion to make based on actual facts is that so-called "journalists" writing what passes off as "news" nowadays are backward engineering their "evidence" from pre-meditated political agendas. Rather than draw conclusions scientifically from hard balanced evidence, "evidence" is cherry-picked to suit the preferred conclusion.
It takes a hard-working mind to apply true critical evaluation faculties to sift through the deluge of information nowadays. Unfortunately, Philippine society is not exactly known for cognitive heavy-lifting. Instead, ours is a society of lazy debate and sloppy thinking. As such, notions like "war on drugs targets the poor" resonate and are lapped up as gospel "truth" by the public.
[Photo courtesy ABC News.]
benign0 is the Webmaster of GetRealPhilippines.com.