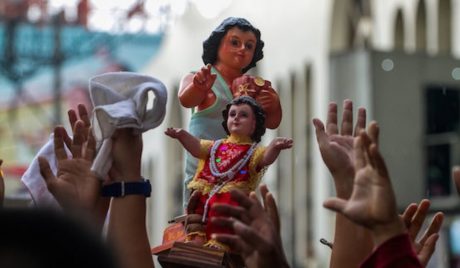 It really irks me no end to see and hear people judge others and label them as evil or bad, at the very least not good.
So-called righteous people who parade themselves as holier than thou are, in reality, hypocrites.  Like the minions of the yellow army who until now keep on harping that President Duterte and his supporters are evil.  I have lost count of the scores of insinuations made by the Liberal Party along this line, countless snide remarks and innuendos, indirectly pointing to Duterte as dangerous and evil and incompetent to lead the country.
Before, I dismissed their hysterical frenzy as part of our political campaign culture, characterized by traditional mudslinging, and typical of immature and clueless politicians.  Contrast that with the unstoppable Duterte campaign juggernaut solidly founded on change, ideals, and vision, and you know why most of the people, tired of the corrupt oligarchy, chose the mayor of a remote city to lead them.
What caught my attention was no less than Korina Sanchez herself, wife of Presidential candidate Mar Roxas, saying the following in a video message on May 6, 2016, just four days before the election:1 (transcribed video statement)
"This is a battle of good versus evil. I think that is more and more evident right now, Pipili dito ang tao. Sa dilim ba tayo o sa liwanag? Pupunta ba tayo sa nakakatakot o sa sigurado? Palagay ko pagdating ng Mayo-a-nueve, alam na ng tao kung ano ang kanilang iboboto." (The people will choose. Darkness or light? Do we go with what is terrifying, or with what is a sure thing? I think that when May 9 comes around, the people will by then already know what they will vote for.)
OMG!  I couldn't believe my ears when I saw this video!  This was pure and simple mudslinging.  Surely, it was a desperate effort to scare people about our country's future under a Duterte leadership.
What now?
So now that Duterte won, does it mean he is good and the losers are evil?  Is this what Korina Sanchez meant?  Of course not!  Her message was to woo the so-called silent majority to change their choice, voting for Roxas instead of Duterte.  Too bad for Korina, that didn't happen.  This asinine stunt just further eroded her credibility.
Many Filipinos who did not vote for President Duterte continue to raise the flag of righteous indignation.  Instead of supporting the war against drugs and criminality, these so-called "moral" people as they call themselves continue to criticize Duterte's anti-drug and crime campaigns on multiple fronts.  They even intensified their drive to slam and blast the spate of extrajudicial killings happening right after May 10, when Duterte became the presumptive President.
As Philippine Star columnist Paulynn P. Sicam wrote:
"Duterte's followers seem to be supportive of the bloodbath, lustily cheering every report of another alleged pusher biting the dust. Those who, like Senator Leila de Lima, dare speak out against the extrajudicial killings are assaulted with hate speech and threats of bloody murder. During the campaign, when hate speech was reaching its peak, I asked rhetorically, where has civility gone? Today, the question is, where has the rule of law gone?"2
On July 17, 2016, the Public Attorneys Office (PAO) chief Percival Acosta came to the defense of the Philippine National Police in the killings of drug suspects, citing that the number of deaths compared to previous years is negligible.3
Righteous indignation from the academe
Recently, even the presidents of Ateneo de Manila University (AdMU) and De La Salle University (DLSU) condemned the spate of extra-judicial killings.  AdMU president Fr. Jose Ramon Villarin talked of the "primal feelings of frustration, anger, and fear unleashed by the violence that continues to stalk our people." 4  Brother Jose Mari Jimenez of DLSU added: "As a Catholic and a Filipino, I am deeply disturbed by the spate of killings that have attended this administration's pronouncements regarding its anti-crime and illegal-drugs campaign." 5
These are from the heads of two Catholic schools where most professors, students and alumni do not even faithfully practice their religion anymore.  These are the people who conveniently use religion when it supports their views, the same people who criticize their church leaders in other areas such as the "RH Law" and the proposed divorce law.  These are the same people whose subjectivity in their practice of religious beliefs makes them, deep in their core, hypocrites.
These are the same schools that have failed to educate their students on how to live a good Christian life.  They lack or simply have forgotten the very basic knowledge of their faith: the Catechism, Christian Doctrine, the Ten Commandments, Commandments of the Church, and the Seven Sacraments.
Methods of righteous indignation
As can be observed, the technique of righteous indignation is used by Church leaders, respectable institutions and persons, non-government organizations and some politicians.
Here are some examples:
1. Say we are good, so our opponent looks bad.
2. Say that the others are bad, to make us look good.
3. Dig up old stories and photos to describe the evil of a person.
4. Invent stories that are difficult to verify.
5. Publish stories (about oneself or one's group) of being religious and prayerful.
6. And the worst: use religion to label who is good and who is evil.
At the end of day…
What the Filipino people want are security and personal safety. Security from drug traffickers, criminals, corrupt politicians, corrupt police and military personnel, corrupt judges, corrupt government officials and corrupt media personalities.
Ironic as it may seem, most of these people are supposed to protect us.  These very same people have taken an oath to serve us, only for us to find out that these are the same people from whom we need to protect ourselves.
Despite the numerous achievements of President Duterte in his first 30 days, his detractors continue to raise the flag of righteous indignation.
I hope and pray that, one day, the righteous indignation of these people will slowly fade away once they realize that such tricks work against the common good and do more harm to those who use them.
Citations:
1. VIDEO | Korina Sanchez on Mar vs Duterte: 'This is a battle between good and evil' .(2016, May 6). Interaksyon. Retrieved from http://interaksyon.com/article/127382/video–korina-sanchez-on-mar-vs-duterte-this-is-a-battle-between-good-and-evil
2. Sicam, Paulynn P. (2016, July 16). We are better than this. Philippine Star. Retrieved from http://www.philstar.com/modern-living/2016/07/16/1603165/we-are-better
3. PAO chief defends police, says number of drug suspects killed 'negligible'. (2016,,July 17) GMA News Online. Retrieved from http://www.gmanetwork.com/news/story/574007/news/nation/pao-chief-defends-police-says-number-of-drug-suspects-killed-negligible?utm_source=GMANews&utm_medium=Viber&utm_campaign=GMANewsViber
4. Esmaquel II, Paterno. (2016, July 29). Ateneo president hits killings in Philippines. Rappler. Retrieved from http://www.rappler.com/nation/141317-ateneo-president-villarin-killings-pavia-death?utm_source=facebook&utm_medium=referral
5. Esmaquel II, Paterno. (2016, July 22). La Salle presidents slams killings under Duterte admin. Rappler. Retrieved from http://www.rappler.com/nation/140551-la-salle-president-killings-duterte?utm_source=facebook&utm_medium=referral
I am a marketing consultant, entrepreneur and executive director of an NGO. I have extensive experience in advertising, product management, media, and general management.
I love art, graphic design, philosophy, theology, and history. I continue to study these subjects to enjoy my intellectual and artistic pursuits.