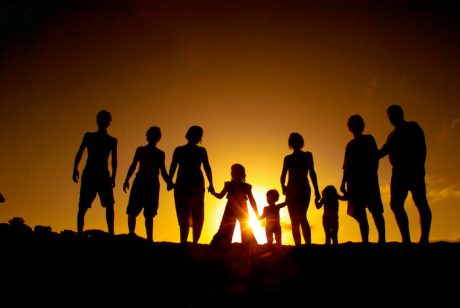 "Family."
A simple, six-letter word that seems to have a long and a not so easily understood definition. So just what is a "family"? Is it the people you are related to by blood? Is it the people you meet and interact with on a regular basis? Is it the people you have a sense of belonging with? Or is is something much, much more?
In our country today, the word "family" gets thrown around a lot. A certain TV station actually uses it to encourage viewers to stay and watch it's crappy TV programs. The use of the word "family" is thrown around when one is demanding freebies from other people. The word "family" is invoked frequently in the effort to promote "Pinoy Pride" in talented foreign artists who may or may not have some Filipino DNA integrated into their genetics.
Unfortunately for some of you out there, I now have to call into question just how we tend to define "family" and how some people have used it for often twisted or outright sinister purposes…
Before I begin, if any of you bothered to read a lot of the articles I've written here on GRP, you can tell that my family life was not a conventional one. Despite that, it was the only family I ever really knew and I can say with confidence that I wouldn't be the man I am today without them.
Now, the thing I can't help but notice is that many Pinoys are fixated on the basic idea of family and eschew everything else associated with it such as a sense of belonging, a sense of brotherhood and a sense of acceptance. In the end, it almost always boils down to blood relations even though some so-called "families" are all too often more like "organizations" than anything else. It becomes less about "belonging" and more about "conformity" which makes it easy for the wrong kind of people to manipulate others.
So really, I have to ask, what does "family" means for majority of Filipinos? Is it really about being part of something that you belong to, or is it more about being a slave to an organization that simply sees its members as tools to use for a given end. Indeed, the idea of "family" has been twisted to mean something different and is more about having people to take advantage of and take for granted.
Ladies and gentlemen, if families are indeed the basic units of a given community, perhaps it's time we changed how we view members of our family. Perhaps it's time to see the idea of family in a different light and acknowledge and hopefully root out dysfunction on that level before it leaks out into the rest of society. If it's true that the best lessons are first learned at home, then I think that the dysfunctions of society are best addressed and resolved in the home by the family in order to prevent it from becoming a large scale problem in the community.
I HAVE RETURNED TO LAY WASTE TO OUR ENEMIES!