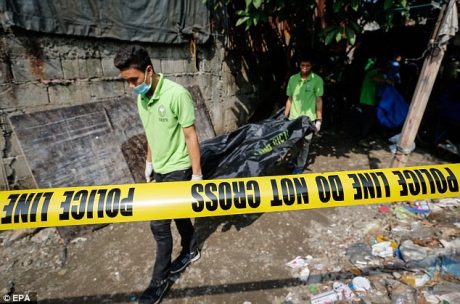 What to make of what's happening in the Philippines today. Reports of "drug lords", drug dealers, kidnappers, carjackers, and the like being killed in police operations fill the news. It could be a shortfall in reporting resources deployed by Philippine corporate news organisations that makes facts surrounding these incidents spotty but there seems to be more speculation than actual information on these events flying around all over the Net.
It is, after all, easy to justify killing suspected criminals in crime-weary Philippines. Filipinos have tired of due process and what is perceived as, at best, kids-gloved treatment of crooks by the police and justice system. At worst, Filipinos, now watching bewildered as reports pour in of mass roundups — and killings — of alleged drug dealers and users pour in, begin to suspect that the previous administration under former President Benigno Simeon 'BS' Aquino III of tolerating a vast drug trade or, worse, deliberately covering it all up. How, after all, could what seems to be a purge of all this villainy just suddenly erupt after years of relative quiet on this front?
Manila Times columnist in a 28th June article thinks all that quiet "defintely" points to the Aquino administration likely coddling and protecting drug lords out of "sheer incompetence, or outright complicity."
Indeed, Tiglao writes…
Such scale of the illegal-drug and crime menace couldn't have emerged overnight. I can only conclude that President Aquino allowed it to grow during his six years in office. He had hundreds of millions of pesos in confidential funds, and the Presidential Anti-Organized Crime Commission (headed by his executive secretary, Paquito Ochoa), yet did little to fight the drug lords.
On the other hand, it was reported on BusinessWorld Online back in mid-2015 that the Philippine Drug Enforcement Agency (PDEA) oversaw the arrest of almost 14,000 individuals from 2010 through 2014. According to the report, over 1,000 were "high-value targets" and more than 2,000 "drug personalities" had been charged. As early as 2011, Ochoa, speaking before the Anti-Illegal Drugs Forum, reported that on-going initiatives to curb illegal drug use and its trade enjoy the backing of the president himself.
So, what is the real score?
Perhaps, indeed, the scale of the illegal drug trade in the Philippines is such that even if law enforcement is applied selectively — favouring, say, elements of the trade that have ties with the powers-that-be and targeting those that lie outside of this sphere of ties — there'd still be enough "arrests" and "charges" of both low and "high profile" personalities to report.
Best case scenario, Duterte is truthful in his assertion that he considers no "friends" in his drive against the illegal drug trade and, therefore, the arrests — and killings — we are seeing today do reflect the long-overdue targeting of elements that, now, have been deprived of the immunity they enjoyed under the previous administration.
Worst case, something that, in these early days, still warrants serious consideration, is that we may simply be seeing a bloody purge as connections with the powers-that-be change. Interestingly enough, some of the five police generals publicly named as being involved in illegal drugs by President Duterte in a speech he delivered during the 69th anniversary of the Philippine Air Force on the 5th of July, are said to be close associates of former Department of Interior and Local Government (DILG) Secretary Mar Roxas who also ran for president under the Liberal Party this year.
One of the officers Duterte named, retired Philippine National Police (PNP) director Marcelo Garbo Jr is a staunch Roxas supporter who had only good things to say about the former DILG chief…
"He was the only DILG (Department of the Interior and Local Government) secretary who did not make money out of the PNP. He practically spent more hours with the PNP trying to address crime situation by leading the Lambat Sibat meeting at the PNP national headquarters," Garbo said, referring to Roxas.
Back in April 2016, Garbo was reportedly seen meeting with "men identified with Liberal Party (LP) standard-bearer Mar Roxas". According to the PhilStar report, one of the men in the party was former Region 6 Director Bernardo Diaz who was also among those Duterte named.
Given this political angle, it will be best that Duterte leave the fate of these named alleged drug personalities to the devices of due process. Indeed, Duterte had already opened himself to criticism for his use of a public occasion to name and shame these five police officers. Still somewhat rough at the edges it seems. Following Duterte's impressive inaugural "metamorphosis" there may still need to be some fine-tuning of the approach he takes to making good on his promise to rid the country of the drug scourge. Hopefully, the fine-tuning does not, in any way, dull the sharp edge he applies to fulfilling that promise.
[Photo courtesy Wyoming DailyNews.]
benign0 is the Webmaster of GetRealPhilippines.com.