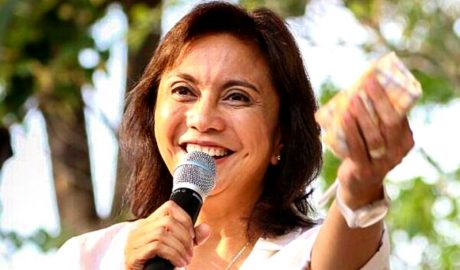 The votes have already been counted and it seems that Leni Robredo "should" be our rightful vice president. She won by a margin of a few million votes against Senator Bongbong Marcos, perhaps the LP's most hated vice presidential candidate. But while just about every ceremony has been done to honor Leni Robredo and allow her to finally become vice president of the Philippines, there has been a lot of opposition against her vice presidency and more than a bit of hate thanks to the suspicion of cheating on the part of her party and her allies, the LP, who are also quite well-hated for their incompetence and mismanagement of the Philippines in the last six years.
Ladies and gentlemen, I've chosen to support Bongbong Marcos during the previous welcome but, while you may find this hard to believe, if Mrs. Robredo would just clear up the discrepancies surrounding her. Look, I know when I'm soundly beaten but to be beaten through unfair and unproven means is something else entirely. I have seen this form of injustice being prevalent in the Philippines all too often even in the smallest of competitions such as children's contests to full on sports challenges and, I must admit, I simply cannot stand for it. It is all too often this attitude of casually cheating the system that has time and time again ruined us as a culture.
If anyone can remember, there was once a Nursing Board Exam leak that happened just a few years back that caused quite a stir. I have taken the Nursing Board Exam and am a little embarrassed to admit that I actually failed both times so I know just how difficult preparing for and, most importantly answering, the exam actually is. However, after said leak took place, it seems that the results of the exam were invalidated and the test-takers required to retake the test. There was a lot of anger and a lot of arguing to go with that anger but, in the end, many of the said students retook the exam anyway.
With the example mentioned above, much as I, or just about any other Filipino voter would like to give the "cheating" accusation a rest against Mrs. Robredo, the suspicion will always be there until she actually agrees to clarify it. What's worse is that whenever her detractors call her out on her cheating, the only thing she and her allies have to say is "prove it", instead of agreeing to a full probe of the issue and perhaps a manual recount to once and for all prove that the accusations of cheating against her is false.
Again, I would like to state that I would have no qualms of supporting Leni Robredo when she finally becomes vice president but, her blatant refusal to allow for any kind of investigation only creates more suspicion in the long run. If she is really adamant about her innocence, then she should have no qualms regarding the clearing up of a discrepancy or misunderstanding. If she wants her vice presidency to be unquestioned, then she should be willing to make sure that her victory is authentic.
I HAVE RETURNED TO LAY WASTE TO OUR ENEMIES!