Over the past few months I've heard so many theories regarding the just recently concluded elections. Some of them panned out well and others just tanked.
Thing is, speculators haven't stopped speculating with the latest rounds focusing around who President Rodrigo "PDiggity" Duterte is appointing to various government posts and there are over 20,000 such positions to be filled.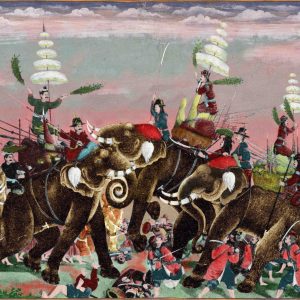 It's a bonanza for those who can get within striking distance of those positions. Looking at how some people in my circle are behaving, it reminds me of a piece of artwork that former Agriculture Secretary Cito Lorenzo showed me in his home. The artwork was a wooden panel sculpture of elephants trampling one another and Lorenzo explained that this was an apt depiction of what it was like to be one of the President's appointees.
Schmoozers will schmooze and poseurs will pose for whatever position they can lay their hands on. That's the way it goes, I guess.
Having observed battles for lucrative government appointments several times now, the fiercest ones will be for agencies that are responsible for revenue collection, agencies with huge budgets, and agencies that have discretion or control over different types of funds. The competition for these positions makes for much of the noise on mainstream and social media.
Despite some controversy riddling the appointments to his Cabinet, incoming president PDiggity seems to have a more strategic view for his administration. This early he is setting broad policy directions towards the economy and finance aspects of the country like taxation, countryside development and inclusive growth in the hopes ensuring socio-economic and political stability.
Word is that this early he is looking into a viable replacement for Banko Sentral ng Pilipinas Governor Amando Tetangco who is set to retire in 2017. The BSP governor has a six year term and can be reappointed once. Of all the BSP governors only Tetangco was reappointed, Gloria Macapagal Arroyo appointed him in 2005 and he was reappointed by Noynoy Aquino in 2011.
Of all the possible candidates, Duterte is eyeing Ayala Corporation's Chief Finance Officer (CFO) Jose Teodoro K. Limcaoco, who recently came into the public consciousness with his clear, concise and very timely statement of Duterte's banking transactions with the Ayala owned Bank of the Philippine Islands (BPI).
If you'll recall, Sen. Antonio Trillanes IV attempted to assassinate Duterte's presidential campaign. The senator unleashed a supposed exposé on the latters's BPI bank accounts housing about P211 million, leading even to a showdown dud in one of the bank's Ortigas center branches.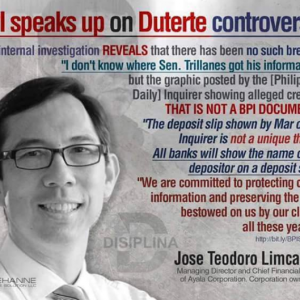 In could have been a catastrophic bank run for one of the largest banks in the country, but Limcaoco appeased public concerns with a statement. It was widely regarded as highly professional and strictly within the bounds of law without the jibberish and legalese formal bank statements are known to possess.
"I don't know where Sen. Trillanes got his information, but the graphic posted by the [Philippine Daily] Inquirer showing alleged credits, that is not a BPI document," Limcaoco told Rappler.com during the controversy's height and calls by Duterte supporters to close their accounts with the bank, especially after Liberal Party standard bearer Mar Roxas took advantage of the controversy against his rival by deporiting into the said bank accounts to reveal Duterte's ownership of the account with the deposit slip. "The deposit slip shown by Mar or the Inquirer is not a unique thing. All banks will show the name of the depositor on a deposit slip," Limcaoco said, brushing aside any controversy.
Just to give all an idea of what the vetting process will reveal, Limcaoco's profile in Bloomberg.com reveals an extensive banking and finance background and expertise. The profile partly reads: "Limcaoco has been the Chief Finance Officer and Finance Group Head of Ayala Corp. since April 10, 2015 and serves as its Chief Risk Officer. Mr. Limcaoco serves as the President of Liontide Holdings, Inc. and Philwater Holdings Company, Inc. Mr. Limcaoco joined Ayala Corp. as a Managing Director in May 1998. Mr. Limcaoco served as the President of BPI Capital Corporation since April 2007. Prior to April 2015, he held various responsibilities including President of BPI Family Savings Bank…" (See the full profile here.)
But one thing in that profile must be noted, as it has been by the Duterte camp: "Limcaoco earned Bachelor of Science degree in Mathematical Sciences (Honors Program) from Stanford University in 1984 and an MBA degree, major in Finance and Investments from the Wharton School of the University of Pennsylvania in 1988."
Yes, a REAL Wharton graduate… Unlike that asshat who ran for President whose name I can't recall right now.