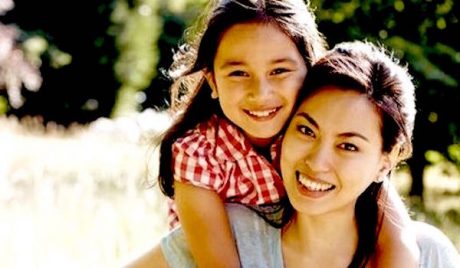 "Mother is God in the eyes of a child."
~Rose Da Silva, Silent Hill The Movie
While everyone's going crazy over the heated competition between the presidential candidates for voters, I'd like to take the time to talk about one of the central dysfunctions in Pinoy society. It is after all Mother's Day today and so I'd like to talk about the meaning of "family" and "motherhood" and how the dysfunction in our culture perverts even these two sacred and beautiful things. Thing is, for many countries, "family" is supposedly the basic unit of a community and when even that is corrupted and perverted, one need not think too hard on what the society actually becomes.
Now, I'd like to share with you a story told to me by one of my friends and avid readers. She too is a mother who, one time in her life, witnessed how some of us are all too willing to exploit even something as sacrosanct as the beauty of family and motherhood. Before I begin, I'd like to state that this story belongs to my friend and all credit should go to her and not me. Also, this is not a work of fiction but a true story although I've taken a few creative liberties here and there.
***
My friend was pretty young when all this happened. She was only 26 at the time, studying hard for her college degree and living with her parents in a rural part of Iloilo. We'll call her by the name "Jinky".
They had a neighbor then who lived in a shanty house right beside their own. She was a scrawny woman who often dressed like a prostitute. On a nightly basis, they would hear the loud cries of a baby that went on for many hours.
One day, Jinky decided to investigate and saw that the woman had three children and one of them was a 3 months old baby, the one that they heard at night. The other two children seemed too young to really know anything as they were only of preschool age but Jinky found them boiling water in what used to be a paint can to use for making milk for the baby.
Later, when Jinky finally got to talk to the woman proper, she learned that the three children were simply a product of an affair the woman had with a local market vendor. The reason the baby often cried at night was simply because the woman was out "working" so that she could earn enough money to feed her children and she wasn't around to breast-feed the poor thing. Despite the woman's appearance, Jinky saw that she worked hard just to make sure that her children had what they need but, even then, it was never really enough.
The children wore almost the same clothes every day which were filled with large holes, the only thing they could afford to eat was a can of sardines which was shared by the two children and all they had to sleep on were sacks of dirt. Moved by pity, Jinky and her parents decided to watch the woman's children for her whenever she was gone. More often than not, they would even let the woman's children stay in their house.
But then, one day, the poor woman died after meeting her fate at the bumper of a jeepney. It was never clear what really happened, but it seems there was a huge commotion in the local marketplace and, in her panic, the poor woman wasn't able to avoid the oncoming jeepney that ended her life. The woman's children and Jinky were devastated at the news that the woman wasn't coming home ever.
Then the time came for the woman's children to go to their grandparents and Jinky thought that it was only for the best. However, she often thought that the woman would let her adopt the baby because Jinky often heard the woman telling her that she was the baby's "other" mother. Unfortunately, that was not what happened.
Apparently, the grandparents of the children had other plans for the baby. They weren't just going to give it away for adoption. They wanted to sell the poor thing for a large amount of money.
In the end, Jinky never got the baby because she was just another poor college student at the time. Later however, she learned much to her relief that the baby had been adopted by a wealthy and loving childless couple.
Today Jinky lives a comfortable life in Iloilo with her family of six children. However, she told me that she often thought of that baby in the years before and what would've happened if the wrong family had adopted the baby. She often thinks that perhaps she could have just used her tuition at the time to buy the baby and just continue her course once she'd gotten money again.
***
Anyway, what is truly sad is that this is, more likely than not, a unique and isolated incident. Even as I speak, I can imagine a lot of irresponsible parents out there who just up and decide to sell their children for a given amount of money. Now look, I can understand if they cannot support their own children but do they have to go as far as to selling them off like pets or livestock? Must they dehumanize their own children by treating them like animals?
Look ladies and gentlemen, if we truly want Philippine society to improve, let us all learn to be responsible parents to the next generation. Let us look after the children of our country for we are all parents in a spiritual and moral sense as each and every one of us has a responsibility to do what is right and be a good example to those younger than us. Let us treat every child with respect and dignity as individuals who will one day take our place rather than simply commodities to be traded or useful "investments."
I am Thaddeus Morvacle Grimwald, son of a truly heroic mother, and from my heart I say:
HAPPY MOTHER'S DAY TO ALL MOMS OUT THERE FROM THE ADMINS AND CONTRIBUTORS OF GET REAL PHILIPPINES!
I HAVE RETURNED TO LAY WASTE TO OUR ENEMIES!