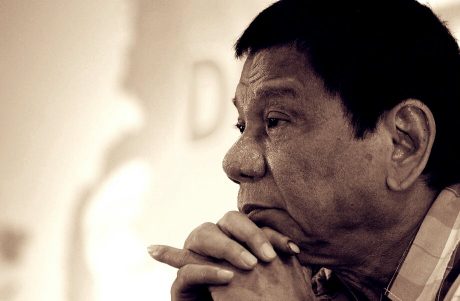 The Philippines' once-powerful Roman Catholic Church has finally met its match. For starters, it chose to be on the wrong side of history during the campaign in the lead up to the May 2016 elections. Back on the 1st of May this year, the Catholic Bishops' Conference of the Philippines (CBCP) issued a statement condemning then candidate Rodrigo Duterte as a propagator of "morally reprehensible" positions on the Philippines' many social challenges.
The CBCP statement adds…
The desire for change is understandable. Our people have suffered from incompetence and indifference. But this cannot take the form of supporting a candidate whose speech and actions, whose plans and projects show scant regard for the rights of all, who has openly declared indifference if not dislike and disregard for the Church specially her moral teachings…
Unfortunately for the CBCP, Duterte is now president. Not only did he decisively bury the Church's preferred candidate — the prayerful Liberal Party candidate Mar Roxas — in a massive landslide vote, he is reportedly quickly gaining ground taking effective control of the House of Representatives as alliances consolidate around his leadership. Indeed, the Duterte victory, I wrote earlier, was a vote against the dysfunctional status quo presided over by outgoing President Benigno Simeon 'BS' Aquino III. And, as he now calls it, it is evidently also a referendum against the once-lofty moral ascendancy of the Philippines' Roman Catholic Church.
Like the Aquino administration, the Church did not do itself any PR favours over the last 30 years. It had zealously blocked the passage of much-needed population control measures, effectively making it complicit to the scourge of the enormous population the Philippines suffers today. Worse, it had, as an organisation, behaved no differently to any of the other oligarchic and feudal clans that dominate Philippine politics. Back in 2011, the Church was embroiled in an explosive scandal surrounding the way Butuan Bishop Juan de Dios Pueblos successfully solicited the purchase of a brand-new Mitsubishi Montero from then President Gloria Macapagal-Arroyo in 2009. Bishop de Dios reportedly wrote a letter to then President Arroyo soliciting "donations" to buy him a nice sport utility vehicle (SUV) for his birthday…
MANILA, Philippines – Butuan Bishop Juan de Dios Pueblos wrote a letter to then President Gloria Macapagal-Arroyo in February 2009 to ask for a brand new car for his 66th birthday.

He said he will use the vehicle to reach far-flung areas in the Caraga region.

"I hope you will never fail to give a brand new car which would serve as your birthday gift to me," Pueblos said in the letter.

"For your information, I have with me a seven-year-old car which is not anymore in good running condition. Therefore, this needs to be replaced very soon," he added.

Arroyo agreed and after 5 months, the Philippine Charity Sweepstakes Office (PCSO) gave Pueblos a check for P 1.7 million, which he used to buy a Mitsubishi Montero.
The Roman Catholic Church once styled itself as the Philippines' pre-eminent king-maker having used its vast nation-wide network of church buildings and parish priests as a sharp tool of mass communication through which it issues "pastoral letters" denouncing politicians it is against and propping up its preferred candidates. Duterte now boasts of how the 2016 elections proved to be a "public referendum" between him and the CBCP. Given his strong mandate to institute reform, he has vowed to out the Catholic Church's "sins" and expose it for what it is, a "hypocritical institution" that has "a long history of wrongdoing" (the latter quoting the words of the author of the ABS-CBN News report cited).
Like it or not, the fact is, the Philippines' Roman Catholic Church is a key part of that dysfunctional status quo under which the Philippines languished as a society for centuries. Its focus on lionising poverty, embedding a deep victim mentality in the psyches of its followers, and promising to them nothing in life and everything in death is a big part of the reason sustainable prosperity eludes the majority of Filipinos today.
It's high time that Catholic Filipinos start regarding their faith through the harsh lens of reality and modern critical analysis. Only then can real change happen.
benign0 is the Webmaster of GetRealPhilippines.com.