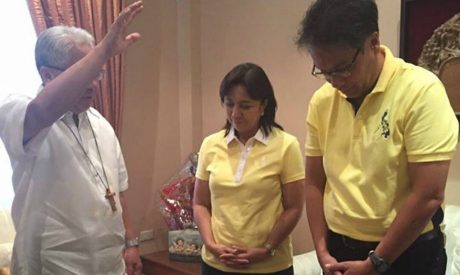 Okay, let's get this tidbit out of the way first:
Yes, I was raised Catholic and I continue to practice my religion to this very day. I do it because I really do believe in a God Who loves His people regardless of who or what they are and has, over the ages, provided them ways to better themselves and those around them. I am not ashamed to say that it is the spirit of morality found in the Bible that forms the core of my moral compass. However, just because I adhere to Catholic doctrine doesn't mean I abide the injustices committed by those who claim to be "Catholic".
Truth be told, this is another reason why I am deeply disdainful of Pinoy society. I have always believed that religion is a good thing as it may be a good place to start in order to form one's sense of morality. Unfortunately, here in the Philippines, just about everything is easily corrupted by our dysfunction. From even the most innocent of intentions to great ideologies, the evil (yes, I'm gonna go ahead and call it that now) in our culture manages to subvert even the kindest of concepts and transforms them into disgusting mockeries of what they should be.
Now, let's talk about religion, more specifically the Catholic Church. Truth be told, I once held a hefty amount of respect for the religious institution I was once born into. However, over the years, I've come to notice a strong discrepancy between the local Catholic Church and their counterparts in other countries. Thing is, I know that the Catholic Church has its own flaws and issues since it is made of human beings who are every bit as fallible as you and me. Unfortunately, here in the Philippines, instead of being spiritual advisers to the common people (as they often are in other countries), they have essentially become a tyrannical institution with delusions of grandeur.
Worse, they like to cover up any evidence of their own failings throughout history. Look, like I said, I'm Catholic as well but I tend to think that the Church shouldn't cover up its flaws like a teenager struggling to get his pants back on after being caught masturbating. I think it's time that the local Catholic Church own up to its own issues as even the Bible itself tells us to always stand with the truth.
Anyway, here are three things that I things that I think our local brand of the Catholic Church should own up to:
Child Molestation
This is by far the worst offender so I'm putting it forth first. The thing is, while I still think that there are still a good number of Catholic clergymen who are morally upstanding people, the issue of child molestation among the clergy is starting already a huge issue on a global level. Unfortunately, once again, the Catholic Church and its media allies are quick to expunge any shows that expose the unholy practices of a lot of its major members. You may get one or two, but these tend to be very few and far between.
For one thing, I will say that the TV show May Bukas Pa wasn't really all that bad and indeed had some merits of its own. Unfortunately, the way they whitewashed the local church was unbelievable. They were portrayed as the ultimate authority of good in the show and were never shown in a negative light.
I was thinking that, since the show was about a child with miraculous powers, why didn't they make an episode wherein the protagonist would be menaced by a pedophile priest and then use his God-given gifts to bring the corrupt clergyman to justice?
Corruption In The Church
Look, I know that corruption saturates just about everything in our little country and that the Church is pretty much fair game in all of this. Unfortunately, again, the Church just loves to hide from the masses that they too are involved in much of the political and financial corruption happening in the country. I know they're not perfect people, but why do they have to go to such lengths to hide the more darker aspects of their organization.
Indeed, as mentioned above, the local Catholic Church has essentially become a glorified institution that more often plays a part in politics even when our very own constitution outright states that it shouldn't. It has a hand in a lot of organizations and activities in the Philippines which it has little to no business in such as birth control, sexual preferences and practices and, of course, political affairs. I often wonder why it's just so hard for some people to fully understand the meaning of "separation of church and state" or is it because someone is keeping the truth hidden from the common people.
And now, they want to make Cory Aquino a saint huh?
Unbelievable…
History Of Violence
I'm adding this here not because I think Islamist terrorists have a right to attack Christians because of past transgressions. Indeed, I think that we are all responsible and accountable for our present actions and that any form of victimization is not a valid excuse for victimizing others. However, I still think that the local branch of the Catholic Church should still own up for a lot of the crap that was committed all those years ago instead of backpedaling when confronted with historical facts.
I'm only taking the time to mention this because I once heard a sermon wherein the local priest seemed to expound that Christians, or more specifically Catholics, are incapable of violence like the Muslims, Jews and Hindus of the world. This despite the fact that all the ruckus in Northern Ireland does, in fact, involve Catholics.
Yes, we've come a long way from the idiotic peasants of Medieval of Christendom (Or have we?) and the Inquisition no longer exists in any form. No, we don't burn witches at the stake any more either. However, I think the Catholic Church should stop presenting itself as a bastion of moral perfection when it clearly isn't just as no religion in the world can claim any sort of moral superiority.
I HAVE RETURNED TO LAY WASTE TO OUR ENEMIES!