Looks like my last article about Martial Law, "Calls for 'justice' for the Martial Law 'victims' are just fashion statements" hasn't really sunk in. Worse, all the Martial Law Crybabies in my social media radar seem to have stepped up their idiotic campaign to mis-inform Filipinos about Martial Law.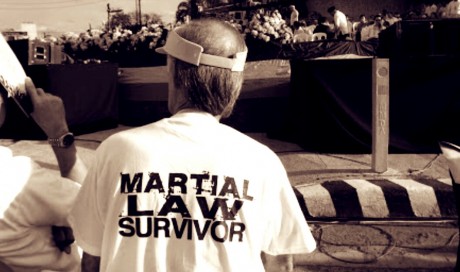 I'm glad someone who was actually a victim of police brutality during that period finally spoke up. Read all about what former Ambassador (now a writer for the Manila Times) Rigoberto Tiglao wrote here. Tiglao is a bon a fide "Martial Law victim". As benign0 wrote earlier, we really should listen to people who were really there.
What I find bizarre is how Filipinos, instead, choose to listen to the ululations of cretins like Jim Paredes and Cynthia Patag. I mean they're just singers and B-movie actors/actresses for god's sake! How do their words and thoughts stack up to a guy like Tiglao? Obviously, Filipinos are so starstruck by these celebs that they forget to think straight.
As a matter of fact, Tiglao clearly recalls what sort of a student Paredes was at the Ateneo High School, some kid who was "known in our high school for his singing and dancing, not for thinking and writing." Tiglao goes on to say about Jim who, for some reason, wrongly asserted that he was a classmate of Tiglao's at the Ateneo…
First of all, Jim wasn't and couldn't be my classmate at the Ateneo High School, but a batch mate. I was in the "B" class for semi-honors students, with "A" being the honors class. Jim was in the G or H class.
Ha ha! Tiglao is super classy! 😀
Seriously, why would anybody listen to these wankers anyway — specially on a topic as serious as Martial Law?
I'm guessing that the Martial Law Crybabies are in a panic seeing that Bongbong Marcos is gaining so much traction on the campaign trail. Have you checked his Facebook page lately? It's now got more than 1 million 'Likes'? Last time I checked (about a year or so ago, if I'm not mistaken), he had less than 100,000. Mar Roxas, to be fair, has 1.3 million as of this writing. But I'm quite confident BBM will catch up and overtake him soon.
And so here we are, seeing a throng of desperate Martial Law Crybabies desperately tweeting and posting memes and emo stories about those so-called "victims" of the Marcos regime. And all they get for their trouble is millions of millenial eyes rolling up to the sky in bemusement.
Lumang tugtugin coming from a sorry lot of lumang taos.
Pathetic.
Bongbong Marcos with the ironic help of the Epic 1986-2016 Yellowtard Fail has effected the most spectacular PR turnaround in Philippine history. Left in the dust is the Yellow Mob and their old song-and-dance playing out like a broken record. They wasted their political capital on loud trumpetting instead of investing it in quiet achievement.
So for all you Martial Law Crybabies, tigilan niyo na ang ngawngaw. Just cut your losses and admit that the Philippines continues to fail not because of the "evils" of the Martial Law Years of the 1970s but because what we Filipinos got out of your 1986 "revolution" was nothing of any substance that we could work with.
Frustrated artist doing geek for a living.