Before we begin, let's delve into a little bit of set theory. Let's define three distinct sets/groups in Filipino society. Yes, they all exist.
First, the pro-Mar group. This set consists of those whose net political inclination is to back and support Liberal Party (LP) candidate Mar Roxas and his campaign for the presidency for whatever reason.
Next, we define the pro-Aquino group. This set is composed of Filipinos who have taken the side of the Aquino family, right or wrong, and regardless of which Aquino politician is currently relevant. Generally speaking, those in this group were supporters of the late Cory Aquino, and have transferred their support to the son, outgoing president Benigno Simeon "BS" Aquino III.
Finally, but not the least, we look at the anti-Marcos group. Among them you will find mostly those whose relatives or colleagues were either victims or casualties of the Martial Law era, during the time of the late president Ferdinand Marcos. There are probably also some in this group who oppose Marcos without knowing why they should.
Here, we concern ourselves with the intersection of all three groups, from here on referred to as The Subject. For argument's sake, I defined each group as distinct from the others, although in reality, one can be forgiven for thinking that all three groups are one and the same.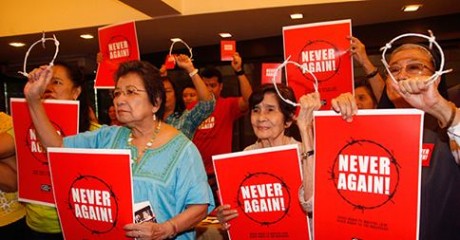 The anti-Marcos part of The Subject has been generating a lot of clamor to oppose the vice-presidential run of Ferdinand "Bongbong" Marcos, Jr., under the slogan Never Again. That is, never again should a Marcos be allowed to sit in Malacañang. Unfortunately for them, as GRP webmaster benign0 has pointed out, the noise they make ultimately highlights their lack of a vision. They don't even seem to have an idea of what they want a future Philippines to be; they merely emphasize what, to them, it shouldn't be, and who must not be in a position of authority.
The pro-Aquino group part of The Subject will defend its "royal family" to the death. BS Aquino was supposedly going to be a good president because Cory, to them, was. Noynoy, Cory and their other kin have never done wrong, can never do wrong, and when things do go awry, it's always someone else's fault. Their favorite whipping posts have been, aside from the Marcoses, the Arroyos.
Because Mar Roxas was endorsed by BS Aquino as the LP candidate, the "can-do-no-wrong cleanliness" of the Aquinos suddenly applies to him as well. This is perhaps the starkest point being emphasized by the pro-Mar group. Therein stands out the dogma, after all; if endorsing Mar was a mistake (hint: it was), then BS Aquino has made a mistake, and to ever even suggest that BS Aquino makes a mistake will get you branded a heretic.
Enter the concept of original sin.
Religion class for Christians and Catholics teaches that because Adam and Eve sinned against God in the Garden of Eden, all of their descendants – basically the entire human race – are tainted with their sin. And thus all babies must be baptized in order for the original sin to be washed away.
In the same way, The Subject will forever keep on insisting that because Marcos was supposedly such a vile, despotic dictator, the survivors of Ferdinand Sr., and all future generations of Marcoses, are tainted with the "original sin" of the deceased. Bongbong will be a bad president simply because he is his father's son. No amount of baptism, no amount of ice buckets being dumped on the Marcoses' heads will ever be able to wash away this sin, especially since incessantly reminding Filipinos of "the dark Marcos years" and how "they were saved by Cory and friends" is what keeps the Aquinos relevant.
The other side of the coin was mentioned earlier. Because Cory is a saint to the pro-Aquino group – this belief is not to be questioned at all times – BS Aquino is, too. And because BS Aquino chose Mar Roxas, then Mar is immaculate. End of discussion.
BS Aquino's lame duck, limp dick presidency, however, is anything but untainted. Countless lives have been needlessly lost due to his government's incompetence. All one has to do is mention the Luneta Hostage incident, the mismanagement and unnecessary politicization of Typhoon Haiyan relief operations, and the 44 dead from the Special Action Force (SAF) of the Philippine National Police (PNP). Filipinos should not ignore either, the attempt by BS Aquino's "peace panel" to hand over to the Moro Islamic Liberation Front (MILF) a sizable portion of Mindanao, never mind that certain provisions were dubious and possible violations of the Constitution. They were negotiating, as equals, with an insurgent group, for crying out loud.
Mar Roxas is no slouch when it comes to the screw-ups department. Filipinos continue to blame him for the breakdown of the Mass Railway Transit (MRT) commuter train system, and supposedly with good reason; shady deals which replaced the maintenance contractor with a dubious one were approved during his term, and were continued under his successor in the Department of Transportation and Communications (DOTC), Jun Abaya. Mar also figures significantly in the botched Haiyan relief operations because of his episode with Tacloban mayor Alfred Romualdez ("you must remember that you are a Romualdez and the president is an Aquino"). Mar was also seemingly bypassed by BS Aquino in the planning and execution of the operation in Mamasapano (the "misencounter"), yet he continued to defend his boss. He also downplayed the bullet-planting operations (tanim-bala) done by personnel in the Manila International Airport ("kung nagpasok ka ng contraband sa airport, paano naging problema ng gobyerno yun?").
Therein lies the hypocrisy. The pro-Mar, pro-Aquino, anti-Marcos groups would like Filipinos to believe that the Marcos survivors and descendants are forever "unclean" for simply breathing and carrying the clan name, yet overlooking mistakes committed consciously by the Aquinos and Mar is perfectly acceptable. The double standard being applied here only serves to highlight the stark difference in the nature of each side's transgressions.
Even if, for argument's sake, Bongbong were grown enough back in the 80's to decide to oppose his father, and now could simply apologize for his father's crimes, why are Filipinos expecting him to do something they themselves wouldn't? Opposing one's parents is considered a cardinal sin in Filipino society.
Let's apply the same standard to the Aquinos. Where is the clamor for BS Aquino to apologize for his mother's incompetence? Where is the clamor for Mar to apologize for his failures and BS Aquino's failure of government? What makes the need for Mar to apologize even more poignant is that he chose to continue Daang Matuwid instead of be his own man.
There won't be any, because generations of Filipinos have been indoctrinated into the dogmatic belief of "Aquino good, Marcos bad". And this dogma is extended to whomever the Aquinos have pointed to as The Enemy. Gibo Teodoro and Renato Corona have had the misfortune of being tainted simply because of their association with Gloria Arroyo.
This is indeed hypocrisy, if viewed from the lens of accountability as an idea. Because Filipinos, however, are unable to graduate from thinking in terms of personalities, to them there is no double standard.
This is simply how things are done in the Philippines, and it is not likely to change for a long, long time.
[Photo courtesy: indybay.org]
А вы, друзья, как ни садитесь, все в музыканты не годитесь. – But you, my friends, however you sit, not all as musicians fit.