A note posted by Facebook user Lesley Dianne Siojo Cabildo containing "an open letter" to Philippine President Benigno Simeon 'BS' Aquino III is going viral. The letter accompanied a meme originally posted by Cabildo on the 24th August 2015. The meme (pictured below) quoted the following statement supposedly made by the president:
Filipinos leave their country to work abroad because they want to, not because they have no opportunities in their country.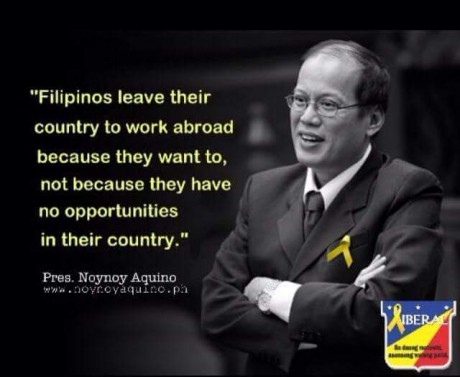 The meme had the Philippine Liberal Party logo displayed on its lower right-hand corner. However, a Web search could not reveal a reliable source from news media quoting the President actually making that statement verbatim. The quote seems to have been a loose interpretation of statements made by Aquino in reference to OFWs in his 2011 State of the Nation Address. The Inquirer.net in a report following that speech quoted a specific passage that could have been interpreted in the way exhibited in the meme:
Kung magkasakit ka at makita mo ang nars na nag-aruga sa iyo, sa halip na magserbisyo sa dayuhan kapalit ng mas malaking suweldo, pakisabi rin po, 'salamat po.' Bago ka umuwi galing eskuwela, lapitan mo ang guro mong piniling mamuhunan sa iyong kinabukasan kaysa unahin ang sariling ginhawa; sabihin mo, 'salamat po.
[Translated by the Inquirer.net from the Tagalog dialect: "If you get sick and you see the nurse who takes care of you, instead of serving foreigners for a higher salary, please say 'thank you'. Before you go home from school, approach the teacher who chose to invest in your future instead of prioritizing her own welfare, and say 'thank you'."]
Here is a copy of Cabildo's response to the statement, nonetheless:
An Open Letter of an OFW to Our Dear President Noynoy Aquino

Dear Mr. President,

I am one of your supporters and I voted for you last presidential election 5 years ago. I am also an OFW but because of this post you made my blood boil.

I tell you that it is not true that we chose to work abroad rather than here in our country. Yes, there might be opportunities here however due to the very high standards raised by companies, we are having a hard time getting employed. There are discriminations here, that even skilled and capable people are left unemployed. For example, if we did not graduate from top schools (UP, ADMU, et al), we will not able to apply for a higher post. If we are on the healthy side, we are advised to come back until such time we meet the qualifications of being stick-thin. Tell me, are these people that perfect to degrade the applicants and hurt their feelings???

I have been here in our country for the past 2-months and am still jobless until now. I have submitted my CV in various hospitality properties using the experiences I gained working for five-star hotels abroad. However it seems that physical qualifications matter more than having the expertise because until now I have not received any response from these companies.

So tell me Mr. President, where should we go for work? In other countries, applicants are accepted despite being healthy, short or inexperienced. They will invest so that you become fit for the job you have applied for.

If there are really opportunities here, then why has the unemployment rate gone up instead of [gone] down?? You have upset me on how you see us, OFWs. We did not [choose] to be like this. We just wanted to give our families a comfortable life which is elusive for us here in our own country.

Have you ever thought why Filipinos choose to work in the Middle East? It is because we are getting our salaries full; no taxes and no deductions. We are given good benefits as well. Unlike here, it seems like 50% of our salaries go to the government and the cost of living is too steep. So, how [can we] save and reward ourselves?

I hope PNOY you will realize that YES there are so many opportunities in this country, but sad to say, they were NEVER meant for us.

–Lesley Dianne Siojo Cabildo
benign0 is the Webmaster of GetRealPhilippines.com.