It has been one year since the brutal encounter between government forces and rogue Muslims in Mamasapano, Maguindanao. Elite commandos from the Philippine National Police-Special Action Force were ambushed by members of the terrorist Moro Islamic Liberation Front, along with members of another terrorist (and now ISIS-affiliated) organization Bangsamoro Islamic Freedom Fighters. The firefight (called 'misencounter' by presidential aspirant Mar Roxas) left 44 members of the PNP-SAF dead. With the Senate reopening its investigations on the encounter today, I found it as a great time to reflect on the incident and the so-called "peace process."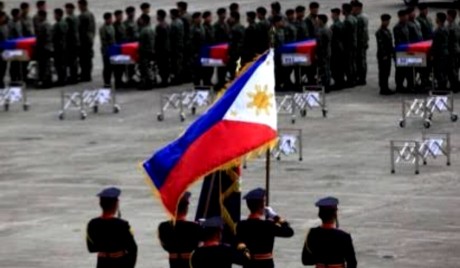 One year after, justice remains elusive. It's safe to assume that it will remain that way for as long as President BS Aquino is in power. Apparently for BS Aquino, the selling of a portion of national territory so-called "peace process" with the MILF is more important than the lives of 44 elite government troops.
It has been previously posted on this blog that dealing with a single Muslim group will not bring peace in Mindanao. Apparently, we have more rogue Muslim groups like the BIFF, Abu Sayyaf, Awliya Group of Freedom Fighters, and likely several ISIS-affiliated groups. But the thing is, the Moro Islamic Liberation Front showed us that they were not a worthy group to deal with after killing 44 policemen (not that we should have been dealing with them in the first place).
The membership of the Moro Islamic Liberation Front has shown to be just what people think they are: bandits and Muslim extremists. The government had already shown willingness to grant them self-governance and hand over a single region of the country. Then, the MILF betrayed that trust by killing 19 soldiers in 2011 and 44 policemen just last year. But what's even more painful about it is that BS Aquino, the president, has been willing to keep on dealing with the Moro Islamic Liberation Front.
The Moro Islamic Liberation Front has the audacity to demand the passage of the Bangsamoro Basic Law without any amendments, despite the entire country knowing that their members are a bunch of loose cannons. The executive's response has been to adhere to the MILF's wishes. Thankfully, the Senate Committee on Local Government junked the Malacanang version of the BBL.
The Moro Islamic Liberation Front makes a demand, and the Palace submits. Should it not be the other way around? If the MILF wants to live in peace, it should submit to the law and the power of the Philippine Republic or face complete annihilation.
[Photo courtesy Interaksyon.com.]