Superheroes are all the rage now, and with so many movies coming out from comic book companies, it might be relevant to take a look back and see, where did superheroes originate? We would say Batman, Superman and Captain America would have taken some elements from ancient and medieval heroes, like Hercules, Gilgamesh and King Arthur. But there is a bridge, one that defined the modern concept of a superhero.
In the early 1900s, the concept of a crimefighter saw its advent. Crime was becoming a serious problem in highly urbanized societies, and so people were looking for a respite from the reality. The makers of fiction and comic books thus created crimefighters with fancy costumes and special powers that distinguish them. The Scarlet Pimpernel in 1903 and Zorro in 1919 (by Johnston McCulley) were prototypes of superhero costumes. Then some had superhuman abilities, like the Shadow from the United States, the Nyctalope from France and Ogon Bat (Golden Bat) from Japan. Hugo Danner was among the first modern characters with super strength.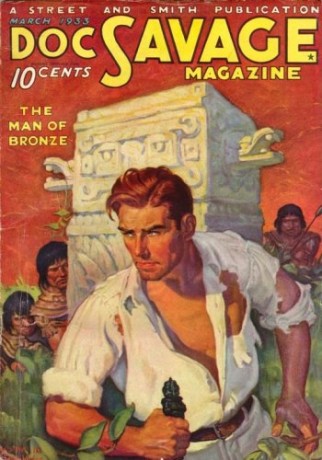 But one character for me stands out as a major influence of most superheroes. He is Clark Savage, Jr. a physician, surgeon, scientist, adventurer, inventor, explorer, researcher, and even a musician. But he is better known by the name Doc Savage. He was trained in the martial arts from an early age, has great strength and endurance, has vast knowledge of the sciences and has a photographic memory. And yes, perhaps Chuck Norris (at least the fancified Internet version of him) has got nothing on Doc Savage.
Sound familiar? Yes, Doc Savage was the prototype for Batman, Superman, Green Hornet and many other heroes that came after (Savage had a Fortress of Solitude in the Arctic even before Superman had). People who are both physically strong and mentally capable carry on the spirit of Savage (An 80s parody of Doc Savage was Buckaroo Banzai). And he embodies the everyman, perhaps the prototype of the archetypal "superman" – one who's so good in everything, he can't be beaten. In fact, you'd wonder if he was human at all. But human he was. Doc Savage obtained his "powers" and skills mainly by training. It was based on the idea that given sufficient training, anybody can become superhuman.
This idea is intended to help the human spirit by giving the people the idea that through self-development, one can achieve a higher state of being – and make life easier. This was seen as a step to ending wars and making humanity more peaceful. I read about many people in the Time-Life book Utopian Visions who attempted to achieve this higher state of being, although by mystical means. In the physical sense, many athletes have become almost superhuman, most notably the actor and martial artist Bruce Lee. It's proof that in real life, there was a time when being "overpowered," or achieving a higher level in something was in fashion.
Today, many people likely frown upon Doc Savage and the idea of a "super everyman." The derivatives of Doc Savages, including Superman, simply became plot devices for selling comic books. Writers at the time thought a weakness was essential to a hero, so the weakness of kryptonite was invented. Marvel Comics made popular flawed heroes. In anime, probably influenced by Hong Kong-made kung fu movies, there are many "heroes" who are emotional, foolish, lecherous, dim-witted, arrogant and even selfish. Most viewers today like to see human weakness magnified in heroes. Readers used to these types may find Doc Savage an evil kind of concept.
Of course, some people did twist this idea of Doc Savage's "superman." Let me invoke Godwin's Law again and mention the Nazis. Those in the know are aware that Nazi Doctrine held belief in a superior Aryan or superhuman race, and those who have the qualities of this superhuman race deserve to rule over others. This is considered one of the motivations behind the Nazi party's actions in World War 2, and the effort to exterminate Jews through the Holocaust. Yes, the concept of superheroes may have some connection earlier 20th century views about "supermen" that were popular at the time, and may have fueled some ideas about racism.
I'm going to offer an explanation on why Filipinos (and perhaps other people from other countries in general) have a twisted view of heroes. I have always thought that heroes were an example to follow, not people who do your job for you. But as Grimwald explained, Filipinos tend to prefer the latter, owing to their squatter mentality. Another controversy is whether to consider figures like Jose Rizal, Emilio Aguinaldo, Andres Bonifacio or other contemporaries as heroes. Many are convinced Aguinaldo had potentially strong allies like Bonifacio and Antonio Luna killed. It showed that even then, the bickering, selfishness and disunity that plagues Filipinos today was very strong even during the early days. Nothing's changed.
Perhaps Filipinos also see the figures of the Revolution as the heroes who will do everything for them. Many Filipinos treat today's politicians in the same way. As "starstruck ignoramuses," they treat politicians as celebrities. They hope the politicians will just be "heroic genies," reading their minds and giving them what they want. Problem is, the reality is different. But Filipinos don't seem to want to wake up from this.
Another problem with some "heroes" today is that they pander to the underdog mentality of people. I sometimes feel that protagonists of some shows today set a low bar. Some characters are so foolishly flawed, they shoot themselves in the foot. They are so mediocre and they have fatal flaws, but do nothing to fix those flaws. This is true especially of the local TV teledrama characters. The protagonists just cry and whimper that they're being oppressed, and want someone to help. It is more like, instead of the hero giving help, the hero is the one asking for help. They would cry and expect some fairy godmother to come down and give them some help, instead of going out and doing something themselves. I lamented in an earlier article how our modern local TV characters are like this. Mostly dramas that make having a broken family normal, and being "normal" is being evil. And the stories of success are usually Cinderella stories where the hero receives help (i.e. dole outs) from someone else. Self-made heroes, those who made it themselves with real smartness and intelligence are very rare.
This is where the concept of Doc Savage contrasts. Instead of waiting for a fairy godmother, he goes out and does things himself. In addition, he demonstrates a model of perfection or peak performance. It is a high bar set to challenge people to improve themselves. Many superheroes are still like that today. However, it seems many people these days do not like to strive for perfection these days; or at least, they no longer want to improve themselves. They would rather have revenge, get rich or just enjoy pleasures without any self-improvement. The teledrama protagonists seem to be like this – and as a result, Filipinos in real life, too.
Recently, I became an avid follower of the manga character other mangas are talking about: Saitama. He's perhaps the most overpowered hero of all. In the One Punch Man series, Saitama is inspired by his childhood heroes in his younger days that he trains (with only 100 push-ups, 100 sit-up and 100 reps of other exercises). He became so powerful that he defeats most enemies with just one punch. We don't know whether he will lose his powers at the end of the story of whether it's all a dream. But while it lasts, his complete undefeatability is enjoyable. Of course, the thing to highlight is that he did it himself. He is an example of a self-made hero that dominated everyone. OK, now imagine the power of Saitama with the brains of Doc Savage. That's the kind of bar I like.
So some people may say, hey, that's overkill, that's overpowered, that shouldn't be. Not for me. Because that's why a superhero became a superhero and not just a hero. They're overpowered. Superman and Son Goku were overpowered. Certainly, the idea that Saitama achieved this all by himself is quite the killer of an idea. Doc Savage is quite like this. He's too good for anybody and can never be defeated. That's the idea behind the superhero. He's so good, he always wins. He should become a standard for people to follow and yearn for. A part of this standard is that he never received his powers from someone else or was manipulated to be so by someone else; he is self-made.
For me, the protagonists should demonstrate what people should be, similar to the concepts described above of the "superman." Not just what is the right thing to be or what is the right thing to do, but to be self-made in doing it. Many flawed protagonists also do that and grow, and it ends up going for something close to perfection – or in the case of characters like Saitama, godhood.
In the Philippines, instead of people looking up to good examples, you see them looking up to assholes. We don't like Doc Savages: we like a lot of Boy Negro, Pepeng Agimat and Nardong Putik; but inside, we want to be Don Juan Tamad. And thus, we have a whole environment of assholes in a country like the Philippines – combined with the "heritage of smallness" and primitive mindset that people have. They are people with self-entitlement who see "heroes" as distributors of dole-outs and not as good examples to emulate.
And of course, we would like someone like Doc Savage or Saitama as leaders of societies. If only we could have someone like that actually take out the trash in the real world. Unfortunately, the fact is, they will always be entirely fictional. Thus, it is left to us to develop the traits of true heroes in us, and improve ourselves so, like the heroes, we can do something to improve society.
Perhaps it's time to go back to the concept of Doc Savage and other real self-made heroes. And they should really raise the bar, perhaps to consider something Saitama-level as a goal. This is what we need to see in Philippine society.
Filipinos must stop expecting the heroes to come and save them. Instead, they must become the heroes themselves. They must develop the skills and intelligence that Doc Savage himself earned from training, and not from "birthright." They must learn to self-make themselves. With the opening of the movie Star Wars: The Force Awakens, we will revisit this concept and see our space heroes return with the message of self-development as a necessity in life.
I believe, as my cohorts here do, that what Filipinos embrace as their culture is what actually pulls the country down. And those who seem to be anti-dictators, who may also believe themselves to be "heroes," are the real dictators.