Shortly after a popular uprising in 2001, Philippine President Joseph "Erap" Estrada was removed from his position and replaced by Gloria Macapagal-Arroyo, who before that point was the Vice President. Under pursuit by Arroyo and the Supreme Court, Estrada was arrested for government plunder and found guilty after a lengthy trial, though Arroyo eventually pardoned him afterwards, enabling him to run in 2010 for the same position he lost.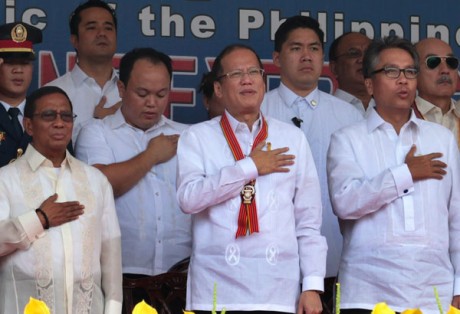 When President Benigno Simeon "BS" Aquino was elected President in 2010, one of his priority goals was to have Arroyo arrested, again for plunder during her 9-year term, and indirectly due to a 2004 bribery scandal when she ran for reelection (the charges for the latter were eventually junked by the Supreme Court). To date, though Arroyo has not been in jail, she remains confined under hospital arrest due to numerous physical ailments.
During his term, BS Aquino's greatest and most memorable scandal as President has again to do with public funds, this time in the form of the Priority Development Assistance Fund (or PDAF, which is Philippine legalese for "pork barrel"), which he ordered eliminated on the eve of a massive popular protest against him in August 2013. There remained, however, the President's own form of earmarked funds in the form of the Disbursement Acceleration Fund (DAP), of which parts of the Aquino-appointed Supreme Court have declared unconstitutional. Just as Estrada and Arroyo before him, Aquino now faces criminal charges once he steps out of office in 2016 on possible malversation of funds.
Then there's the infamous massacre of the 44 Special Actions Forces policemen by still-unidentified Islamist radicals in Maguindanao Province. Aquino has taken full responsibility for his actions (or lack of them) for the unfortunate incident, especially since he chose as director of the operations someone who he had suspended from office in the previous year. An independent bloc in Congress has found both of them accountable.
The question here is: if the two previous presidents were successful in landing their predecessors in court, is the next president open to having BS Aquino charged for his tight hold on the DAP and his "leadership" over the Mamasapano clash? Five months before the May 2016 elections, there has been a lot of tough talk from various candidates about how their possible presidency would be about "change" and "reforms" — shallow platitudes, as has been experienced after 2010, that might not really hold anything at all in the long run.
Are any of them willing to hold Aquino accountable for his own misdeeds during his ridiculously ballyhooed "Straight Path" presidency?
[Photo courtesy of The Philippine Star]