"History is written by the victors." ― Walter Benjamin 
The quote is commonly misattributed to Winston Churchill.  Maybe it wasn't even a quote by Benjamin, but by a loser smoking a Marlboro, who knows?  Who cares?  In the Philippines, where poverty rules, history has hardly a room.  There are victims, rather than victors.  There are vested interests, rather than things interesting.
Who are the VICTORS?  Who are the VICTIMS?
Economic conditions went south in the aftermath of EDSA1, the popular uprising against Ferdinand Marcos (FM).  Today, poverty is statistically at 25%, half of which are below poverty line.  Based on surveys, half of the population consider themselves poor.  24/7, our very senses do not just give us statistical figures, but hard evidence of victims.  They are victims of a system, which history has engendered.  If there are animals such as victims of history, we have been mass producing them since 1986; doesn't it look that way?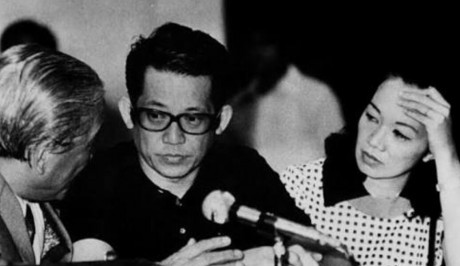 The system after EDSA1 is seen as a contributing factor to the pauperization; yet, there is no move to redress it.  Only the Philippines, among the ASEAN countries, has not met the MDG targets set by the United Nations for 2015 in the elimination of the figures representing those below the poverty line.  It is dismal. 
The irony is that right after EDSA1, Filipinos felt like victors; they deposed a dictator.  They called the uprising People Power: it was a watershed in Philippine history, and they were proud, they wrote history.  Today?  Only a fortunate few could honestly say they are victors.  The country could not deny it is a basket case, and the victims are wondering if they even wrote a page in history.  If they wrote it, how could they write themselves into being victims?  Could victims, not just victors, write a history?
THE POINT?
There was a rebellion alright, and it is a fact.  The mere fact that there was an uprising by the people does substantiate the fact that FM did something terribly wrong.  Niccolo Machiavelli, a political philosopher noted for his very astute observation of human nature, wrote in his masterpiece, "The Prince", that people are normally passive, decent, and quite indifferent to power unless agitated or provoked.  They are not troublemakers.  It is those who hold power who are troublemakers for they have the means to pursue their ambitions.  A ruler would have to do something terribly wrong in order to provoke his subjects to revolt.
A troublemaker was booted out.  If that is a fact, a chapter in history should have closed, or attempts should have been made towards an immediate closure in order for the country to move on.  Thirty years after the event, that attempt, if there was, remains to be seen.  With inequality in the society ever so widened, a growing number are wondering what was the point of the hullabaloo.  What indeed was the point?
What is interesting is that people did People Power a second time.  EDSA2.  Was it an improvement over EDSA1 because it seemed to have resulted in closure?  Or, does it seem only that way because Marcos, sins and all, looms larger than Joseph Estrada?  Or, did it confirm a lesson that should have already been learned in EDSA1?  Gloria Macapagal Arroyo turned out to be a cure worse than the disease; was she?  If she was, what indeed was the point of EDSA2?  For that mstter, EDSA1?  Or, is it about, who gives a fig about EDSAs, people are tired, if not averse to them now?  Or, have they finally realized they are victims of such events?  Victims of history?
As said, few benefitted from EDSA1 — and EDSA2.  In the last five years alone, 60% of the GDP just went straight to the Top One Percent, facilitated by Daang Matuwid (Straight Path).  To emphasize: yes, a straight path to the pocket of the few.  The majority are like fools who could only compete for crumbs.  Accordingly, suggestions have surfaced that maybe that was the original intent of EDSA1.  Could it have been a well-planned event by powers-that-be, rather than a spontaneous uprising?
Defenders of EDSA1 call the idea preposterous; it was a people's revolt against an autocratic rule, why should that be doubted?  But, if there are today voices of regrets that they helped and participated in both EDSAs, that should also be understandable, if not justifiable.  What indeed was the point of EDSA1?
MARTIAL LAW
FM was of the age of autocratic rule, the Zeitgeist vis-a-vis communism.  Societies feared a domino effect in Asia as the ideology spread its reach, attracting varying groups and individuals, mostly of covert nature, who had all kinds of grievances against Establishments.  There were already the genocides of millions by Mao Zedong in Communist China and by Maoist Pol Pot in Cambodia.  The horrors of communism were real, and it had to be contained.  In a pre-emptive move, FM resorted to a strong man rule as did Indonesia's Suharto, Malaysia's Mahathir Mohamad, Singapore's Lee Kwan Yew, and South Korea's Park Chung Hee. 
In September, 1972, FM declared Martial Law (ML), which lasted up to 1981.  By 1986, communist threat was no longer a primary concern, and it might have been because ML minimized it.  But, EDSA1 claimed that FM used communism as false justification to declare ML; his real motives were political, and his thirst for power was the driving force.  Indeed, ML allowed FM dictatorial powers, and EDSA1 asserted that FM had to go because of allegations of plunder and crimes against humanity.  "Absolute power corrupts, and it corrupts absolutely."
If EDSA1 was all prepared to accuse FM of succumbing to the snares of absolute power, they weren't, however, prepared to immediately fill the big vacuum that was created by his drastic ouster.  In the 20 years of FM rule, political power was consolidated and concentrated.  In his absence, there was an absence of how power should be understood and handled.  It was a vacuum that could be exploited by the unscrupulous, and it was allowed to be exploited.  Greed set in.  Justice which should have allowed a closure to the chapter started fading into the back-burner.
Obviously, ML stunted the development of leaders.  Was that its legacy?  Or, was that its faults, apart from the many faults of the dictator it created?
THE MARCOSES
The Presidential Commission on Good Government (PCGG), the commission that was created to recover whatever was plundered during the ML years, became themselves subject of investigations.  Whatever happened to those investigations is anybody's guess now.  But, these were cases of plundered wealth being plundered the second time around by the very people assigned to recover them. The PCGG became a secretive group when it wanted to.
Yet, ignoring if the PCGG had become shady or not, pundits are asking the Marcoses to voluntarily return whatever courts have not yet been able to recover.  Isn't that like asking somebody to be stupid?  No question, if justice has to prevail, there has to be retribution, and the Marcoses can't be exempted.  But how is that possible under prevailing conditions when goodwill might not only be not appreciated, but be seen as a stupid manner of hanging oneself?
On top of that, they are now asking Bongbong Marcos to apologize on behalf of his parents.  How could one ask a son to go against a father?  Isn't that like asking him to be un-Asian, when Asians are so family-oriented?  Is that a way of advancing the cause of EDSA1, if it had a noble cause?  Or, is that admitting EDSA1 was nothing more than a simple power grab?
A REVOLUTION?
How could we therefore continue to call EDSA1 a revolution?  There was no paradigm shift.  There was no change in culture.  There was no change in the manner of doing things.  Worse, the 1987 Constitution seems a cure worse than the disease, if one considers what has transpired.  (Please refer to MidwayHaven's excellent article, Why the Current Philippine Republic Needs to Die)  For one, political parties are inutile.  They are no longer the filters that could churn out only the best and the brightest.  Thus, politics lost its vestiges of dignity.  It has become the marketplace for low lives and the ambitious without principles.
EDSA1 is the same cruel political power just changing its outward appearance.  If it was naked power before, it is today about disguised power, still pernicious, if not more for it is deceptive by its very character.  If today there are disgusting scandals coming from BS Aquino's KKK, it is because there were already scandals from the beginning coming from Cory Aquino's Kamaganak, Incorporated. 
It is in every way what Ilda wrote in In just 6 years, Noynoy Aquino's record of failure is now worse than all of the Marcos years.  Whatever noble aspiration there was in EDSA1, if there ever was one, was overtaken by events.  Or, as already asked, was it simply a power grab?  Could it have been a well-planned event by powers-that-be, rather than a spontaneous uprising?  Could that explain why there are more collateral damages?  There are more victims of history than victors; was this something they expected?
While other Asian nations had a gradual transition from autocratic rule to democracy, Philippines was the only one where the change was drastic and dramatic.  Most Asian countries, including Communist China, are now tiger economies; the Philippines degenerated into a feudal system, a system proving to be worse than what it changed.  It thrives on complexities; simplicity and transparency are its enemies.  The deception is simple; it is found in the mantra: nothing can be worse than Marcos.  With that, they promoted complacency at all levels of the society.  That could also explain why justice is in the back-burner.
As a natural consequence of the foregoing, or by design, FM is already painted as someone unique.  True, FM would have had his own style in the way he ruled, but there is a risk of exaggeration if he was considered alone and outside of the context of the era and the geographical region.  The fact is that he was not much different from his contemporaries.  Actually, if he was a monster as they like to paint him, he was no worse a monster than, say, Suharto, whose rule is said to have been responsible for a million of killings and disappearances.  FM's uniqueness was that he was removed from power abruptly; the others, except for Park Chung Hee who was assasinated, were all able to resign at the time of their respective choosing. 
THE YELLOW COLOR
In the 21st day of the month of Au-ghosts in 1983, Ninoy Aquino was assasinated by a Rolando Galman, or by another ghost; the issue has not been resolved.  Ninoy was not supposed to be welcomed not by bullets, but by yellow ribbons.  Ninoy was supposed to be that ex-convict coming home in Tony Orlando's song "Tie a Yellow Ribbon." 
Whether Ninoy was killed by a ghost or by a Rolando, the point is that there was gaping wound in the national consciousness; a terrible injustice had to be explained, and emotions were high.  By the 22nd day of the month of Feb-awry in 1986, Cardinal Sin went on air via Radio Veritas and called for people to converge in EDSA, and the response was emotional and immediate as the injustice had not yet been explained.  It remains unexplained to-date.
EDSA is the circumferential highway around Manila that is now notorious for its daily bladder-busting traffic, a daily reminder of the decay after EDSA1.  How ironic!  How disrespectful if they hold EDSA1 as something hallowed.  History seems of no value.
Starting that fateful day in 1986 and for four days, there was a standstill traffic of people with various reasons and perspectives for being there.  Quickly, barbecue stands and other pop-up food stores appeared as well on the highway.  The ambulant vendors by the next day were not just selling food, but yellow T-shirts printed with: "Filipinos are worth dying for."  So, there were also those who were there just curious to see if there were really those who were going to die as the T-shirts said.  History didn't go the way to prove if the T-shirt was true.
There was a fiesta atmosphere, for sure.  That provided enough of a human shield to protect General Fidel Ramos, Minister Juan Ponce Enrile, and a company of 300 or so of Army men, holed up in Camp Aquinaldo.  Like Aguinaldo, during the Spanish time, the two were discovered for planning a putsch that went awry.  As Plan B, they had to hightail to the camp to hide from the dictator's wrath.  With millions of people in the way, the dictator quit his wrath, and nobody died.  As said, the T-shirt was neither proven true nor false that day.  What was proven; the dictator, whom they keep on portraying as a monster, didn't have the heart to slaughter millions; that, in spite of his General Ver who seemed to have that kind of monstrous heart.
The putschists were not ex-convicts, for no court could ever convict them, but the August Twenty One Movement (ATOM) surrounded the camp with yellow ribbons.  By virtue of that, the putsch that had no yellow shade in it ended up as a yellow revolution; it became a Cory revolution.  How did an unsuccessful putsch of Ramos and Enrile end up proclaiming Cory?  Many have been the attempted answer, but all seem incomplete.  That would be typical Filipino; historical narratives are incomplete and vague.
However, if EDSA1 is not a revolution, but just a power grab, as discussed above, WHAT DOES YELLOW STAND FOR?
When will it end that we are electing Presidents who are future ex-convicts?  Erap is an ex-convict and that is why he has been welcome by the Yellows.  GMA is not yet an ex-convict, so the Yellows have not yet accepted her  They know now that PNoy is a future ex-convict, but they knew so he has been a yellow a long time ago.
IN RETROSPECT
To be simple about it, it was people sympathizing with Cory.  If there was injustice against Ninoy, there was more injustice against Cory.  The steadfastness she showed in the face of tragedy was admirable, and people saw power in it and on one who was close to political power, but was not interested in it.  It was the Cory Magic, and there was no way the dictator could win against the force that that magic created in the imaginations.  History was being made, and the widow was having her revenge on perceived and real persecutors.  It was a romantic history, and there was kilig factor to it, and people bought it.  There was emotion ready to be utilized.
ATOM utilized it and organized it; EDSA1 was underway. They elevated her revenge story into a higher plane, EDSA1 was about democracy.  It was not just for and about Cory, it was for the people, by the people, and of the people.  Unfortunately, after EDSA1, people forgot the democracy part, or never understood the responsibilities demanded by democracies.  So, it turned out to be only about revenge, and It was a revenge consummated, so the kilig dissipated.  And the power vacuum we talked about earlier was underway.  Justice was furthest from the minds of all until today when the son of the dictator is finally knocking at the doors of power also demanding justice.  In the meantime, justice for PNoy is only about revenge and vindictiveness.
And we are back to the questions, except in an expanded manner: Who are the VICTORS?  Who are the VICTIMS? 
ATOM, the yellow color, the T-shirts, and the slogans gave a clue that there was something pre-planned about EDSA1.  Who were the planners?  Were they from the highest levels?  Were they from within or outside the Philippines?  Did they know there were going to be victims?  Did they care?  Did they know the uprising was gonna end up radioactive for the victims?  Why did they call the front group ATOM?
The Americans told FM that day it was game over.  They picked him up and his family in their helicopter.  The Marcoses ended up in Hawaii.  With his exodus, people, feeling like victors, ransacked Malacañang Palace, while there was a celebration in the White House; democracy was restored to a former US colony. 
It looked like the Arab Spring of yesteryears, though there was nothing Arab about it nor was it spring.  Philippines doesn't have spring, but it has four seasons nonetheless: warm, warmer, warmest, and wet.  To keep up with the current lingo, maybe EDSA1 should just be called Filipino Warm.  Arabs look like losers after their Arab Spring.  Filipinos look definitely like losers despite their Filipino Warm. 
Still, Filipinos are proud of their Filipino Warm, whether it was a real revolution or not.  What is important is that it was peaceful.  It does not matter if it changed nothing.  It just had to remain yellow.  When in 1989, the Berlin Wall collapsed peacefully and Lech Walesa successfully revolted peacefully, they said these must have been in the pattern of the Filipino Warm.  The problem?  Germany and Poland didn't end up as basket cases in Europe; the Philippines did in Asia
Again, are they are seeing the recent protests in Hong Kong and Malaysia as having the pattern of Filipino Warm for they are in yellow?  It remains to be seen whether they will carry their protests to logical conclusions, and we wonder if they will also find out that being yellow may not be about a revolution.  Or, do they already know that and are just threatening their respective governments. What could be more threatening than a yellow theme, which has now come to symbolize recklessness? 
HISTORY
"A ball is round not square and you may legislate that the ball is square, you might write it into every textbook. You might forbid anyone from referring to a ball as "round". You might make employees of the state issue documents stating that balls are square. You might change the liturgy of the church to thank God for square balls.  You might teach every school child that a ball is square.
At the end of the day, It will still be round." — D. Longnecker
Historical revisionists will never succeed in the long run.  So, any fear about this seems unfounded. 
In its editorial, #NeverAgain, dated September 27th, 2015, the Philippine Daily Inquirer worries about this.  But even if it was a paranoia, one could understand. The Inquirer was an underground paper during the ML decade; today, it is the number one broadsheet, earning a mountain of money from ads.  It is one of the victors. 
0ne could not understand why they keep on repeating that the Philippines could return to Martial Law and dictatorship if we don't watch it.  In an age of social media, how is that possible?  It would be next to impossible to make ML work.  Of course, it is a red herring for they will have to do everything to keep the power within their yellow gang.
We should be glad that there are those who still have better perspectives  Please refer to Homobono Adaza's essay, Yes, never again dated October 14, 2015 at the Manila Times.
But, why should we be interested in the writing of history?  One, because we are part of it, whether we like it or not.  Secondly, we could influence it as we have in the EDSAs.  The problem is that we used to be at the top of Asia, but now are getting used to, in just 30 years, being a bottom-dweller; this has an impact on the culture.  The culture now has a built-in architecture that only encourages apathy and mediocrity.  It is time we change it.
Victors will refuse history that could be written by the victims as we have  just seen.  The point is we have permitted the situation and even cooperated with it.
Who are the historical revisionists now?  Maybe, it is the victors.  If it is not them, why do they fear such things?  Is it because they know they have written one that has not been truthful and fair, and thus needs revision?  If there is a need for revision, as the ball is round, then it is themselves who have created the inevitable situation, haven't they?
Who are the victors?  Who are the victims?  We could dictate the answers to that, if we want to.
GRP Featured Comment hall-of-famer. Former executive of the Far East Regional Office of a US-based multinational company living out of a suitcase covering the market from Tokyo to Mumbai to Melbourne, and all the countries within that triangle. Got tired after logging 300k air miles per year. Now, I just have a little trading biz on specialty chemicals.