The buzz is out and it says that Senator Grace Poe is expected to declare her bid for President in the 2016 National and Local Elections.
It would have been anti-climactic for me had I not seen Victoria P. Garchitorena mouthing off on Facebook against Poe's use of the UP Bahay ng Alumni as the venue of her declaration.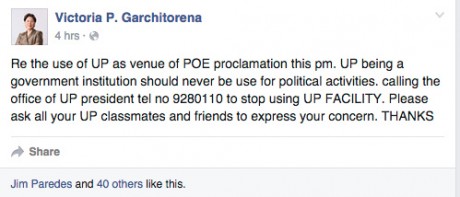 I would be shocked and dismayed by her Facebook post, if I didn't know that she was a ranking stalwart of the Liberal Party of the Philippines. In a Wikipedia entry it says she is even LP's Vice President for Women.
She was also formerly an executive of Ayala Corporation, a company that our sources tell us is heavily backing Mar Roxas' bid for the presidency.
Even more, the about page of www.incitegov.org says Garchitorena is "considered as one of the pillars of the Philippine non-government organization sector. She was founding Chair of the League of Corporate Foundations, Philippine Council for NGO Certification, Philippine Association for Volunteer Efforts,Metro South Cooperative Bank, and the Makati NGO Network."
I would have been outraged if, also, I didn't know that a few days ago (on September 7, 2015 to be exact) the UP Bahay ng Alumni was where 200 Civil Society Organizations took part in launching "Bet Ko Si Mar".
Roxas was endorsed by President Benigno Aquino as his bet for President in the 2016 elections on July 31, 2015 with much fanfare.
This is, it was not until 4 days ago that Roxas was still the Secretary of Interior and Local Government.
So, presumably, he was still an official of the government using government resources going all around the country on an undeclared presidential campaign.
Well, lemme see here… Garchitorena begrudges the use of UP Bahay ng Alumni by Poe, while her Lord and Master Roxas goes around the country using public funds to campaign for himself.
The only thing Garchitorena hasn't said at this point is, "WHAT ARE WE IN POWER FOR?"
Ah.. But well… We're used to the administration applying double standards all over the place and that's pretty much what we can expect if Roxas — somehow — wins as president in 2016.
Remember Janet Napoles and PDAF? So far, the more prominent ones to have been detained were Senators Bong Revilla, Juan Ponce Enrile, and Jinggoy Estrada.
Number of LP members accused and detained? Well…
Budget Secretary Butch Abad — the so-called ideologue of Daang Matuwid — remains free despite being accused of masterminding the PDAF scam. In one report,
A lawyer has claimed that Budget Management Secretary Butch Abad appears to be the "most guilty" of the Priority Development Assistance Fund (PDAF) scam.

Lawyer Bonifacio Alentajan claims of Abad had allowed the PDAF "modus operandi" to perpetrate, noting that the budget management department should have been the "clearing house" in allocating and releasing cash.

"Kung walang aksyon ang DBP, walang dapat nangyari. Since the action of the Secretary of DBP was the determining factor in the consummation of these offenses, he appears to be the most guilty among the public officials," Alentajan told ANC's The Bureau.

(Video and full story here.)
And let us not forget the unconstitutional Disbursement Acceleration Program where the executive branch under Aquino basically arrogated the legislative branch's so called power over the purse. If you are interested in reviewing this act of LP buffoonery, read "Seven Reasons Why Pnoy's Disbursement Acceleration Program is Wrong."