The country's best known PR practitioner Charlie Agatep brought up what I feel is an important issue when it comes to natural calamities and the work of politicians/government functionaries.
On his timeline on Facebook, Agatep posted an excerpt from an article from the Manila Bulletin where President Benigno S. Aquino III was quoted as saying that his anointed one Mar Roxas II had done more for the victims of Yolanda/Typhoon Haiyan than other government officials/politicians.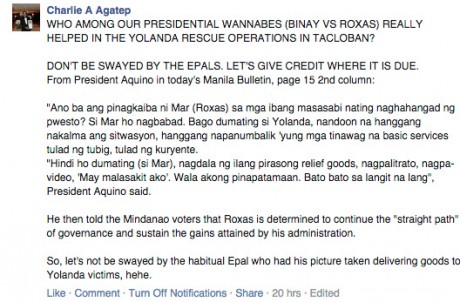 Here is the portion that Agatep posted on FB:
WHO AMONG OUR PRESIDENTIAL WANNABES (BINAY VS ROXAS) REALLY HELPED IN THE YOLANDA RESCUE OPERATIONS IN TACLOBAN?

DON'T BE SWAYED BY THE EPALS. LET'S GIVE CREDIT WHERE IT IS DUE.
From President Aquino in today's Manila Bulletin, page 15 2nd column:

"Ano ba ang pinagkaiba ni Mar (Roxas) sa mga ibang masasabi nating naghahangad ng pwesto? Si Mar ho nagbabad. Bago dumating si Yolanda, nandoon na hanggang nakalma ang sitwasyon, hanggang napanumbalik 'yung mga tinawag na basic services tulad ng tubig, tulad ng kuryente.
"Hindi ho dumating (si Mar), nagdala ng ilang pirasong relief goods, nagpalitrato, nagpa- video, 'May malasakit ako'. Wala akong pinapatamaan. Bato bato sa langit na lang", President Aquino said.

(See Agatep's post here https://www.facebook.com/photo.php?fbid=1012782558752862&set=a.108971199134007.9514.100000633818947&type=1)
Now, I am not criticizing the country's most well known PR practitioner, don't take it that way. Rather, I feel compelled to speak for friends who lost relatives and whose lives were devastated by the super typhoon. This is my small effort to help a bit in enlightening people on how victims of such an awful calamity would feel if they saw or heard a discussion on credit grabbing/claiming over who helped them more.
Thing is, when Mar Roxas was in Tacloban, he was there as the Secretary of Interior and Local Government. He wasn't there as a politician but as a government official and I assume, his job was to make sure that people were prepared for the onslaught of the super typhoon.  Beyond this, I guess his other job was to make sure there was peace and order in the after math of the disaster.
Whatever help that was provided through the Department of Interior and Local Government to the people whose lives were devastated by the super typhoon was presumably taken from government resources which come from taxes — or at least most of it.
Thing is, I find it a mark of insecurity as well as neediness to even bring up the matter of who helped people more during a time of calamity.
What does Aquino expect the victims to feel towards Roxas? I think that instead of feeling grateful, the victims of Yolanda/Typhoon Haiyan feel resentful for being made to feel that the help they got the government is being treated as some kind of favor to them. In Tagalog, "Naniningil ba si Aquino ng utang na loob?" (translated: "Is Aquino asking the people to return the favor?")
Perhaps that isn't the case, but still people might say, "What favor? Wasn't it Roxas' job to help us out?"
Moreover, even if Roxas weren't a public official, people are expected to help other people — that is called BEING HUMAN.
Personally, I don't know of any one of my closest friends who did not donate what they could to help the victims of Yolanda. Some of them even attempted to drive all the way there to bring food, clothes and other supplies.
Anyway, here is what I said in a comment on Agatep's post on FB:
Just wondering if at all it is appropriate to remind people who helped them during this tragedy as a way of garnering votes. Considering that it is the job of the government officials cited here to do that and also considering that whatever was given was taken from the taxes of the people. If you guys really want to help Mar or whoever, a little more consideration and empathy would be a vast improvement. IMHO.