I remember writing an article about the Jeffrey Laude vs. Joseph Scott Pemberton case. I remember expounding on how little we actually understand the concept of justice and how the case is just another example of how Pinoy vindictiveness is confused for "justice". Unfortunately, here we are, the latest news  about the case says everything we need to know about the typical Pinoy concept of justice. I don't really want to say this but I'd like to ask Harry Roque, the guy who seems to be in charge of Camp Laude, this question: "How low can you go?"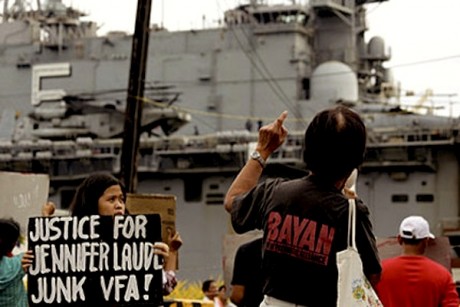 First, there was the part about blowing the issue out of proportion and making the victim look like some innocent bystander even though Laude has a somewhat spotty record as well. Then, there was the debacle involving circulating the photos of the murdered Laude in the hope of gaining sympathy which, at least to me anyway, is gross disrespect of the dead. Lastly, someone had gotten Laude's German boyfriend to scale a fence and possibly cause an international fiasco of preposterous proportions. So there, you now have a good idea on how Harry Roque defines justice. No wonder the INC refuses to trust the Philippine judicial system.
As of late, Harry Roque and his allies are currently demanding 38 million pesos and 6 US visas for their troubles from the opposite camp. There has been some debate over whether this is for settlement or simply damage costs but when you stop to think about it, is this what justice amounts to the common Filipino. While I believe the rumors that Laude was also a shady character, I still think that a life is a life. Was 38 million and 6 US visas all Laude was worth to his family and friends? Where's the justice in that?
Not long ago, there was a similar case which involved Daniel Smith allegedly raping a Filipino sex worker who went by the alias Nicole. There was a lot of hullabaloo involving that particular case with feminist groups like Gabriella protesting like there was no tomorrow and a lot of anti-American hogwash being broadcasted on TV. At the end of the day though, it seems that "Nicole" settled for a certain amount of money and an American visa and was even discovered later to be having a relationship with a member of the US military.
So does all this mean money equals justice?
38 million pesos and 6 U.S. visas are nothing to laugh at, sure. However, I have always believed that no amount of money can ever equal a human life. Not even all the money in the world can bring the dead back to life after all. At the end of the day, it seems that Laude's family and his lawyer weren't about seeking justice in the first place.
Justice isn't suppose to be about money or getting even. As I've said before, isn't justice suppose to be what's fair? If the Philippine judicial system has been reduced to simply accepting settlements and bribes, then it can't be called a "judicial" system at all. When making money becomes more important than upholding the law, then what they should call it is the "scamming" system.
[Photo courtesy Military.com.]
I HAVE RETURNED TO LAY WASTE TO OUR ENEMIES!