Before I begin, I would like to apologize if my previous article, The Rape Of The Philippines: A Vicious Cycle, offended anyone. It was not my intention to trivialize rape nor create misleading ideas about it. I merely wanted to create a good metaphor for the kind of trouble the Philippines is in. Unfortunately, it seems that my choice turned out to be not just inappropriate but outright offensive. For this, I hope I can be forgiven as I did not choose my words (and my scenario, for that matter) as carefully as I should have. Anyway, I hope this new article will serve to clear some of the misleading statements I might have made.
Okay, let me share a little bit of personal experience first. I was once mugged in a squatter-infested area in a city and many of my friends attributed this to the fact that, considering what I was wearing at the time, I stood out like a sore thumb. The thing is, would things have been different if I had worn attire that was less catchy or if I had chosen to go through a less shady area? I believe so. Wearing brightly-colored clothing in an area filled with people in faded and torn t-shirts will indeed make you look a bit conspicuous.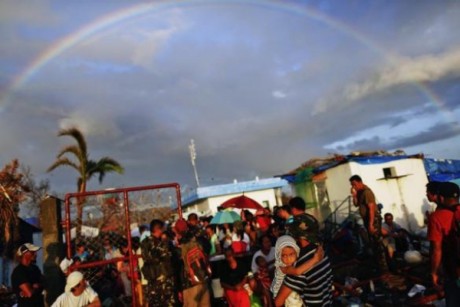 Now, on we go with the situation in the Philippines. Truth be told, this isn't the first time the Philippines has gotten in trouble. As a matter of fact, even after we got our alleged "freedom" in 1986, we continue to be mired in poverty, bound down by corruption, under the threat of war and violence and the situation only continues to deteriorate as we speak. The Philippines has a long history of being a victim of foreign powers but, unfortunately, has failed to learn anything that could help it avoid the same fate again. Worse yet, it feels more like the Philippines is actively refusing to learn anything that could at least improve its situation in the long run. Instead, it holds on to victimhood and refuses to take any kind of responsibility for its own well-being.
To put things into perspective, allow me to give you my thoughts now:
The Threat Of War
Okay, from the west we have China trying to claim our territories for themselves and the south we have the various terrorist groups that have time and time again kidnapped, raped, tortured and slaughtered our countrymen. Instead of trying to get a viable and realistic solution for our problems, we simply go for easy and often detrimental methods to get ourselves out of our current predicament.
So here we have the BBL and how the MILF is trying to shove it in our faces with guns pointed at our heads and the heads of our children. "Sign it or else" is what they say. "Approve BBL or count body bags" is what President Aquino says.
While I certainly respect Muslims and want them to be granted equal opportunity and privileges as the common Filipino, I can't help but notice that the MILF does not in fact represent the whole Muslim population and they are not the only insurgent organization we have to worry about. The BBL does not guarantee the peace and safety of the Filipino citizens of Mindanao and it will, more likely than not, create even more body bags in the process as it will only create more conflict for the factions involved. Unfortunately, it seems that President Aquino is adamant in his decision to sign the treaty to earn his Nobel Prize regardless of how many lives it takes. He even outright refused to acknowledge the Fallen 44 in his last SONA, perhaps the greatest argument against the approval of the BBL and shows the true colors of the people we're supposed to be "negotiating" with.
As for the issue about China, we can thank both the US, Japan and our friendly neighbors the Vietnamese and Malaysians for finally getting the Great Red Dragon to shut up and sit down for a moment. As to how long the situation will last, we can never really tell but I don't think it's really over at all. In fact, it might just be beginning.
Unfortunately, I will add that President Aquino has done very little to ease our troubles with the People's Republic of China. As a matter of fact, he has only made things worse for us. I mean sure, he got a lot of military stuff from the Americans but, at the end of the day, they are often second-hand rust-buckets that are probably just worth several years of service before finally going kaput. Very little has been done to improve the AFP and still has too many incompetent officers compared to competent soldiers. Also President Aquino has also destroyed any chance of diplomacy with China by refusing to make formal apologies as a leader after the hostage tragedy involving Chinese nationals not so long ago and comparing them to the Nazis in front of the Japanese of all people.
The Mar Roxas And Jejomar Binay Debacle
Okay, yeah, I find the two of them amusing but I will not, for the life of me, ever vote for any one of them into office.
Well, I suppose if Mar Roxas decides to put on a show as a macho dancer to please his crowd, I might actually be impressed and I might seriously consider voting for him as head garbage collector but that will be all. This man, along with his wife, is responsible for keeping the common Filipino in the dark and in abject poverty so that they can stay in charge. Their inability to provide any substantial aid to the victims of Yolanda without showing off their "generosity" through the media is proof of their deceptive nature. If anything, we should focus on what Mar and his wife are like when the media isn't looking at them to get a better idea on what kind of people they really are.
Now, if former Vice President Jejomar Binay could provide some of his supporters with free prostitutes (as a certain Takeru Miyamoto once suggested), I may also think about voting him into a good position in sewage management but, again, I think that's as far as I'll allow him to go. This man and his family are responsible for a considerable amount of corruption in the government and are even aiming to continue holding the Filipino people by the neck through their political dynasty.
The bottom line is, we know what these men are about and it is most certainly not looking out for the common Filipino. They are in it for themselves and, should they ever come to power, will doom the Philippines into becoming a failed state if it isn't already.
***
So all of this adds up to the fact that no, the future of the Philippines isn't a bright one. From the get-go, we know exactly where President Aquino's "Straight Path" leads: a wasteland filled with depraved and ravenous demons hungry for our flesh and our destruction. The Daang Matuwid will ultimately take us to a horrifying slaughterhouse in Hell where we will all be raped and tortured into madness and then be butchered like mindless swine.
Yet still there are so many of us who have been blinded and brainwashed by the media. So few of us are even aware that we walk the path to our own destruction. Like a parade of maddened lepers, majority of the Filipino people march towards their own demise, guided by the music of oligarchs who they have come to acknowledge as their saviors and worship them as gods. Pinoys fail to realize that it is essentially their exalted saviors who send their fellows to work as slaves in other countries and potentially endanger their lives in the process. Pinoys fail to realize that it is their false gods who are throwing them into the meat grinder of poverty and violence.
[Photo courtesy Nam News Network.]
I HAVE RETURNED TO LAY WASTE TO OUR ENEMIES!