"Ang demonyo, galit sa kapwa demonyo."
(Demons hate other demons.)
~Grimwald's Mom, when I explained the concept of the Chaos Gods of Warhammer 40,000 to her
Okay guys, it's not long now before 2016 when the circus -oh wait!- presidential elections come to town. Indeed, it's not quite campaign season yet but we can already feel the way many politicians in the Philippines are trying to win the favor of the masses. On one hand there's people like Mar Roxas trying to make himself out as the hero by doing various works such as directing traffic, carrying market goods, putting armchairs together to dancing sexily in a thong. Then you have Jejomar Binay giving away ton after ton of freebies from rosaries, cakes,  movie tickets to prostitutes as well as taking advantage of any leverage he can get such as the SAF 44 who, under normal circumstances, wouldn't even get a second glance from him. Lastly, you have senator Grace Poe who seems oddly quiet like some demure heroine in a typical teleserye.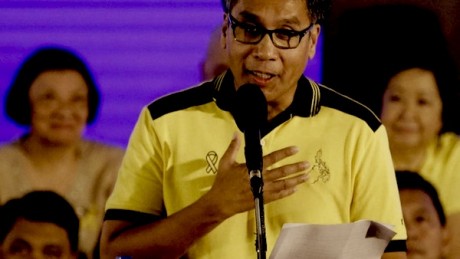 But of course, while they may all seem amusing in their own way, I am willing to admit that I would never vote any one of them into power. The presidency isn't just a position ladies and gentlemen, it is a responsibility. Being able to act, being able to give freebies and pretending to be an innocent victim of injustice might seem like good entertainment but we need to remember that these are not grounds for becoming a good leader. If one were to ask me, true leadership is about having a sense of accountability, a willingness to take responsibility for one's actions and decisions and protecting the people and the next generation at all costs.
Yes, I know that I blame the media far too much but I have to say that one of the biggest problems in the typical Pinoy mindset is our tendency to see things in black and white. We see things simply as "good" or "evil" and is why so many choose to follow charlatans who just know how to pose in front of a camera or scumbags who use stolen money to buy cheap trinkets for their brain-dead followers. As I've said in a previous article, not everyone knows the real difference between what is "nice" and what is "good". I can tell you now that even a rapist can pretend to be nice to his potential victims until he can get them at the right moment when they are vulnerable. A skilled assassin can lull his target into a false sense of security right before he plunges a dagger into their heart or puts a bullet through their heads. If one reads the Bible even, one can note how the Devil can easily take on an angelic appearance but is essentially the direct opposite of what he appears to be.
Going back to the quote above, any of the potential presidential candidates can make themselves look good in front of the camera but, the bottom line is, they're all just in it for themselves. Like the Chaos Gods themselves, they may appear to oppose each other, but are essentially just part of the same evil entity.
[Photo courtesy Fox News.]
I HAVE RETURNED TO LAY WASTE TO OUR ENEMIES!