Okay, President Aquino's fifth and final SONA is over, thank goodness. Hopefully, we won't have to listen to any more of his lies in the next few months leading up to the 2016 presidential election, the day when we can finally give the guy the boot for good. However, I tend to think that his speech is just another symptom of a heavily flawed system (which his mother helped create) and a hopelessly delusional and myopic mindset. Indeed, while this does not excuse his actions and inaction as a president (and a failed one at that), I can argue that the kind of speech pattern President Aquino (as well as many other Pinoy politicians for that matter) follows isn't all that different from the kind of things a spoiled child would make when caught doing something bad.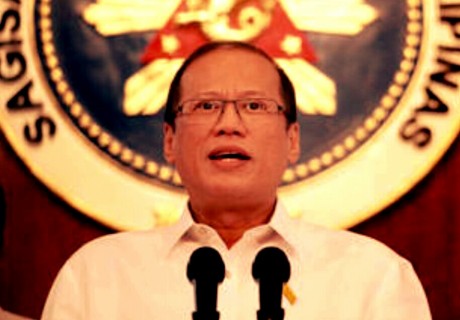 Please allow me to elaborate:
He Loves Covering His Mistakes With Superficial "Achievements"
Look, I'm willing to admit that I did this kind of thing back when I was in elementary. When my grades were especially low (more specifically mathematics) I would tell my mom that I at least passed my English and Science subjects. In reaction to this, she would just neatly fold her arms over her chest and make her nostrils flare the way a dragon does when it's getting ready to breathe fire.
Anyway, these statements might not be so bad coming from a child. Unfortunately, more should be expected from an adult. President Aquino once again shows off his juvenile thinking by insisting that his pet projects somehow helped improve the country in some way. Okay, what about the dam that simply melted when it started raining? What about the housing projects for Yolanda victims that easily get destroyed by particularly strong winds? What about the economic improvements that have done very little for the less fortunate people of the Philippines?
Okay, so maybe some of these projects do some good after all. However, they are not enough to make significant improvements for the Filipino people. May I add that President Aquino's statements have had little to do with the SAF 44 and the other troubles of the South and seeming to imply that the BBL (which is both unconstitutional and flawed on so many levels) is the solution to all that. While the military has indeed received a boost, most of what President Aquino is boasting about is just help from the Americans (whom the constitution his mother endorsed continues to cheat and his media supporters continues to demonize) and was something that former President Arroyo thought of first. The K-12 system might be a big boon to the system but while the media networks that support President Aquino continue to dumb the population to surprising new lows, we can expect more youths to travel the wrong path and contribute to the crippling overpopulation and dropping literacy rate of the country.
Again, I will say an old quote that I learned from college:
"Good is not good enough when better is expected."
Blaming Others
Oh God, do I even need to talk about this?
Okay, I'm gonna share a little personal information with you about myself. Growing up, my dad was an absolute dick to me. He was a drunk and gave me a lot of trouble in so many ways.
For much of my life, I used him as an excuse for the dickery I committed on a regular basis. I would blame him and the way he affected me on the various acts of selfishness and cruelty I resorted to. When that didn't quite jive, I would blame the bullies of my childhood and how they ruined my mindset even when I was aware of how self-centered or insensitive my actions were when given a closer look.
Later on, it wasn't until I really got heartbroken (which again can be blamed on my selfish ways) that I learned that, at the end of the day, you can't really blame everything on everyone else. While yes, you might just be reacting to a given circumstance, the choice of what you should do next always falls to you.
Okay, so maybe the Arroyo administration gave President Aquino very little to work with or the Marcos regime did some questionable things that contributed to the country's current dysfunction. If this is the case, shouldn't President Aquino be looking for ways to work around these said disadvantages instead of complaining about them all the time. Being a leader, isn't it his responsibility to find a way to make the dysfunctional Philippines into a fully functional system again instead of whining about the problems left behind the previous administrations.
Again, President Aquino proves just how juvenile he is by blaming the previous administrations for his troubles instead of finding solutions for them. I used to complain a lot too, I can admit to that, but I later on learned that wasting time whining and complaining squanders precious time that could be used for finding viable solutions instead.
Instead of providing the common people with ways to improve their current situation, President Aquino is just diverting criticism and hatred away from himself so he can get away scot-free. At the end of the day, he's again just covering his butt because he has done so little to improve the situation in the Philippines and has, in fact, made it even worse as he ruined the situation with China by refusing to issue any kind of apology about the bus hostage crisis, has essentially favored terrorists over the lives of the 44 men who fought and died bravely for him and continues to destroy the Philippine economy with protectionist policies.
Mocking His Enemies
Like a high-school student saying: "This is just for my friends and not you!", President Aquino went on to name the people who "helped" him during his regime. He is essentially just being a sore loser and making good with his friends the way a beaten teen will go with his friends when it becomes obvious that he was in the wrong all along.
While it was nice of him to criticize former Vice President Binay, it is just another case of "the pot calling the kettle black" (no pun intended). He is merely trying to antagonize the latter to make himself look like a hero or saint in comparison.
***
On another note, I have finally come up with two good villains for a friend's LGBT superhero webcomic!
I'm gonna call 'em "Fish Face" and "Shadow Skin"!
Thank you President Aquino and former Vice President Binay for some good ideas on comicbook villains!
I HAVE RETURNED TO LAY WASTE TO OUR ENEMIES!