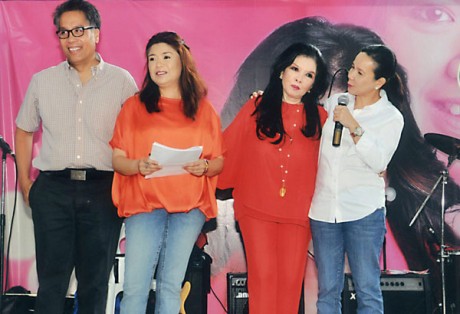 I found it funny that a well known and often quoted academician ranted about presidential candidates not being selected through a party caucus like they do in the US.
If I didn't know better, I would have ranted right along with the academician and pilloried what appears to be Malacanang's attempt to offer Senator Grace Poe "a deal she can't refuse."
Thing is I know better and what I see is someone who knows which side their bread is buttered. The academician was just taking a swipe at Malacanang out of self-interest rather than honestly attempting to "enlighten" people about how political parties should behave.
Like, come on! I can't believe that the academician doesn't know that the country doesn't have real political parties, but, rather, political mafias.
Politicians own and control the parties they belong to. Nacionalista Party belongs to Manny Villar, Liberal party belongs to Mar Roxas et al, Lakas-CMD belongs to Fidel Ramos, PDP-Laban belongs to Koko Pimentel, and UNA belongs to Jojo Binay.
None of these parties will ever name a standard bearer who isn't the party's owner or co-owner.
That said, what I guess the deal Malacanang is offering Senator Grace Poe is either to be Mar Roxas' running mate or to not run at all.
And really, because we are talking about politics (which to me, will always be about getting power and controlling wealth), I think it is better to view Malacanang's meeting with Poe as a round of trying to broker some sort of deal.
There are no noble principles involved in this deal and the best thing that will come out of it will be that each party comes away with what the most that they can bargain for.
It can be a matter of trading concessions that may involve powerful positions in government, juicy government projects, or if it comes to it, something as crass as actual money being actually wired into some bank somewhere.
I can only guess at who really has the upper hand in this round of deal making.
Poe is the presidential survey leader and some say that no less than Ramon S. Ang is backing her. Apart from popularity and the means to mount a national campaign, perhaps Malacanang is also wary of what could go wrong for them if Poe runs as president, regardless of any legal obstacles.
If she does run as president, that would only hurt Roxas (assuming that he still has a shot at the presidency at this point) and not Pnoy.
Thing is, what is Roxas bringing to the table that Poe would find worth making a deal for?
Is it a national political machinery? Those observing how the Liberal Party has behaved for years will tell you that it has several factions and factions within those factions. If ever Roxas has a national political machinery, it is perhaps his own and not the Liberal Party's.
I don't know if he can, in fact, wield whatever power there may be in his office as Secretary of Interior and Local Government. I was told that it is doubtful that he has any influence over a potent group of locally elected officials.
Is it the threat of somehow getting the Comelec to declare Poe's win as senator invalid owing to the citizenship issue raised against her?
And lastly, what is Senator Chiz Escudero bringing to the table? MEH? What? Yeah… Chiz.
Yeah, I know this situation sucks and right now, I really wish WE DID have genuine as well as principled political parties. But we don't, so deal with it because this is the way it is…