It is not often that we see politicians making statements in solidarity with the Philippine government overall (as opposed to solidarity limited along partisan lines at best). A tweet fielded by Senator Bongbong Marcos today demonstrates this sort of winning attitude…
Pag tinatanong ako ng pamilya ng #SAF44 "Ano na ang nangyari sa hustisya na pinangako?" Wala akong masagot. Nahihiya ako.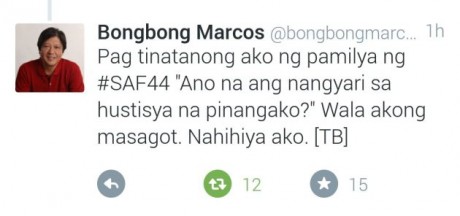 Translated: "When the [grieving] families of the 44 Philippine Police Special Action Force officers [massacred in Mamasapano] ask me about progress being made delivering promised justice for them, I have nothing to report. I feel [deep] personal shame because of that."
By saying that, Marcos is essentially owning up to government's overall responsibilities to its people. It is a good model of statesmanship — openly expressing his willingness to be one with the national government that he is part of in being accountable for its inability to meet the public's expectations of it. No ifs or buts and no blaming predecessors or other parties. Indeed, as far as Filipinos are concerned, Senator Marcos is part of their government. To that expectation, he steps up.
The prime suspects involved in the cold-blooded massacre of these police officers early this year, allegedly elements of the terrorist Moro Islamic Liberation Front, have yet to be apprehended. For that matter, there are no updates on or any evidence of on-going pursuit efforts. In short, it is safe to assume that the Philippine government is not mounting any action at all to apply the full force of the law towards bringing these criminals to justice, nor is the Moro Islamic Liberation Front leadership exhibiting any interest in achieving the same outcome.
For a politician to categorically state that the failure of his government is his own personal failure is ground-breaking indeed. The Philippines, after all, is blame game and mudslinging country — specially during election campaign season. It takes a special breed of politician not seen in recent years to rise beyond the dismal quality of today's political discourse in the Philippines.
Unfortunately, for Filipinos, Marcos is an infinitesimal exception to the rule. Filipino politicians are simply unable to measure up to the rare statesmanship that was once in abundance in the bygone early days.
No less than President Benigno Simeon 'BS' Aquino III has institutionalised blame politics and brand partisanship in the Philippines over the last five years of his rule, effectively colouring his entire administration with the relentless demonisation of his predecessor, former President Gloria Arroyo, and embedding his politics of exclusion by monomanically sticking to his partisan Yellow colour instead of wearing the true national colours and behaving like a real head of state.
Filipinos have forgotten what true statesmanship is like thanks to decades of being subject to the BS of one bozo after another. Tragic. Statesmanship is really fundamentally just all about being and speaking like a gentleman. It is not hard. You just need to be an honourable person in word and deed who takes the responsibilities of his job seriously by regarding himself as being accountable for the performance of the larger organisation he represents.
benign0 is the Webmaster of GetRealPhilippines.com.