What will ultimately determine Manny Pacquiao's earnings from his visually disappointing fight with Floyd Mayweather are pay per view (PPV) earnings. Pay per view programs are shows offered by cable TV companies on demand to their subscribers for a one-time fee. In the case of the Pacquiao-Mayweather spectacle yesterday, that fee could be anywhere from $50 to $100 outside of the Philippines. Within the Philippines, Pacquiao controls all TV rights, which means that revenues from all content licensed by Philippine broadcast media companies in the Philippines go to his pocket.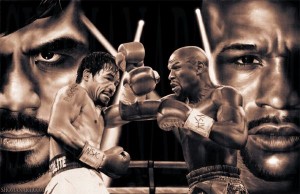 Just on the basis of a tech debacle that resulted in a delay in the start of the fight thanks to cable and satellite systems being "overloaded" by the reported massive volume of PPV orders being processed, one could get a good enough idea of just how many people were suckered into eating up the match. In the United States alone, an estimated 3 million households will have ordered the fight to the tune of $100 each.
Guess who will be, yet again, laughing all the way to the bank. You got it: Mayweather for playing it safe and applying a smart running strategy, Pacquiao for giving enough chase to please the fans while avoiding injury, and, yes, the media companies and promoters who invested gazillions over several years to prime the public to think less and dig deep into their wallets. The whole system will collectively walk away with billions (in US dollahs, dahlings, not pesos)!
Talk about killing the goose that laid the golden egg. What is now emerging as one of the most successful media scams in history is now being regarded as marking the day that the sport of pro boxing was finally laid to rest. "Boxing is dead and Mayweather-Pacquiao killed it. Never again will people shell out $100 to watch two old men grab at each other for 36 minutes," screamed USA Today which likened the so-called "fight of the century" to a pay per snooze…
But we ignored all this because we wanted the fight to be something greater than it was. We attached meaning to it when this was clearly a payout fight, at best. (Floyd even admitted as much.) Oh, they wanted to win, but this hardly evoked the memories of Ali, Frazier, Foreman, Sugar Ray, The Hitman and Hagler fighting brawls that would land them in hospitals for belts that defined them as athletes. This was just glorified sparring.

The hype grew so big that some of the greatest minds in boxing convinced themselves that things would be different. That Manny's reach would suddenly grew longer. That Floyd wouldn't throw love-taps for most of the fight, content to play defense and let one or two power punches give him rounds. They thought that the "whoosh" made by Pacquiao's missed punches and the crowd noise that followed would fool us into thinking this was a real bout, not robbery with the press of a PPV button. They were selling a lie and we were all too happy to buy into it.
There is a bit of a silver lining in all this. Unlike audiences from around the world, Filipinos will be welcoming their "hero" back home with open arms, perhaps hoping that some of the loot Pacquiao will be bringing home that will be sucked off him by his planeload of hangers-on will somehow trickle down into the Philippine economy.
Oh and, by the way, there is also that other matter of Pacquiao being House representative for Sarangani and, possibly, a future president of the Philippines. Perhaps Filipinos, after all, actually gained more than they lost in Sunday's bout.
benign0 is the Webmaster of GetRealPhilippines.com.