Is Reyes Another Do Nothing DoTC Ex-Politico Aquino Appointee?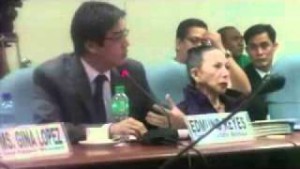 A friend tells me that thousands of people are still waiting for the E-Pass tags they applied for months ago and it seems that Toll Regulatory Board Executive Director Edmundo Reyes is ignoring this situation, which later could lead to monster traffic jams on the Southern Luzon Expressway (SLEX) in June 2015.
People will remember Edmundo Reyes eye-catching stunt during one of the impeachment hearings at the House of Representatives. Short of votes to push an impeachment complaint against then President Gloria Macapagal Arroyo, Edmundo Reyes who was then the representative of the lone congressional district of Marinduque, stood up and shouted, "Wala na bang ibang pipirma para sa katotohanan? Is there no one else?"
And it's rather funny now to think of Reyes' grandstanding, especially considering that there is a www.change.org petition for him to cause the release of thousands of E-Pass applications — some 5,000 to 7,000 E-pass tag applications are on hold, so I am told.
For you to understand the implication of not releasing thousands of E-Pass tags will mean for motorists in June, when traffic on SLEX begins peaking, here is a brief excerpt from the www.change.org petition which calls the TRB to "Resume the Sale of EPASS or Implement the RFID System Immediately"
The E-PASS is a reloadable transponder or "tag" attached to the car's windshield under the rear view mirror. Instead of stopping to pay cash at toll booths, the E-PASS allows motorists to just pass through E-Pass lanes and have the toll fee automatically deducted from the load stored in the device. The entire transaction just takes 1.5 seconds—about one-tenth of the 15 seconds it usually takes for manual toll transactions—making entry into and exit out of the Skyway System and SLEX a breeze.

Without E-PASS, thousands of vehicles will be added to the already long lines at regular toll booths where people have to pay manually in cash. While the actual transaction takes only 15 seconds, the wait in line can last for 10 to 20 minutes depending on the length of the line. This results in a "traffic shockwave" that goes back several kilometers from the toll booth, that slows down traffic along the entire SLEX to a halt and traps people in HOURS OF TRAFFIC.
Good friend JP Fenix already blogged about the non-release of new E-Pass applications in "Bring Back EPASS Now! Calling Edmundo Reyes, TRB" and he came out with a scathing rebuke not only against Reyes, but the entire DOTC — a department now with a solid reputation for being almost completely inutile. Here's an excerpt from JP's blogpost:
With such economic advantages to the motorists, the toll road operator and the economy as a whole, what is government – specifically the TRB – doing about it?

TRB's Executive Director is Edmundo O. Reyes, Jr., former congressman of Marinduque. He was appointed by President Benigno S. Aquino III and is among those politicians who sit in this agency under the DOTC.

And as we all know DOTC is headed by Joseph Emilio Abaya, another former congressman and Liberal party stalwart under whose watch the MRT is in disarray and whose other agencies like the Land Transportation Office (LTO) and Land Transportation Franchising and Regulatory Board (LTFRB) are in such a sordid mess. Think: no car plates available; no drivers' license cards available, vehicle and driver registration computer system in a mess; accident prone rolling coffin buses careening in the streets; taxi system with massive windshield blocking driver IDs… the list goes on.

Is TRB and Reyes part of the curse of the do-nothing DOTC politico? Will he act on this EPASS impasse. Or does this scion of Marinduque's Reyes political dynasty just that: a local politico waiting for his turn in the next election while sitting on his hiney in a cushy appointed position?
Thing is, the Reyeses have ruled Marinduque for so long but the small island province has lagged so far behind in terms of economic development and whatever progress you'll see in the lives of the people there is largely due to the huge number of OFWs who are sending back money to their relatives.
Ever since Marcopper shutdown in the 80's, I think, the province has had rotating brown outs which continue to this day. There used to be regular PAL flights to the island which cut down the eight to ten hour travel time from Manila to Marinduque to just three hours, but those flights have ceased and it's such a pity because that virtually cut down any chance the province had of developing into a tourism destination.
Marinduque had a high end resort called Bella Rocca, but last I heard was that it shutdown due to a lack of guests.
Which leads me to ask, was it a good idea for Aquino to appoint Reyes at TRB? Maybe it's time to reconsider that appointment, especially when people going through SLEX start experiencing monster traffic jams in June and start asking for Reyes' head to roll.