Okay, due to the recent reactions and comments of my previous article about Manny Pacquiao, I feel a need to elaborate further. While I laud those who took the time to read the whole article and analyzed it with both their hearts and minds (I don't mind whether or not you agree with me as long as you thought over your own opinion), I must say that I'm quite disappointed in the reaction of those who couldn't even be bothered to even try to understand what I was talking about. I remember mentioning that I do indeed support Manny Pacquiao and I certainly approve of his efforts in trying to unite the people and his activities in philanthropy but I can wager that a good number of the article's detractors didn't even notice that small detail. Also, I never told anyone not to watch the fight; I simply said that I probably won't be watching it and I'm not forcing anyone to join me. Lastly, what I meant was that I wasn't really all that enthusiastic about the mega-fight because I know the kind of trouble the country is in and the fight itself will probably be nothing more than a brief destruction compared to the problems we face. Oh heck, why am I even trying to explain myself? It's not like a lot of you will bother to read any of this either…
Okay, to the point then!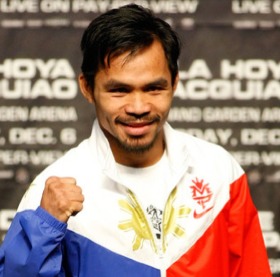 The Pacquiao article goes back to this particular article actually and this article here by Benign0. You see, the thing is, I can't help but notice how the whole country seems to go nuts about their "hero" and how a lot of them think that he's some kind of savior to the Philippines. It is not at all that different compared to how many typical Pinoys who voted for Noynoy Aquino thought that the son of Ninoy and Cory Aquino (Ninoy died before he could make any real difference and we all know the stuff that happened with Cory) would be the hero that would finally bring salvation and progress to the country.
Since Pacquiao and his family are religious people and I can guess that most of his fans probably hold a lot of religious beliefs as well, let me refresh a few teachings from the Bible. The first commandment in the ten commandments goes something along the lines of: "I the Lord am Your God and thou shalt not have any other gods before me." For our non-Christian readers out there, please bear with this short bit of preaching.
Anyway, it is argued by some Jews that the Big Guy wasn't really that tough on having other religions as there were a lot of pagan deities in Israel or Canaan back then. However, what Yahweh did not like was putting those idols or baalim as they were referred to in antiquity over or ahead of Him. Heck, Moses blew up the Golden Calf just to prove the point and Elijah went through a lot of trouble to show that a bunch of worshipers of Baal (who were implied to be sacrificing live human beings to their idol) had it wrong.
So in essence, I don't really have a problem with Manny Pacquiao himself or his upcoming fight. What I do have a problem with are the people who seem to think that he will be the hero who will somehow save the country in the same vein that there are still people who think that Noynoy Aquino will somehow be able to pull the Philippines out of its sorry condition. For these people, Manny Pacquiao has essentially become their personal Baal, their own Golden Calf if you will, a false god they jealously protect thinking that he is their only salvation despite the fact that he is clearly just an athlete, a skilled one maybe, but he is probably not at all that different from his opponent Floyd Mayweather.
Now, I have also noticed so many people who say that Manny Pacquiao is an inspiration to the Filipino people. Well, I got news for you, Pacquiao has been winning fights since before 2010 and the Filipino people still have very little to show for it. We are still floundering as a nation. You want proof?
We are STILL dicks to each other
As I said, Manny has been steadily rising in fame and fortune almost a decade ago but very little has changed in the attitude of Filipino people towards each other. Pinoys are generally dicks towards each other as evidenced by the people who still double-park, litter, are generally mean to everybody else, rob others blind and refuse to take responsibility for their failures and mistakes. People have certainly become protective of Manny Pacquiao. But each other? Hell no. Just ask Mei Magsino.
We are STILL lazy
Manny Pacquiao is probably one of the most industrious athlete I've ever seen and for that I applaud him. His fans on the other hand? I can't really be sure about that. Time and time again, in our local town hall, it's almost impossible to get our officials to lift a finger even if a mad (read: rabid) dog is on the loose in our barrio. People still arrive late for work and consider it a matter of tradition to stick to what is called "Filipino Time".
We are STILL mostly undisciplined rabble
Pacquiao can be easily considered the epitome of discipline in our country and for that, again, I applaud him. Unfortunately, the same cannot be said of many of his fans. Get a load of all the garbage found scattered across our airports and train stations. Notice how some of our officials can't even be bothered to get off their backsides and see what can be done about these problems. Oh yes, let's not forget, whether it's another Pacquiao fight or the arrival of the Pope, discipline and goodwill are only used to keep up appearances and are just temporary breaks from the norm. Once everything is said and done, everyone goes back to their horrible and ill-disciplined selves.
Look if you people will insist that Pacquiao is an inspiration to the Filipino people then please prove it. Be nice, work hard and learn to discipline yourselves because those are things that Pacquiao is encouraging you to do, not something that will miraculously happen just because he wins a fight. If you believe in the good example that Pacquiao is espousing then start the change from within yourself.
I HAVE RETURNED TO LAY WASTE TO OUR ENEMIES!