The reason why I do not subscribe to the general perception that Ms. Mallari should be praised for her speech is that the details surrounding the incident I have seen and read about just do not support the parameters of what I believe to be traits accorded to bravery and/or integrity—the rallying cry and slogan of netizens who heaped praises on what she did.
I always believed that bravery is doing what should be done, not because you want to, but because it needs to be done despite every terrified bone of your body telling you to just bail out and forget about it and be safe. That you push through despite the overwhelming risks of losing everything should the outcome of the act you're about to do results in failure. Risks like, say, not getting any academic recognition or worse, not graduating at all.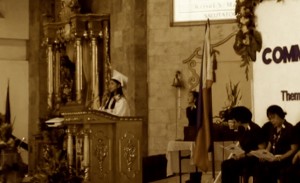 I believe Ms. Mallari was in a very safe position when she did what she did. I mean what could the school do to her at that point? Expel her? Retract the award they gave already gave her after she practiced her right to free speech? Done in bad taste, maybe. But bad taste isn't a crime.
SUPPORT INDEPENDENT SOCIAL COMMENTARY!
Subscribe to our Substack community GRP Insider to receive by email our in-depth free weekly newsletter. Opt into a paid subscription and you'll get premium insider briefs and insights from us daily.
Subscribe to our Substack newsletter, GRP Insider!
Learn more
What I saw on the video did not look like a student doing what she did for justice and fair treatment. It was more like a vengeful harpy showing everyone what it's like to cross her when the school did not give in to her demands. Guess it's more like the long-time debate over justice and revenge.
It was similar to the case of a recently-resigned employee in a company that he hated for years for bypassing him for promotion several times in favor of less competent idiots. And finally giving it the finger after he got all his back pay and miscellaneous compensation, with the rest still stuck inside cheering him on, vicariously living through his experience wishing they can do what he can but they can't—not without the threat of losing their jobs.
At worst, the outcome of that little stunt only pulled out armchair analysts like me who can't actually do any harm by simply voicing out my opinion. And it even gave her leverage in terms of popularity—which trumps everything else (Even academic honors, I daresay. Just take a look at the scholastic credentials of our elected officials.) in our present culture.
And of course it took guts. She's a gutsy kid, no doubt about it. To go against tradition always takes guts. But unfortunately blind anger and pride can also counterfeit guts and righteous crusades, especially when coupled with an eloquent speech. As with all other speeches, their main function is to appeal to the emotional sensibilities of the listeners and this was no doubt what made her popular in the media and the web. Netizens, once again, in that predictable knee-jerk reaction when something like this trends on Twitter, were quick to jump in and praised her short of actually nominating her for canonization.
To be fair, they might be right. But then again they might not be. But the thing about things like these is that people automatically accept one side by default. Especially stories about seeming underdogs fighting an evil organization with improvised techniques available because all other avenues available were blocked by said "powerful" organization. Or so they say. If there's one thing I've learned from observing similar things like this over the years, is that the bigger story is the one not readily seen in the spotlight.
I'm actually surprised no one seemed to have come to the valedictorian's defense. Everyone just seemed to swallow the direct implication in the speech that the person who received the top honors was a cheater. Here you have a person demanding justice, equality and transparency at the same time she's pointing an accusing finger on someone not proven to have done something yet. On an important event like high school graduation, no less. Imagine the humiliation of being caught off-guard like that in a supposed celebration and milestone in your life. The irony just flew over everyone's heads.
Of course I'm just opining, but I suspect Ms Mallari (or most likely her dad) is just one of the many who can't seem to accept that favoritism is part and, unfortunately permanent facet of everyday human interaction. For all the lofty ideals and talks about objectivity, impartiality and equality, the reality is such a letdown. How many times have we heard people rant about "undeserving" candidates posted in some position they're "not qualified" to do?
A brilliant comment from a news site covering the story summed it up best:
"If you think favoritism in school is bad, wait till you join the workforce."
If only someone would post a related video about annual employee appraisals.
Now that would be something.
Worker in a private sector hive.