No doubt about it: Canadian crooner Michael Buble is good-looking, exudes charm and humor, with sex appeal and stage presence that cannot be ignored. He also works hard to connect to the audience, taking pains to talk to random individuals in the crowd, cracking jokes (which are sometimes off-color) and even earnestly mingling with the audience on the way to a second stage at the rear of the MOA Arena, where he proceeds to sing several songs with his front act, Naturally 7, an extremely capable all-male a capella act.
All those, together with an unbelievably talented orchestra and slick stage production complete with sliding stage floors, pyrotechnics and a seemingly never-ending shower of heart-shaped confetti, successfully mask a middling vocal talent that, if he were to perform in the old Las Vegas of the 60's, would relegate him to second-tier status.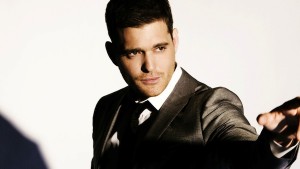 To those like me, who grew up on a steady diet of Frank Sinatra, Sammy Davis and Tony Bennett records, and who caught the tail end of the Rat Pack days via viewings of the Dean Martin Show on local television in the early to mid seventies, Buble would be nothing to write home about. And for serious students of jazz singing who listen to Mark Murphy, Ben Sidran, Jon Hendricks, or more recently Giacomo Gates and Kurt Elling, to name a few, Buble would certainly be No Big Deal. For Buble, who packages himself as the Continuation of Cool, the heir to the unflappable, relaxed devil-may-care attitude best exemplified by Martin, is but a poor copy of any Rat Pack member, even when they were aging. One need only to view videos of Sinatra, Martin or Davis (or better yet, all three together) to confirm this observation.
Verily, Buble possesses none of the tonal gravitas of Sinatra, the vocal power coupled with the melodic nuances of Davis, or even the playful insouciance of Martin who, upon repeated listening, will reveal a mastery of musical deftness that is not immediately obvious. And if it is command of the idioms of jazz singing that you seek from Buble, you will be sorely disappointed. To be sure, Buble is competent, but he sings with little emotion, and apart from the usual styling mannerisms, he exhibits none of the improvisational skills of a true jazz artist. In fact, his repertoire is a mixed bag of swing standards, Tin Pan Alley evergreens, retro pop and the usual Motown suspects. He tries to be everything to everyone within his target demographic, the well-heeled 40 to 60 year old crowd. The songs he sang in Manila, with very little variation, are the same songs he lately sings everywhere in the world.
If it is entertainment you want, Buble is your man. For two hours, he will sing familiar songs, deliver jokes with the polish of a stand-up comedian, dance with a certain degree of élan, and make matronly women swoon with his boyish good looks. He has a penchant for relating to those watching him, and reads his audience well. Those who paid to witness his performance, mostly fans to begin with, and who haven't heard real jazz singing or seen videos of the aforementioned greats performing at the Sands or the MGM Grand Hotel in Vegas, will not at all feel cheated.
Those who look for more textured and complex vocal jazz renditions, however, would be well advised to look elsewhere. For in that area, a goodly number of talents, both local and foreign, can easily kick Buble's butt even with a bad case of laryngitis.
In the final analysis, Buble is to music what Swatch Is to horology: a popular and easily accessible Swiss watch. A Swatch will, of course, serve its purpose in telling time, but those in the know — and in the market for Swiss watchmaking — would better appreciate a Hublot, Breguet, Audemars Piguet or Chopard.
Lawyer, art lover and jazz singer. I live by this motto: Women are the foundation of society, so men must LAY the foundation.