Someone named Session Rogue tipped me off that a blogpost containing twisted and defamatory information about me is being spread around Facebook again and told me that I should set the record straight.
And my initial reaction was, "What does my personal life have to do with any of the issues I am discussing?" The truth is that the only thing that matters is the truth in the issues I discuss.
I guess some people are bent on playing Harvey Campos to Lee Kuan Yew, and if you don't know what that is about, you can check this youtube video out. Below is a transcribed excerpt.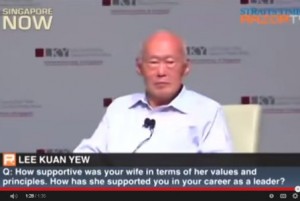 Harvey Campos, "I'd like to say that there was an old adage that says, behind every successful man is a woman and your wife passed away last year when I was studying. And I am just interested to hear and to see from you, how supportive your wife was in terms of her values and principles, how has she supported you in your role as a leader…"
Lee Kuan Yew (cutting Harvey Campos short), "I am not here to let my hair down about family matters, I am here to discuss about public matters"
Harvey said, still trying to draw out an answer, "I just want to talk about the values and principles…"
Lee Kuan Yew, "I said my wife and I are matters which I keep within the family. Full stop."
The truth is that one sign that people have lost an argument is when they start using defamatory tactics or personal attacks against another person in an attempt to silence them.
Since ad hominems are a logical fallacy, the only response it deserves is to be called out.
The logical response of the person called out for using ad hominems, if they are indeed committed to tackling a serious issue by engaging in a serious debate, is that they should just stop using ad hominems.
Besides, it's the decent thing to do if one isn't a psychopath — you know, the same type of people whom I would presume would kill journalists.
Apparently, some people don't know what a real debate is and so think that getting someone to agree with their position regarding an issue or getting them to quit defending their position means they have won the debate.
That's… just… plain… nuts… to… people… who… understand… what… a… real… debate… is… all… about.
To explain what a debate is, I will refer you to what James Jimenez, a fellow Thomasian whom I hold in high esteem, wrote to explain what a debate is…
In a debate, these two points of view would be expressed through opposing arguments, thus, setting up what debaters call a clash—a clear and irreconcilable conflict. Yes, irreconcilable. Irreconcilable, because a debate isn't intended to craft consensus—a debate that ends in agreement is pointless—but to demonstrate the superiority of one idea over another; the supremacy of one debater's intelligence and wit over his or her foe's.
The Truth About The Parliamentary Form of Government Making The Philippines Better
The defamatory article being spread against me is apparently from a person whom I had an argument with regarding his position on the parliamentary form of government. This person actually told me he'd put down all the defamatory blogs and pages he put up against me if I simply stopped taking positions against his ideas of what a parliamentary form of government is and why it will be great for the Philippines.
But of course, I won't let anyone shut me up.
The truth is, in as far as the parliamentary form of government is concerned, there is ample evidence of it working well in the number of countries that are said to use this form of government. However, to say that by using the Parliamentary Form of government in the Philippines will cause the country to experience unprecedented levels of economic and political progress simply rings false for a number of reasons.
The reason for this is that the argument that the Parliamentary form of government will make the Philippines better is MERELY SPECULATIVE, but the overwhelming real world evidence supports the idea that FILIPINOS WILL MAKE A MESS OF ANY THING because most Filipinos in the Philippines do not have a culture of following rules.
Thing is, the worst part about how some people are trying to convince others on Facebook and Twitter about the parliamentary form of government is the unparliamentary tactics they employ against perceived "enemies" of their pet idea.
The Truth About Pine Trees And Deforestation in Benguet
I've been monitoring and examining this environmental issue since 2011 and so far my conclusion is that the people who compose Project Save 182, Boycott SM, and Save Baguio Pine Trees are not true environmentalists. 
Here is a short excerpt of what defines real environmentalists written by JP Fenix, a former journalist, radio commentator, and VP of Philippine Daily Inquirer before it became… well… what it is now. In his blog post,  JP initially discusses the internationally acclaimed environmental work of Mary Jane Ortega, the former Mayor of San Fernando, La Union.
Beyond the discussion of the deployment of the best sanitary landfill technology and innovations like having Ylang-ylang plantations surrounding the facility, what struck me is the key element that made the whole program successful: Ortega revealed that most of her terms as mayor were spent in a door-to-door campaign for waste segregation. Yes, it all starts with convincing and educating each household to separate their recyclables from biodegradable waste.

This gives us a couple of important points in environmental action:

1. An environmentalist must be on the ground, right there where the action is, to make a real impact.
2. Environmental protection involves getting regular people involved, with the game change in their own daily lives.
Those who claim to be the voices of Project Save 182 are mostly people supported by business interests and political groups who have been opposing SM's mall since news about its mall opening in Baguio City came out around 2003. And I was there when then former DTI Secretary now incipient Presidential Candidate Mar Roxas warned small and medium enterprise owners that if they didn't shape up, some of them may at best lose some of their income or at worst, close up shop.
I first heard about Project Save 182 in 2011, when I was making regular trips to Mankayan, Benguet and Baguio City because I was teaching kids there how to use social media to report on environmental issues. At first, I thought they were really truly concerned about the environment and I began engaging their group to find out more about their cause.
It was when I pointed out that the group was too focused on SM City Baguio and did not include calls for a stop to deforestation in Benguet (which is the bigger problem apart from urbanization gone wild) that their real motive became apparent and that revealed them to be nothing more people bashing SM.
Several news websites up in Baguio and Benguet have been pointing out for years and years that tree cutting all over in Benguet resulted in the horrifying loss of hundreds of hectares of forests. But in several conversations with a number of people from Project Save 182 and Boycott SM revealed that they were not interested in deforestation issues and were merely interested in stopping any efforts by SM City Baguio to expand its mall.
 In "Cordillera's forests, green water, and watersheds" which was posted in February 2012 the status of deforestation in the Cordilleras is described and the causes pointed out.
In May last year, Antonio Manila, technical director for forestry of the Department of Environment and Natural Resources (DENR)-National Capital Region, reported that in the Cordillera region, the deforestation rate had risen to alarming levels, resulting in massive erosion and groundwater depletion.

He said that an estimated 300 hectares of the region's forest reserves are disappearing each year, now largely due to conversion to commercial vegetable and other farms, timber poaching, and fires from slash-and-burn farming.Industrial blight and rural poverty are driving economically desperate households to carve vegetable farms into forested mountains. As natural forest vegetation is thinning, largely from illegal cutting, the ecosystems are less able to abundantly support green water.
You can read more about it in my post on why "Farming Kills More Trees in the Cordilleras" here.
When I probed members of Project Save 182 and Boycott SM to find out if they were against what seems to be the unchecked and under regulated urbanization of Baguio City itself, they gave me a response similar to the one they gave when I raised the issue of urbanization.
The fact is, at the height of the SM Baguio tree cutting controversy, members of those groups didn't raise a whimper about the actual cutting  and proposed of trees elsewhere in Baguio City. To give you an idea of just how many trees in Baguio City are up for destruction, here's excerpt from an article from the Philippine Daily Inquirer published in 2012.
Between 2002 and 2011, DENR had issued 560 cutting and balling permits for 4,729 trees to developers like Camp John Hay Development Corp., Baguio City Economic Zone, schools and universities like the St. Louis University and the University of the Philippines Baguio and residents who are expanding their houses, according to a March 9 DENR report submitted to Vice Mayor Daniel Fariñas.
And here is a surprising fact from the same article.
Only 25 percent of the city's land area of 49 square kilometers remains forested, the DENR report said. "At its current state, Baguio City has an estimated 1,446 hectares of trees or forest [equivalent to] 25 percent [of the city's land area]," Baguilat said in a report.

Most of the trees (55 percent), according to the DENR report, stand on private lands.
One question worth asking is, WHY ARE MOST OF THE TREES ON "PRIVATE LAND"? The answer may lie to the often cited practice of people making ancestral claims wherever they want to build a house or make a farm, regardless of laws banning such practices.
A clearer picture of the tree situation in Baguio is carried by the Baguio Midland Courier.
Based on the DENR data, private and public entities were permitted to cut around 4,078 trees to give way to various construction and development projects from 2002 to 2011.

During the same period, more or less 600 trees underwent earthballing process. In 2008 alone, 503 trees within Philippine Economic Zone Authority compound and Camp John Hay were earthballed and relocated.

Other entities that were issued tree cutting permits and special cutting/earthballing permits due to expansion, development, and construction during the period include University of the Philippines Baguio, Saint Louis University, government line agencies like Department of Public Works and Highways for its circumferential road project at Happy Hallow barangay, subdivision developers, and private lot owners, among others that were issued permits.
And here's the real kicker from the same article.
DENR's Forest Management Service Regional Technical Director Augusto Lagon said that while the opposition is currently focused – and have initially succeeded – on stopping the earthballing of trees started by SM for its expansion project last week, many are unaware that some applicants with pending requests for tree cutting permits have actually started cutting trees even while their requests have not yet been acted upon by DENR.
Another article in the Baguio Midland Courier makes a more explicit accounting of trees proposed for cutting in Baguio City.
Among the institutions with pending tree cutting application is  Saint Louis University, which  plans to cut 157 trees to give way to the expansion of the school. Also affected is the  the application at Happy Hallow, that of the Goshenland, and a tree cutting application at the Le Monet Hotel area inside  Camp John Hay.
Thing is, a number of trees where cut despite not being permitted by the DENR and in direct violation of order of President Aquino. Where was the outrage against that?
Although unrelated to tree cutting in Baguio City proper, proof of the tunnel vision of Project Save 182 and other brand bashers is their deafening silence one of the biggest horrors that happened last year was Congressman Nicasio Aliping Jr.'s decimation of nearly 800 trees in the Sto. Tomas watershed in Tuba, Benguet which supplies water to Baguio City. It's a good thing that the congressman was SUED for this ILLEGAL ACT. (I wonder how the case against Aliping is doing? I have yet to come across a new article on it.)
These and other articles EXPOSE the SM Boycott people and Project Save 182 people as parties who are merely bashing SM to promote their own agendas and interests.
The sad thing for these people is that their case against SM has been THROWN OUT BY THE BAGUIO RTC and THE COURT OF APPEALS
You can read about the Court of Appeal decision on SM Baguio's trees here. Here's an excerpt, JP Fenix writes about the decision…
"In its 31-page decision penned by Associate Justice Magdangal M. De Leon and concurred by Associate Justices Stephen C. Cruz and Zenaida T. Galapate-Laguilles, the CA clearly said "the appeal lacks merit" and affirmed the RTC's decision earlier decision allowing the removal of pine trees as part of SM's development of the area.
"The CA pointed out that the three points raised by the petitioners were not warranted at all, the most significant of which was that there was no "proof of damage to the environment." The lower court found that the complainants own environment expert – Dr. Armando M. Palijon of the University of the Philippines (UP) – was not able to establish that SM's removal of pine trees would destroy the environment:
In contrast, while admitting that the cutting or earthballing of said trees will indeed have a negative effect on the environment, the evidence adduced by the defendants would show that it will not result to irreparable injury to the environment and detrimental to the residents of the City of Baguio.

It is worth to note that parts of testimony of the Plaintiffs' witness, Dr. Palijon, were substantially lifted from scientific literatures. In fact, he studied the actual health of the subject trees, and assessed the mitigating measures based on the EPRMP as approved by the proper regulatory agency (TSN-28 March 2011). The witness was consulted by SMPH to study the Benguet pine and alnus trees in Luneta Hill and has examined 82 of the subject trees around two months prior March 28, 2012 (TSN, March 28, 2012, p. 11). The witness, a duly qualified tree expert (TSN, March 28, 2012, p. 5), admitted that there will, indeed be a reduction in the trees' beneficial

contributions to the environment, if removed. He qualified, however that it is not substantial and that the environment (TSN, March 28, 2012, p. 55). He testified that there will be no hazardous effect on the health of the people of Baguio if the subject trees are taken out of the particular area where SM City Baguio is located. This is because the removal will be compensated by the green building that will be constructed, the 2.000 trees already planted in Busol Watershed and 30,000 more trees that will be planted within the next three years (TSN, March 28, 2012, pp. 14-15). Based on an article written by Nowak and Crane on oxygen production by urban trees in the United States published in the Arboriculture and Urban Forestry Journal (Exhibit 2), the witness testified that the diminution of Oxygen will not be substantial because of the removal of the 182 trees (TSN, March 28, 2012, p. 18.)
To end this already very long post, let me just add here… I am not DASTARDLY AFRAID at all of anyone especially when what I am writing about is THE TRUTH.
John 8

31 So Jesus was saying to those Jews who had believed Him, "If you continue in My word, then you are truly disciples of Mine; 32 and you will know the truth, and the truth will make you free.